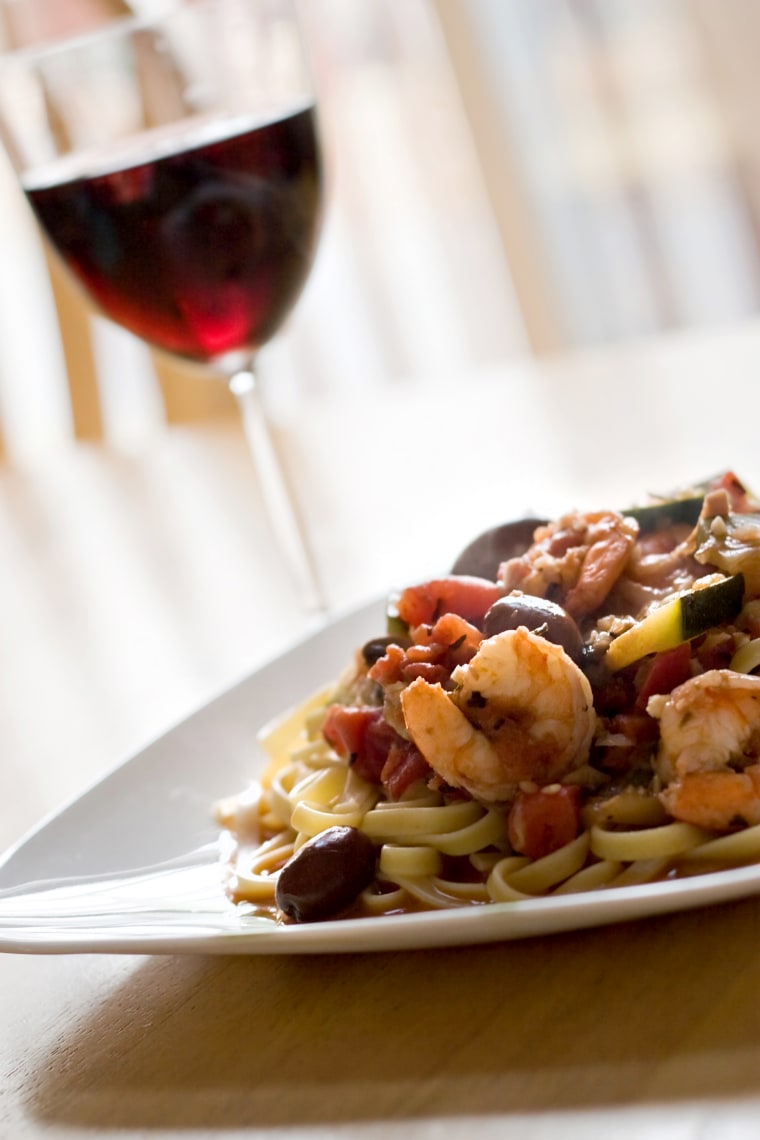 In my never-ending search for good inexpensive pasta wines, I landed on another winner this week from the up-and-coming Abruzzo region of central Italy. The Quattro Mani 2010 Montepulciano d'Abruzzo is a $13 value that withstood the assault of a tomato sauce with sweet Italian sausage we made the other night, and even a generous sprinkling of crushed red pepper flakes I applied to my plate to give it a little more fire.
Just slightly chilled, the wine doused the flames in my mouth, but the pleasure went beyond that. The wine is a deliciously fruity, easy-to-drink red that has enough complexity for those interested in more than a mere wash-down wine. Slightly rustic yet charming, it shows concentrated black cherry and raspberry, some milk chocolate and a peppery note. Made from the local montepulciano grape, it's an excellent everyday wine to have on hand. And it appears to be widely available, with some stores selling it for a couple of dollars less than the $13 I paid for it. To find out where to buy it, click here. Imported by Domaine Select Wine Estates, New York.
Montepulciano d'Abruzzo is the region's famous wine, but if you're in the mood for a really refreshing white, try a trebbiano d'Abruzzo. One that stands out is Cirelli's 2010 Trebbiano d'Abruzzo, which is $14 and made from organic trebbiano grapes. Its stone fruit, pear, herb and citrus notes are enhanced by an underlying minerality. Try it with fish dishes, cheeses and other appetizers. Imported by Fruit of the Vine, Long Island City, N.Y. To buy this wine click here.
Edward Deitch is a James Beard Award-winning wine critic. Find many more of his wine reviews and commentary on his blog, Vint-ed.com, and follow him on Twitter.
More from Bites: