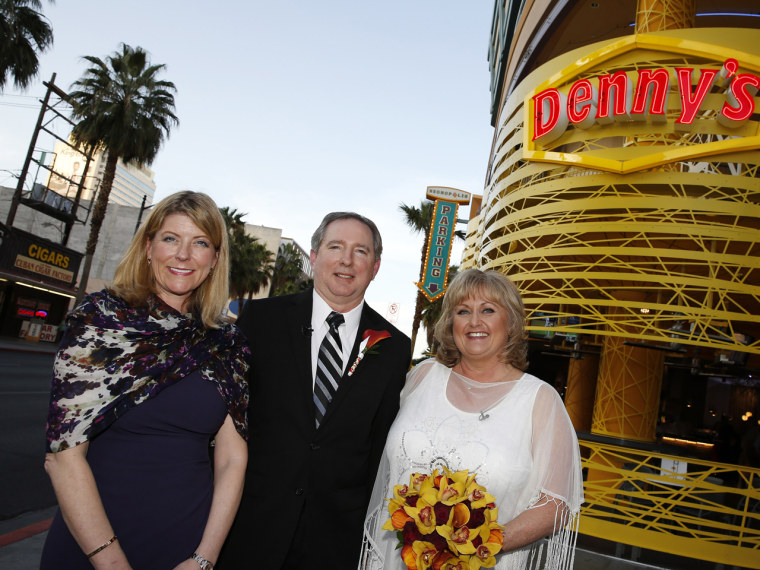 Can't decide which you love more — your honey or maple syrup? If you're in Las Vegas, you're in luck. Behind its bright-yellow, abstract facade, the Denny's restaurant in the Neonopolis district on Fremont Street (a short drive from the Strip) that opened last November is now accepting bookings for its in-house wedding chapel.
Given that other fast food-lover lovers have gotten hitched at White Castle, McDonald's, Taco Bell and KFC, the idea of a chain diner carving out space for weddings — especially in Las Vegas, epicenter of quirky wedding themes — might not be as strange as it sounds.
The company says it's had "many inquiries" from others who want to pledge their eternal love over a Lumberjack Slam or Moons Over My Hammy.
An Iowa bride and groom were the first to tie the knot earlier this week.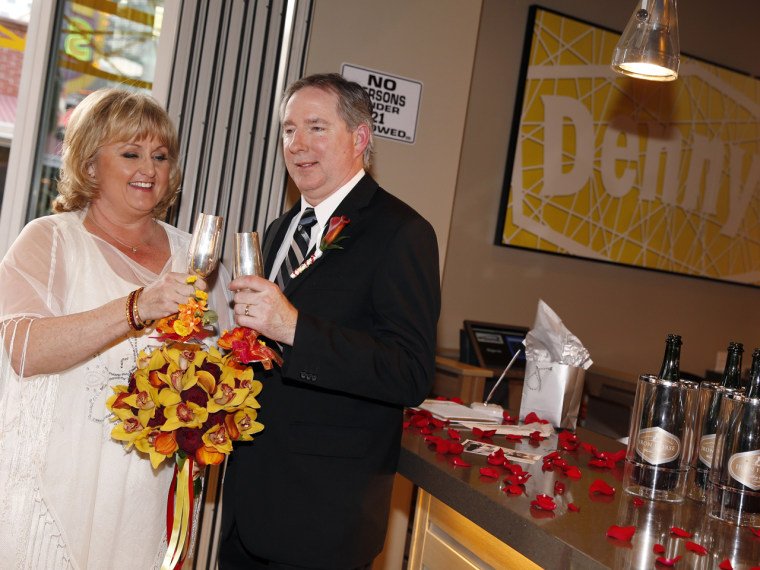 For $95, couples get a bottle of champagne, a Pancake Puppie wedding cake (Denny's answer to the cake-pop trend) and "Just Married" T-shirts. Unfortunately for bacon lovers, Denny's says it currently has no plans to turns its caramel-bacon brownie sundae or bacon-stuffed caramel French toast into wedding cake.
The package doesn't include a photographer, but the celebrants can commemorate their special day in the restaurant's photo booth. And this Denny's has a full bar, so guests can toast the newlyweds with something stronger than a maple bacon milkshake. Maybe the Grand Slamosa — a mimosa with Grand Mariner — would fit the bill.
What the Grand Slam Breakfast has joined, let no one separate.