Betcha can't eat more than one. That's what TODAY.com staffers were daring each other to do when we got our hands on Lay's Cappuccino flavored chips. A finalist in this year's "Do Us A Flavor" contest, in which people just like you and me submit new chip ideas to Lay's, Cappuccino was by far the most feared.

Turns out, it wasn't even the worst flavor.
We tried the other three finalists as well: Cheddar Bacon Mac & Cheese, Kettle Cooked Wasabi Ginger and Wavy Mango Salsa.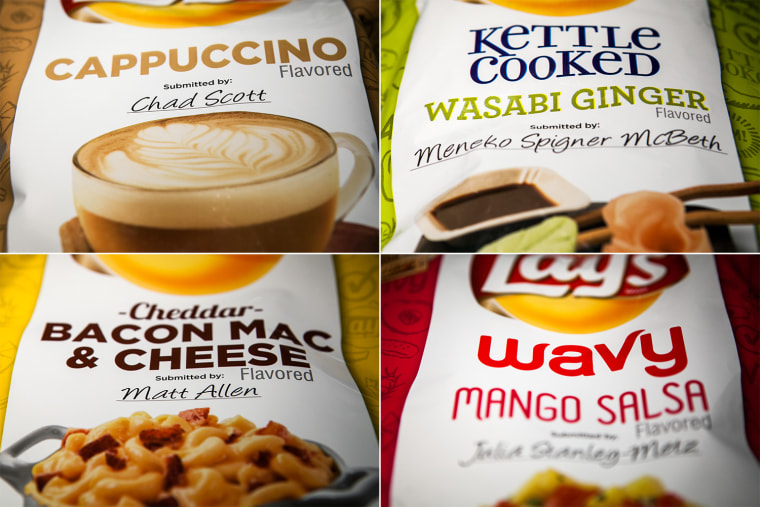 Cappuccino smells and tastes like the real deal, and the first bite is sweet with some savory undertones. We marveled at what it took to impart those flavors in a chip. But things turn sour at the end, as the chip leaves an unpleasant, lingering aftertaste. But overall, as one staffer put it, "It's not unacceptable." Another staffer suggested that dipping it in chocolate would improve it. Well, sure. Chocolate improves everything.

Whatever you do, don't follow it up with the Wavy Mango Salsa, which is too sweet, and just tastes like a chemical attack on your mouth. It's the flavor our staffers liked the least.
Cheddar Bacon Mac & Cheese went over well, mostly because it was familiar. It's similar to a mesquite or barbecue-flavored chip and we can see it having broad appeal because it's not really a stretch.
And finally, my personal favorite was the Kettle Cooked Wasabi Ginger, which was spicy with a subtle sweetness. While some found the chip too spicy (with one staffer saying it tastes TOO much like real wasabi), if you're a fan of some heat, it packs a punch you'll enjoy.
You don't have to take our word for it. From July 28 to October 18, you can try all four varieties and vote for your favorite at DoUsAFlavor.com. Help one of the average Joes who pitched a flavor win $1 million!