When Taco Bell announced the launch of its new $1 Morning Value Menu last Thursday — 10 breakfast items for a dollar each — we knew what we had to do: Scrounge around in the bottom of our purse and fish under couch cushions until we scraped together $10, grab our sassy Chihuahua and run for the border.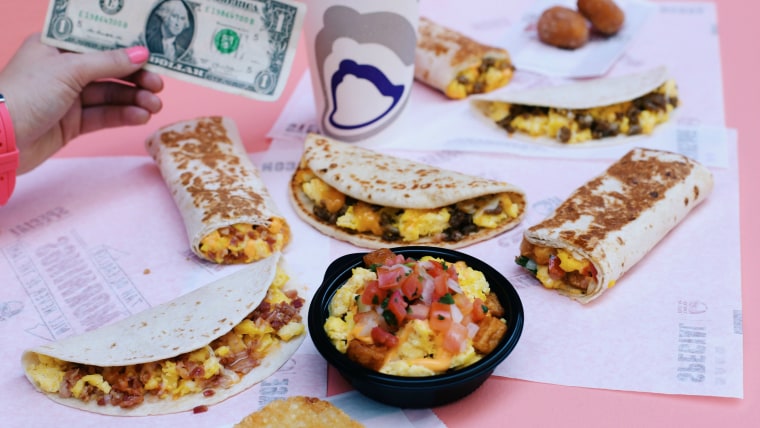 Taco Bell first began serving breakfast in 2014. The new $1 breakfast menu — likely a response to McDonald's highly-successful all-day breakfast — includes the Mini Skillet Bowl filled with spicy potatoes, scrambled eggs, melted cheese and pico de gallo; the Breakfast Soft Taco, a flour tortilla stuffed with scrambled eggs, cheddar cheese and your choice of bacon or sausage; and the grilled Sausage Flatbread Quesadilla with a blend of three cheeses, sausage and scrambled eggs.
RELATED: Reviewing Taco Bell's Cap'n Crunch Delights
The new selections join current $1 breakfast items like the Grilled Breakfast Burrito and the Cinnabon® Delights™ 2 Pack. (There are also pricier options, such as the Breakfast Crunchwrap at $2.49 and the Grande Scrambler at a hefty $3.29. Even a cup of coffee will set you back $1.50) You can add "tasty upgrades" to your buck selection, such as creamy jalapeno sauce or reduced-fat sour cream for 30 cents or potatoes for 50 cents, but why blow your budget?
Taco Bell boasts that it is now the only fast-food chain that offers bacon in some of its morning value items, and following our taste test, we agree that it's all about the bacon.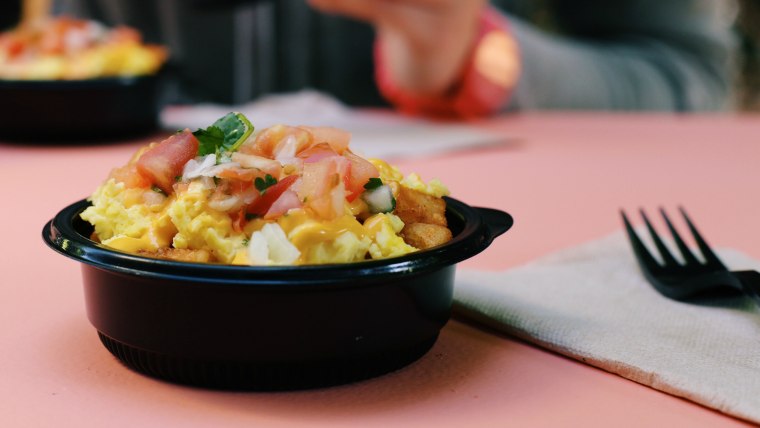 Based upon our scientific analysis, we believe that your palate will not discern a great deal of difference between the breakfast soft tacos, the grilled breakfast burritos and the grilled quesadilla, although the three-cheese blend gives the quesadilla a significant boost over the gooey nacho cheese sauce used in the other items (unless you like that sort of thing). Having tried the sausage, potato and bacon versions of the items, we highly recommend going with the bacon (although you may get a smaller serving — the grilled burrito with potato measured 6.5 inches in diameter, while the bacon version measured just a mere 5 inches).
If you want the most bacon for your buck, go with the grilled burrito, which is significantly larger than the soft taco, but otherwise tastes pretty much the same.
For those who are don't want a tortilla, the Mini Skillet Bowl is a nice option, with a good spicy kick from the potatoes and the pico de gallo. However, "mini" is an apt description — the 4-inch-wide plastic bowl fits in the palm of your hand.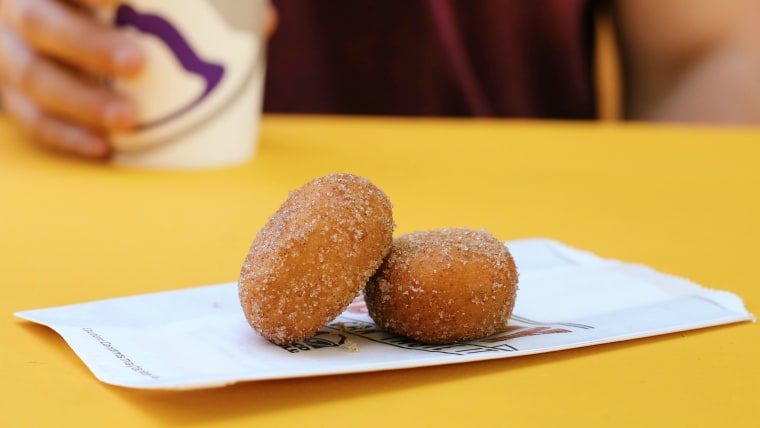 For some reason our drive-thru concierge gave us lots and lots of hot sauce. We're not sure if she was trying to tell us something, but if you like "spicy" as opposed to just "salty" in the morning, go for it — although we found that it gave everything that generic "Taco Bell" flavor (again, you might like that).
RELATED: Taco Bell's new fried waffle taco to debut across the country
The small Mountain Dew Kickstart Orange Citrus is also included on the $1 breakfast menu and although it is vaguely reminiscent of orange-something, no one should drink it, ever. Spring for the real orange juice for $1.99.
Many of these petit breakfast items contain as much as one-quarter to one-third of your daily calories and up to half of your daily allowance of sodium, so you do get a lot for your dollar — but maybe not in a good way.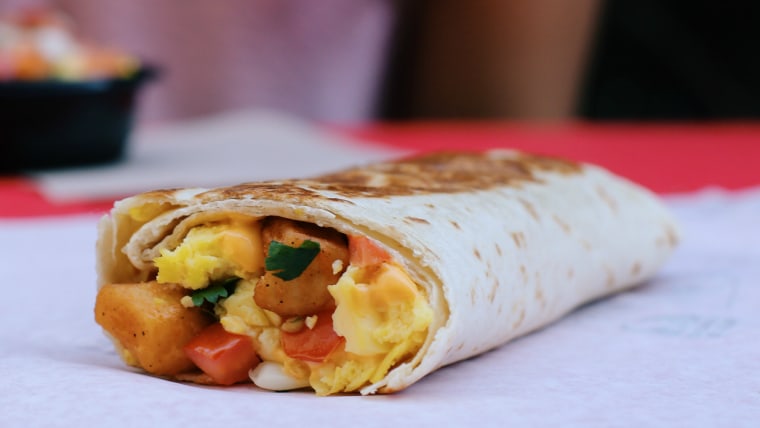 The grilled breakfast burrito contains 350 to 440 calories (depending on choice of bacon or potatoes), including 150-200 grams of fat and over 900 mg of sodium. The sausage quesadilla has 300 calories, with 17 grams of fat and 410 mg of sodium. The breakfast soft taco weighs in at 230 calories, including 130 calories from fat, and 590 mg of sodium. The mini skillet bowl has 180 calories, including 100 calories from fat, and 430 mg of sodium.
You may not be living on the border, but that's living on the edge.