When it comes to unusual foods, there's no shortage of new products on the market for adventurous consumers to try. We've seen everything from wasabi-flavored Doritos to a quesadilla filled with melted Kit Kats from Taco Bell.
Now, Pepsi is getting into the flavor-mashup game with a new soda that combines the super trendy combination of salty and sweet: Salted Caramel.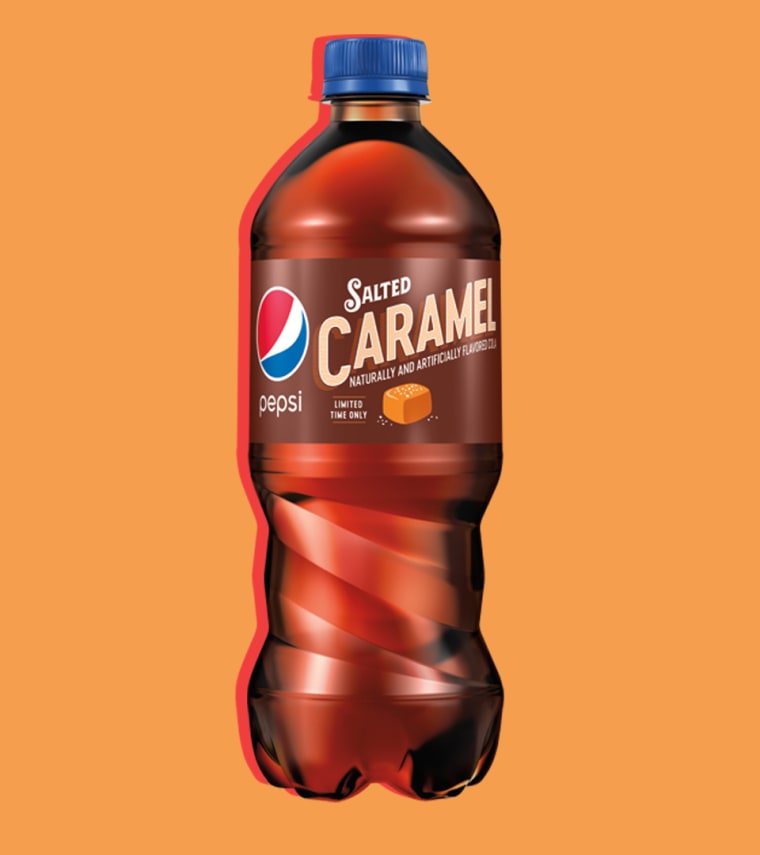 Pepsi says its newest beverage "blends the refreshing taste of cola with a delicious caramel finish."
As for the "salted" part? "Salted Caramel is a popular flavor that consumers are looking for — and delighted to find — especially during the holidays," Chad Stubbs, Pepsi's vice president of marketing told TODAY via email. "We see it across food and beverages, from yogurt, to bagels, to tea!"
Pepsi Salted Caramel makes its official debut in stores on Nov. 6, but a few brave TODAY tasters got a sneak preview this week.
Reactions varied but a consensus was eventually reached: It's surprisingly drinkable but it didn't knock our socks off.
"When I first learned that Pepsi Salted Caramel was a thing, my initial reaction was, 'Yuck,'" said TODAY'S lifestyle news editor Shane Lou. But after trying a sip, he changed his mind.
"Pepsi Salted Caramel isn't yucky," he said. "On the contrary, it's not bad at all. The caramel flavor isn't strong, but it's apparent enough that it'll give you a sweet aftertaste. If Pepsi is your cola of choice, it's worth giving the salted caramel flavor a shot."
Upon first sip, Salted Caramel Pepsi tastes pretty much like regular Pepsi. There's nothing wildly unusual or inoffensive about it, but it does leave you with a sweet aftertaste that's slightly reminiscent of Werther's candy.
What most tasters were really missing, however, was that salty kick.
Many at TODAY agreed that, as far as unusual soda flavors go, the new Pepsi flavor was pretty good and if you like soda, it's certainly worth a try.
One of our tasters thought the soda had a very specific, albeit unusual, flavor profile.
"This Pepsi tastes like the beach," TODAY editor and producer Brittany Loggins said. "Imagine waves, sunscreen, sand … then imagine drinking that in an amber-colored concoction."
She added, "I would be cool if my home smelled like it."
If salted caramel isn't really your thing but you love unique sodas, you may be in luck: Stubbs hinted that Pepsi found "some really great other flavors" during the development process, which may make it onto store shelves in the future.
Pepsi Salted Caramel will only be out for a limited time so if you're craving a beach-flavored cola, the clock is ticking to give this one a try.