We've seen rainbow bagels, grilled cheese sandwiches and burgers, but now there's a new multi-colored dessert that makes us want to chase the rainbow even more: churro!
We're not alone in our enthusiasm for these stunning rainbow churros from The Loop in Westminster, California. The shop's Instagram account has over 88,000 followers and counting, thanks to these beautiful deep-fried pastries.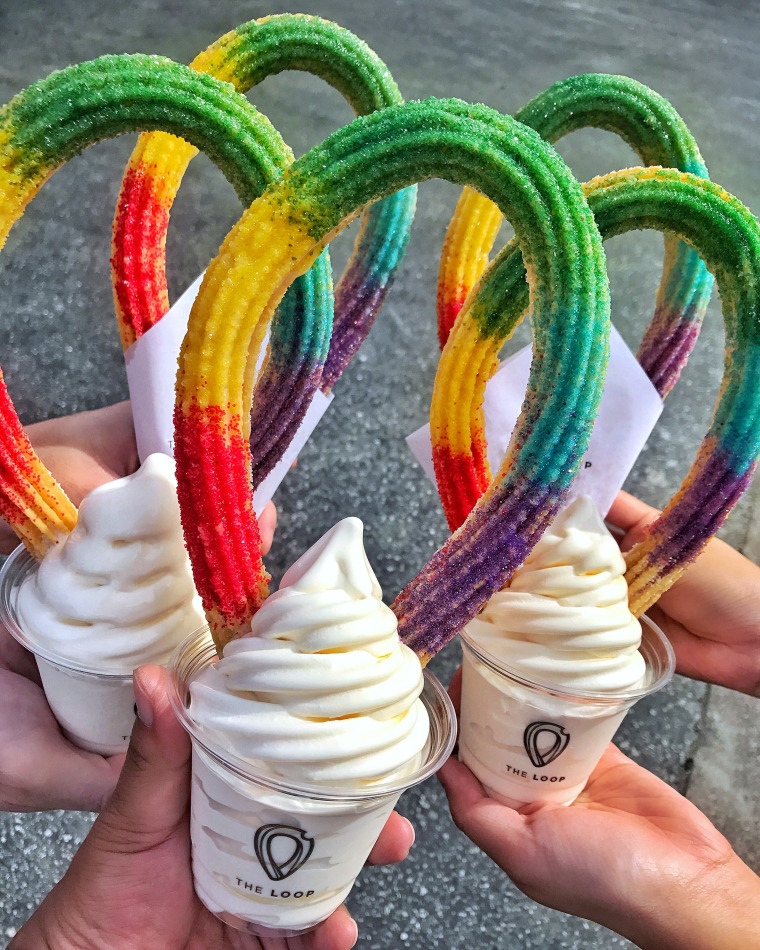 The Crystal Rainbow Churro Loop was originally created for St. Patrick's Day as a special-edition treat, Minh Nguyen, product manager at The Loop, told TODAY Food. It was only supposed to be available for two weeks. But thanks to the pastry's popularity on Instagram, the shop plans to keep it around at least until the end of April.
RELATED: You're not hallucinating: The stunning rainbow bagel sandwich you need to try
The churro loop is deep-fried, glazed and covered in rainbow sugar. Then it's set on top of a swirl of creamy soft-serve ice cream. "You can choose your own topping for the ice cream," Nguyen said, "but we came up with a caramel popcorn to make it look like a pot of gold under the rainbow." He added that another popular topping was Lucky Charms marshmallows.
Plus, the taste verdict is good:
Some of the shop's other impressive past seasonal creations include a cinnamon-sugar, strawberry-glazed churro with heart sprinkles for Valentine's Day and a red-and-yellow-colored-cereal covered one for the Lunar New Year.
This delicious-looking dessert is pretty much the template of an Instagram-worthy treat: bright colors, hunger-inducing features and picture-perfect aesthetics. We can't wait to see what The Loop comes up with next!