January is National Soup Month, and what better meal to warm your belly on a cold winter's night? Whether you're partial to broth or bisque, a hearty bowl of soup is one of the ultimate comfort foods—especially with some crusty bread for dipping. I've never been much of a fan of canned soup—though I understand the convenience factor—so I am happy to report that there are many delicious boxed and frozen soups that are just as easy to prepare and have a much fresher taste than their canned counterparts. Tabatchnick has a line of Frozen Soup Singles that comes in eight flavors and are perfect for a fast, healthy lunch. (They also have low-sodium varieties.) Annie Chun's Frozen Savory Soups have only 2 grams of fat and just over 100 calories per bowl. And Pacific Foods has a ton of boxed organic soups—in light sodium varieties too—that taste as good as any homemade bowl I've had. (The cashew carrot ginger bisque is seriously flavorful!)
Speaking of bisques, I've always been a fan of cream-based soups, but I don't love the fat and calories that come with them. One of the best ways to get the creamy texture without actually adding cream is to puree your soup before serving. You can do this with an immersion blender, right in the pot or in a blender, pureeing the soup in small batches. This is how I get a thick, creamy butternut squash soup using just chicken broth. (Though I usually add a small swirl of half and half in at the end for good measure.)
If broth-based soups are more your bag, the potato kale soup below is not only flavorful, but it just makes you feel healthy.
Curried pear and butternut squash soup
5 cups butternut squash, peeled and cubed
3 medium pears, peeled and cubed
1 cup chopped onion
2 cloves of garlic, finely diced
4 cups chicken stock or low-sodium broth
1/2 tablespoon curry powder (plus another 1/2 tablespoon reserved)
2 tablespoons unsalted butter
Salt and pepper to taste
A swirl of half and half
In a large stock pot, melt the butter. Add the onions and garlic and cook until the onion begins to soften, about 5-6 minutes. Add the squash, pear and chicken broth. Season with salt, pepper and half a tablespoon of curry powder. Bring to a boil, then cover and simmer until the squash is fork tender, about 20 minutes.
Using an immersion blender, puree the squash and pears in the pot until smooth. (You can also do this with a regular blender. Just work in small batches because the soup will be really hot.) Add the remaining curry powder and season with salt and pepper to taste. Add a swirl of half and half to finish it off. Serve hot.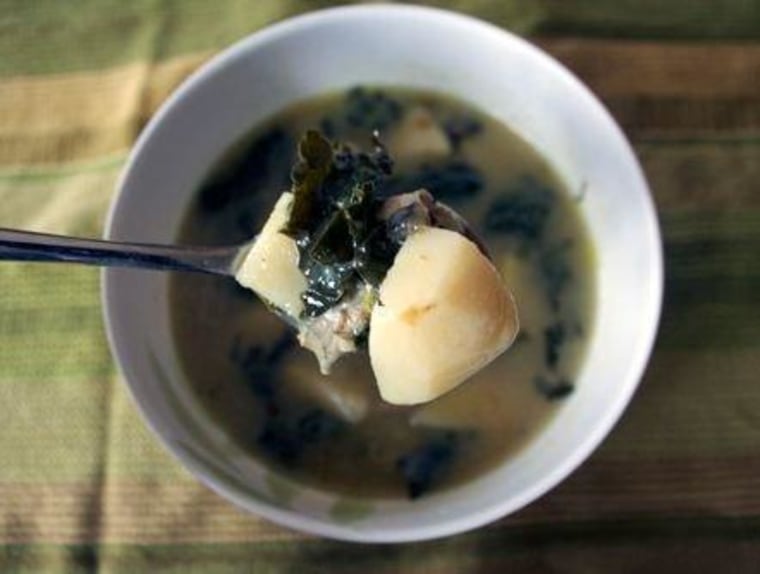 Potato kale soup (adapted from Culinate.com)
1 small red or yellow onion diced
Olive oil
5 cloves of garlic, peeled and sliced
A pinch of red chile flakes
1 pound of Yukon gold or red potatoes, peeled and cut into 1/2 inch pieces
6 cups low sodium organic chicken broth
1 bay leaf
1 bunch of kale, washed, stems discarded and leaves chopped
Salt and pepper to taste
2 links of chicken sausage
Pour enough olive oil into a large soup pot to cover the bottom. Over medium heat cook the onion, garlic, and chile flakes for several minutes, until the onion begins to soften. Add the potatoes, broth, and bay leaf and bring to a boil. Add the kale, reduce heat to a simmer, and cook until the kale is tender and the potatoes are soft. Remove the bay leaf and season to taste with salt and freshly ground black pepper.
Get more tips and recipes for seasonal eats at Made By Michelle.