Cauliflower soup.
Admit it, you read those words and just couldn't wait to cozy up to a bowl of hearty, creamy goodness.
No? OK, what if I told you it's easy, healthy AND extra delicious with Parmesan-crusted crostini?
I thought that might do the trick.
I first made this soup in Atlanta, probably about 10 years ago, and I remember the meal that inspired it. My husband and I were living in a house for the first time, in the Virginia-Highlands neighborhood – a beautiful area of restaurants, shops and gorgeous Craftsman-style bungalows (my fave).
Our neighbor from across that street was coming for dinner, and I had settled on a simple fish dish with tomatoes and capers, green beans on the side, but decided it needed a starter course. Something light but fulfilling, warm and hearty but not so cozy that you'd want the main course to be a nap on the couch. I had some cauliflower in the fridge, and thought it could be perfect. I found a few recipes for cauliflower soup, but most had added cream and sounded too heavy for my taste. Then I came across an asparagus soup that had the lightness I was seeking. I figured, why not modify it and put that head of cauliflower in the fridge, and the shallot on the counter, to good use?
It's a recipe that hasn't changed much over the years. I like using leeks and shallots in my cooking because they offer a slightly smoother, richer flavor than just an onion. Feel free to add any herbs or spices you love with cauliflower – this is a truly adaptable soup.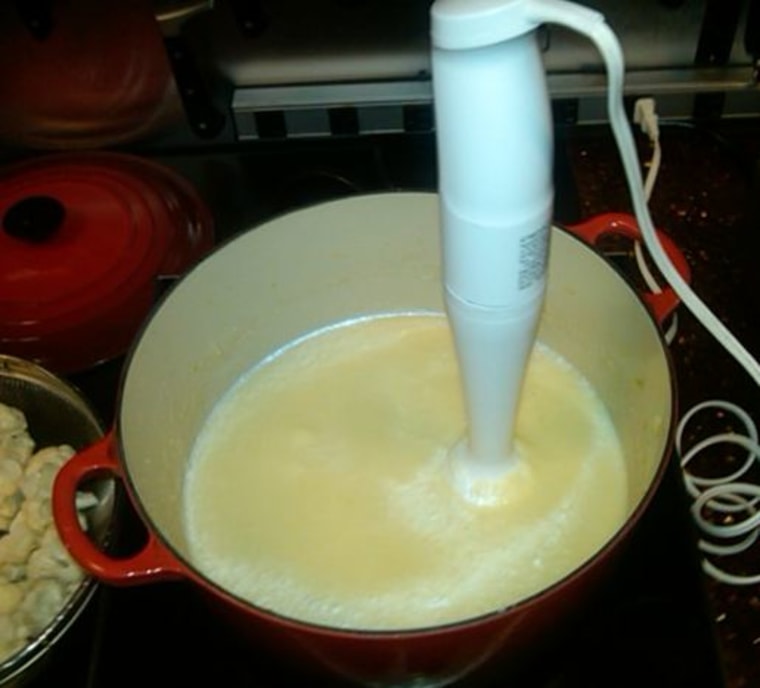 Substitute asparagus or broccoli for cauliflower and you've got another winner! Though you may want to cut the liquid a bit with asparagus, as it has more water than the cauliflower. I tend to make this with vegetable instead of chicken broth because my dear friend and former neighbor, Mary, doesn't eat anything with eyes (OK, except potatoes). She loves this soup and I love to cook for people, so I make the Mary-friendly version, even when she's not here to share it with us.
I hope you'll enjoy it, too; whether as a first course, a hearty main or reheated leftovers for lunch at the office. It's also pretty kid-friendly…and did I mention it's super easy? 
For soup:
3 tbsp olive oil
2 medium or 3 small leeks, white part only (rinsed well and minced)
1 shallot (minced)
1 head cauliflower (roughly chopped)
4 cups vegetable or chicken broth / stock
2-3 bay leaves
Salt and pepper to taste 
For crostini:
Baguette
Olive oil
Shredded parmesan cheese
Salt and pepper
Optional: herbs such as oregano or thyme
Add olive oil to large heavy pot over medium-high heat, add leeks and shallot, cook until soft but do not brown.
Once leeks and shallots are softened, add roughly chopped cauliflower, salt and pepper and increase heat a touch, sauté cauliflower for 2-3 minutes but do not brown. Add stock/broth, bay leaves and bring to a boil. Then reduce heat and simmer uncovered for about 15 minutes or until cauliflower is soft but not mushy.
Remove bay leaves and using hand immersion blender, purée in pot (or purée in batches in blender). Season to taste with salt and pepper. Soup should be thick.
This is a great first course with a light fish dish or a warm, hearty main served with salad and crostini.
Crostini:
Thinly slice baguette, drizzle with olive oil, season with salt and pepper. Place under low broiler to crisp bread. Remove from oven, add parmesan cheese to top of crostini, put back in oven until cheese begins to bubble. Serve alongside soup.
More from TODAY Food: