If you're into trying different healthy eating plans, chances are you've dabbled with Whole30 — or at least toyed with the idea of it — until you realized how much food you'd really have to throw out of your fridge and pantry. And then have to start from scratch on basic replacements.
Getting past that initial startup snag is the idea behind a new Whole30 Starter Kit from Thrive Market —but is a one-and-done kit really the best approach for jump-starting a new meal plan?
The kit, which features items handpicked by Whole30 co-founder Melissa Hartwig, includes eight products for $70: Primal Kitchen's Avocado Oil Mayo, Thrive Market's Organic Virgin Coconut Oil, Safe Catch Wild Albacore Tuna, Kettle & Fire Grass-Fed Beef Bone Broth, Epic Beef Apple and Uncured Bacon Bars, Primal Kitchen Greek Vinaigrette with Avocado Oil, The New Primal Classic Marinade & Cooking Sauce, and Nutpods French Vanilla Unsweetened Non-Dairy Creamer.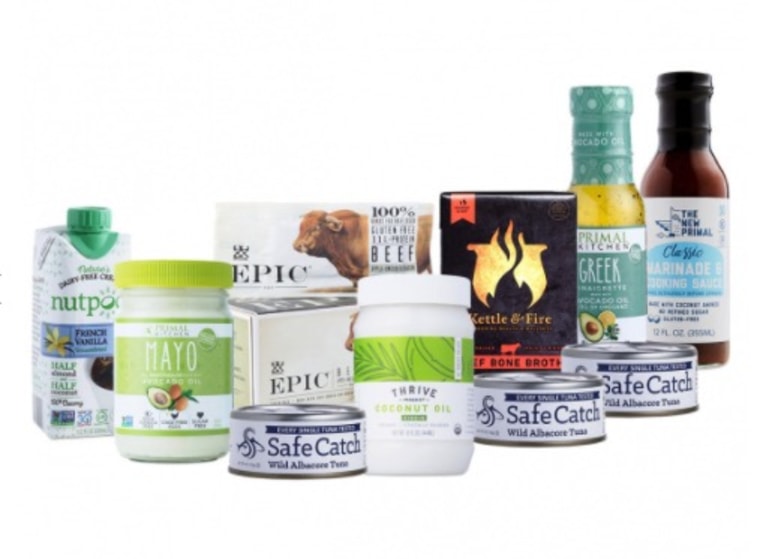 The main idea behind Whole30 is to cut out processed foods and added sugars, as well as certain categories (no dairy, no sugar, no alcohol, no grains, no legumes (including soy), and no additives, like MSG) for 30 days, which ideally helps curb sugar cravings and encourages healthier eating habits.
What you do eat is lots of meat, seafood, eggs, veggies, healthy fats like avocado or olive oil, and some lower-sugar fruits, like blueberries, and herbs and spices.
And yes, it does involve stocking up on some condiments that you may not have on hand already (like coconut aminos, a soy sauce substitute, which is available in the pro version of the kit, of course).
So is a kit the way to go if you're trying to make a change? We asked several registered dietitians.
The pros
An expert hand-picked the items. This kit wasn't just put together based on bestselling snacks — Whole30's Hartwig selected each of the products in the kit. "It was kind of like a game, if I could only set people up with 10 products, what would make them most successful?" Hartwig told TODAY Food. She went with staples (like non-dairy creamer for coffee), essentials for cranking out tasty meals, as well as emergency snack provisions (like those bacon-beef bars).
You avoid an annoying scavenger hunt for rare items. Not everyone has access to speciality stores, and some of the products can even be hard to find in small quantities online. The Primal Kitchen Avocado Oil Mayo, for example, is the only Whole30-compliant one on the market — unless you want to make it yourself, Hartwig said, adding that it's "an absolute game-changer."
It can keep you from getting overwhelmed. "Though I don't think it's absolutely crucial to being successful with Whole30, a kit that sets you up from the beginning to be armed with the tools you need to have a positive experience may be helpful," nutritionist and TODAY contributor Keri Glassman, RD, said.
"It could also help create more excitement around trying new products, and staying motivated to stick to your Whole30 plan."
The Real Food Dietitians Jessica Beacom, RD, and Stacie Hassing, RD, agree, telling TODAY Food, "If the change you're about to make in your diet is a big departure from how you're eating now, then yes, starter kits can be really helpful."
They added, "Typically starter kits are designed to introduce you to products that you may not have otherwise known about and many offer a lot of convenience, which is important when you're making changes that may have you feeling overwhelmed, such as starting the Whole30."
As one kit reviewer posted online: "This is my second time doing Whole30, and I'm so glad that it's finally easy for me to get everything I need in one place! Last time, I was constantly checking labels and guessing on what I could or couldn't eat."
The cons
You are paying more for the convenience. The kit is $70, but you also have to factor in Thrive's $60 annual membership fee to order from the site (though Thrive does tout prices that are 25 to 50 percent below retail).
"As with anything, buyer beware. Be sure to review the contents of each kit and evaluate whether the products are something you would really use," Beacom and Hassing said.
If the price seems too steep, the nutritionists said potential buyers should consider whether the products could be found elsewhere for a better. With a little planning, some of the items — like salad dressings, marinades, and spice blends — could likely be made at home and wouldn't take too long to make.
You still have to do your homework. "As with any diet, I think it is so important to arm yourself with knowledge," Glassman added.
"So, even if you use a kit, take the time to learn what is in the products you are consuming. You'll be able to make educated decisions for yourself in the future, when you're not using a kit that is done for you."