Pickles are having a moment. From the pickle ice pops that recently got a lot of heads turning to the discovery that football players like to chug pickle juice, it looks we've come a long way since simple pickle back shots and fried dill slices.
The latest wacky pickle product is something Walmart is calling "Tropickles," a summer release featuring cucumber pickles floating in a jar of red fruit punch. The pickles, which were released July 14, are now being sold under the discount retailer's Great Value brand.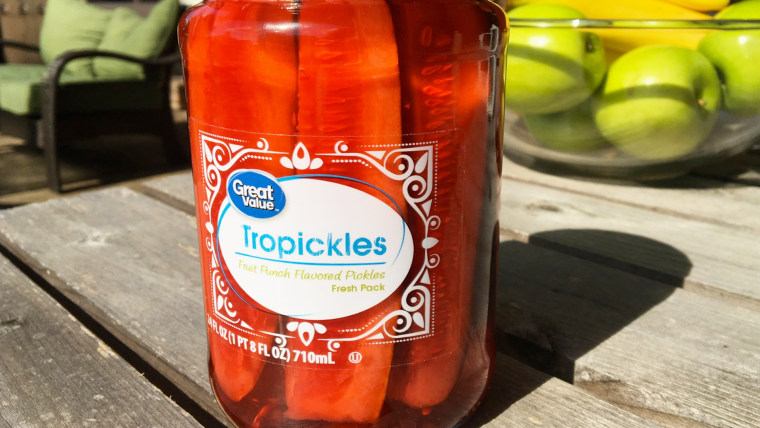 No, these new pickles aren't a belated April Fool's trick and yes, we're not sure how we feel about them, either.
"The modern-day couple, the pickle and fruit punch met on social media (they bonded over recipes on Pinterest, to be exact); now, we are celebrating their union on Walmart store shelves," the company said in a statement.
While the marriage of dill pickles and fruit punch may seem odd to many of us, the sweet and sour idea is not exactly brand new. The combination is already popular in many southern states and social media has been brimming with DIY versions of this snack for years. In fact, there's a sister variety — the Koolickle, also known as Kool-Aid soaked pickles.
The Tropickles are now available at over 1,200 Walmart locations, with a jar going for just $2.
Can't get enough pickle juice? While you're snapping up those fruit punch pickles, you may also want to pick up some pickle juice soda.