Croissant hybrids: The world still cannot get enough of them.
It's hard to believe that it's been about four years since the original Cronut came into our lives.
Now, this time, it's a croissant and tortilla that are celebrating a marriage made in heaven, in a new creation — the Crotilla — from Walmart's in-house bakery.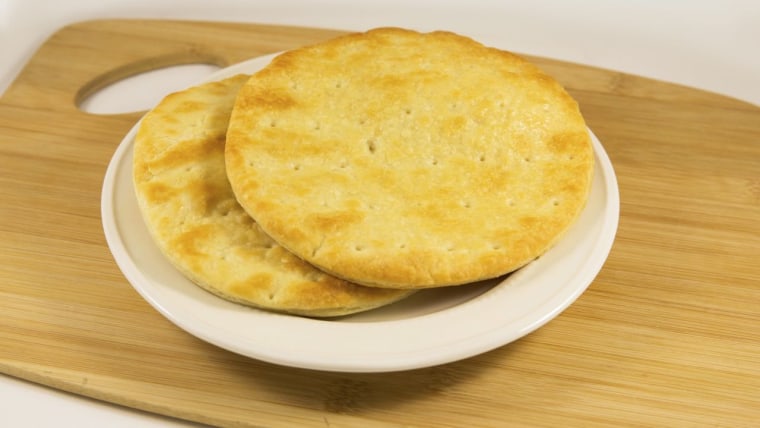 About the size of a small flour tortilla, the Crotilla has the buttery taste and texture of a croissant on the inside.
They're intended to be used, among other things, for sandwiches, as traditional croissants typically fall apart when you try to slice them neatly in half, a Walmart spokesperson told TODAY Food.
TODAY's Hoda Kotb and Kathie Lee Gifford got a sneak taste of the Crotilla this morning, when they got to sample some of the disc-shaped pastries, still warm out of the oven.
As she slathered Nutella on a Crotilla, Hoda said, "This is sick. This is like my favorite thing."
We're right there with you, Hoda: Buttery pastry dough, slathered with hazelnut spread — it's hard to go wrong.
RELATED: Cronut chef Dominique Ansel's morning routine
Other suggested uses for the creation include topping it like a pizza and putting it in an oven at 350˚F for 10 minutes or so; warming it up for 15 seconds in a microwave and then slicing into triangles to serve on a mezze platter with dips, meats, veggies and cheeses; or making killer sandwiches, such as with eggs at breakfast or chicken salad at lunch.
Not to forget dessert: Aside from Hoda's Nutella idea, the retail giant also suggests brushing the warmed pastries with butter and honey.
The Crotilla comes in packs of eight and sell for $3.98 in participating Walmart's bakery departments nationwide.
Food mashups can be hit-or-miss, but this might be one that just makes sense.