Facebook's algorithm seems to be serving up what some are calling a "disturbing" ad.
But many just think it sounds delicious!
Users on the social networking site have recently reported seeing ads from Walmart featuring a product called "funeral potatoes." Yup, you read that correctly.
The product is made by Augason Farms, a brand which calls itself the leader in emergency food storage, survival gear and water storage. The bagged potatoes are also available on Amazon.
As ominous as the product's name might sound, funeral potatoes aren't weird or scary — they're actually the epitome of comfort food, usually made with potatoes, cheese, onions, a cream-based soup and a crunchy topping made with chips or cornflakes.
Even "The Pioneer Woman" Ree Drummond has a homemade recipe that uses frozen hashbrowns, chicken broth, Monterey Jack and cheddar cheeses, sour cream and kettle-cooked potato chips. But Walmart's version has a shelf life of up to 18 months!
So why the "funeral" nod in the name? It comes from the tradition (mostly in the South and Midwest) of the creamy dish being a popular casserole served at post-funeral receptions and dinners. With all of those comforting ingredients (plus lots of butter), it's like the edible version of a hug and represents a nice way to show sympathy to those who are grieving.
But Walmart's Facebook ads are exposing the recipe name to plenty of people who have never heard of the dish. And while the casserole may be trending now, it certainly isn't new. According to the Wall Street Journal, the roots of the dish can be traced back to the pages of Mormon Relief Society Cookbooks, which have been around since the early 20th century.
The Augason Farms product, which has been sold in stores since 2016, comes in a pouch that you just add water to for 12 servings of the casserole. The description even throws in a tongue-in-cheek pun: "These potatoes are so delicious that you'll be dying for more!"
If the idea of the pouch doesn't seem too appetizing, you can certainly make your own: just mix up some of your favorite spuds, add cheese, sour cream, chicken soup — and sprinkle with your favorite crunchy topping. No water required.
Funeral potatoes, $10, Walmart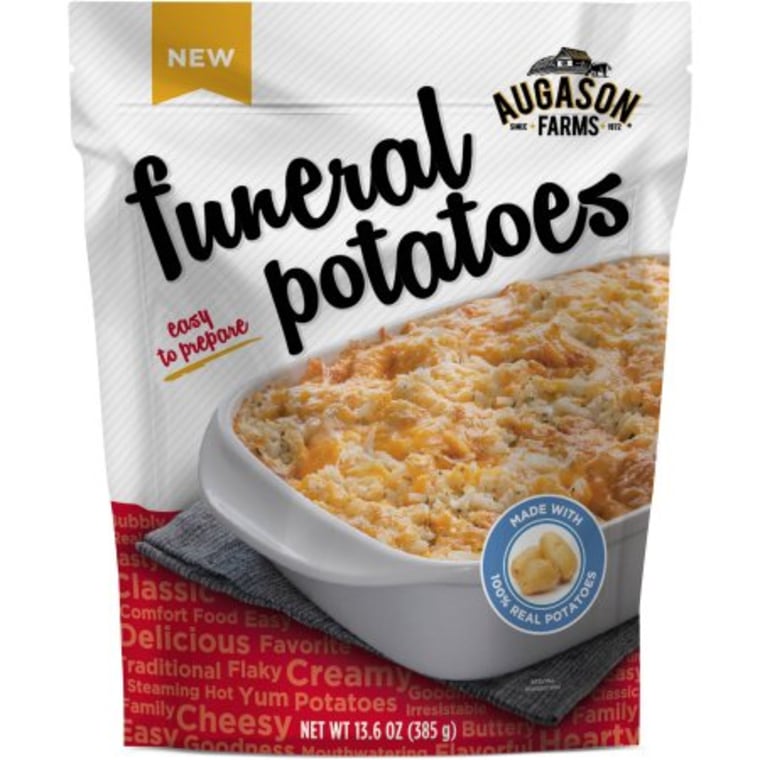 (Also available on Amazon)