Dozens of restaurants, business and schools have been forced to close after a major water main broke in DeKalb County, Georgia.
But of course Waffle House won't let a silly little thing like not having water shut it down.
The chain, famously known for staying open during natural disasters, is currently offering a very, very limited "no water" menu.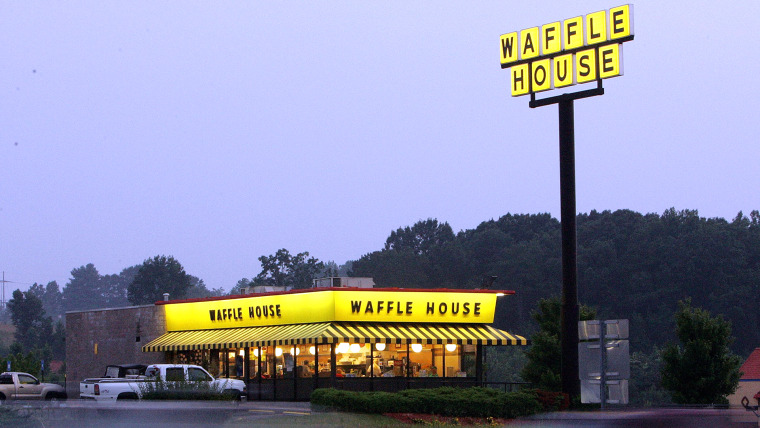 Fourteen locations of the Georgia-based chain were affected by the break, Waffle House spokesman Pat Warner told TODAY Food. Residents in the area have been advised to use bottled water or boil any water before use, if needed. But Waffle House is soldiering on with limited resources.
"We were fortunate to be able to keep them all open," Warner told TODAY. "It's just part of our culture to stay open and be open for everybody."
To accommodate its patrons during various disasters, the Waffle House corporate team has developed limited menus that enable the chain to continue to provide service in the absence of water, power or any other resources that may be limited during hurricanes and ice storms.
The "no water" menu features six entrees, two sides and canned or bottled beverages. The options include a hamburger, sausage biscuit and a few grilled sandwiches. But the chain is still staying open 24/7.
Even though Waffle House is still able to serve up some of its delicious food, a lot of people on social media seem to be concerned about employees being able to wash their hands and properly sanitize dishes without water.
But don't worry, diner fans, Warner confirmed to TODAY that the chain has created boiling stations in its kitchens to keep dishes and employees' hands clean. And, he says, they're using plenty of hand sanitizer.
The chain is also using disposable utensils to keep the dishwashing to a minimum.
Other customers are looking at the glass (or canned beverage) as being half-full:
We're with you on that one!
Warner told TODAY Food that the no-water Waffle Houses should be resuming normal operations with full menus by 11 a.m. on Thursday, after the water main is expected to be fully repaired by the county.