Some tubs of ice cream come with a peel-away plastic seal under the lid. But many don't.
A viral video has hundreds of people across social media wondering why all ice cream pints and tubs don't come with an extra layer of protection.
A video posted to Twitter last Monday purportedly shows a young woman in a grocery store freezer aisle opening a large container of Blue Bell ice cream and then taking a big lick off the top. After the deed is done, she simply puts the carton back in the freezer case where any customer could presumably pick it up and take it home.
Note: The following video contains language some might find offensive.
Throughout the video, another voice is heard encouraging the woman's behavior, before telling her to "put it back."
The Twitter account that first posted the video, Optimus Primal, did not immediately respond to TODAY Food when asked whether they knew the people in the video, or where this incident allegedly took place.
The original tweet was posted with the comment, "What kind of psychotic behavior is this?" Since the video went up, it has garnered over 10.5 million views and over 35,000 comments.
The young woman may face charges but it will be "at the discretion of the juvenile justice system" according to police, reports NBC News. Police confirmed on Friday they have identified the suspect, who they say licked the ice cream at a Walmart store located in Lufkin, Texas.
This week, Blue Bell, which is based in Texas and sold mostly in Southern grocery stores, posted a statement on its website explaining that it is taking this issue very seriously and that "this type of incident will not be tolerated."
Blue Bell has since removed all tubs that contained the specific vanilla ice cream flavor with swirls of chocolate fudge and chocolate-covered peanuts from that Walmart's store shelves as a precautionary measure.
Yet many folks online wondered why there wasn't any plastic film on the surface of the ice cream to protect it from the elements and, well, adventurous tongues.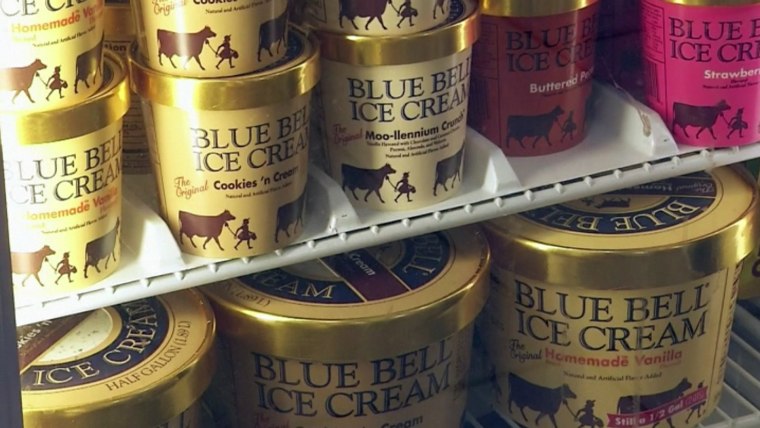 Why doesn't Blue Bell have such a barrier?
"During production, our half gallons are flipped upside down and sent to a hardening room where the ice cream freezes to the lid, creating a natural seal. The lids are frozen tightly to the carton. Any attempt at opening the product should be noticeable," the company stated online.
Haagen-Dazs, which is available in supermarkets nationwide, quickly weighed in on Twitter after the video went viral and said that its containers do come with a safety seal.
What a cool burn.
But the damage has already been done and social media is up in arms.
Others are bemoaning the damage the ice cream licker has already done to the public's ability to trust in the safety of grocery store food.
The issue has received so much attention that even Twitter itself weighed in with a witty comment.
Of course, this mystery woman isn't the only person who has been caught licking food in public.
Remember when Ariana Grande licked a doughnut? The whole incident, for which the singer later apologized, was captured on the store's security camera.
Or how about the man who ate soup directly from the ladle at a supermarket hot bar? Yuck.
If you're ever standing in a grocery store and feel like taking a little lick of something before putting it back for someone else to pick up, just don't. No, really.
It's a serious crime to tamper with consumer products, including food. In California, for example, this type of behavior can be charged as battery, according to attorneys at the firm Wallin & Klarich. It's also punishable by up to six months in county jail and a $2,000 fine. In other states, like Texas, the punishment may be more severe.
As a precaution, some folks on Twitter suggest reaching for an item further back on the shelf. Sounds like a a good bet to us!