It's not uncommon these days to find the perception among some critics that Australian wines are largely the same, a feeling that while they are drinkable they are less than memorable. A case can be made that much of Australian wine, particularly at the moderately priced end, represents a triumph of technology over terroir - well-made wines that are, sorry to say, just not that interesting when compared with comparably priced wines from, say, France or Spain.
Much of the shiraz and chardonnay, Australia's top varieties, falls into this category — mass produced by big, state-of-the art wineries, propelled by an industry whose genius lies partly in the marketing miracle that has sent sales of Australian wine soaring over the last decade.
And yet, if you look beyond the big brands, the Yellow Tails, you'll have little trouble finding Australian wines with character and originality. For me, the latest is the 2003 "La Biondina," a vibrant white from the Primo Estate, located in the Adelaide Plains area of South Australia.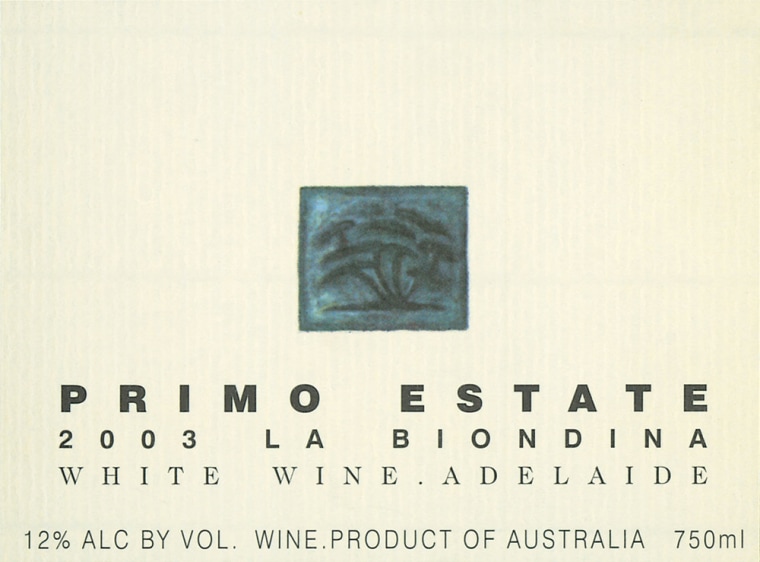 I bought a bottle the other day from David Lillie, co-owner of Chambers Street Wines in New York, who has probably sent me away with no more than a handful of Australian wines in the 15 years or so that I've known him. So of course I was intrigued by what he thought was a) one of the few Aussie wines he felt was worth carrying in his store and b) one worth recommending to me.
I wasn't disappointed. "La Biondina" is about as far from Australian generic as you can get. This racy and refreshing $14 wine is loaded with tropical fruit aromas and tastes and almost jumps out of the glass. The main grape is colombard with small amounts of riesling and sauvignon blanc.
There's a lusciousness to it — not so much in the "feel" of the wine in the mouth as in the explosion of tastes, including passionfruit, grapefruit, lime, honey, hints of vanilla and minerals. On one hand, this is a palate-cleansing aperitif that will stir the appetite, and a food wine that will accompany grilled chicken and fish, especially with citrus marinades, all kinds of shellfish and Asian foods, including sushi.
The Primo Estate is owned and run by Joseph Grilli, whose father, Primo. came to Australia from Italy in 1953. Joe Grilli has been making wine for 25 years and now produces about 19,000 cases a year. "La Biondina" accounts for about three-quarters of the production.
You're likely to find both the '03 and the '04 vintages of "La Biondina" around at this point, and the '05 is about to be released. By the way, "La Biondina" means "The Young Blonde One," a fitting name for a wine that is fresh, bright and full of character.
This Week's Wine
Name: 2003 La Biondina Primo EstateType: WhiteCountry: AustraliaRegion: Adelaide Plains Grape: ColombardPrice: About $14
Edward Deitch's wine column appears Wednesdays. He welcomes comments from readers. Write to him at EdwardDeitch