Vegetables are popping up on more restaurant dessert menus, and we're not talking about zucchini bread or pumpkin pie.
Celery, beets, parsnips and even eggplant are some of the unusual veggies getting their due in high-end, creative sweets, a trend that chef Dominique Ansel predicted here on TODAY.com about a year ago.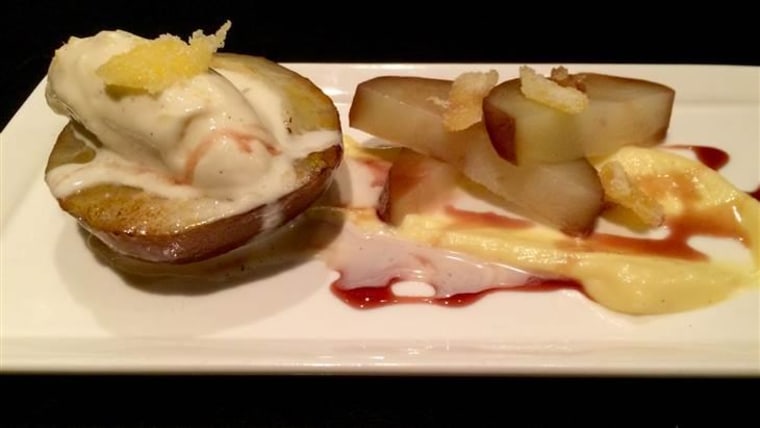 And these aren't cases where vegetables are being "snuck" in, masked and hidden. Chefs are embracing the earthiness, subtle sweetness and even the bitterness that some vegetables bring to dessert. Parsnips were one of the earliest veggies we've seen in desserts — their inherent sweetness is a natural fit, similar to carrots. At eighty3 food and drink in Memphis, executive chef Max Hussey uses parsnips in an Anglaise sauce that he pairs with port-poached mirliton, a veggie also known as chayote, which taste like a cross between a squash and a cucumber. The chef says the dessert has an "earthy" quality: "I don't have much of a sweet tooth when I dine out, so lessening the sweetness and adding a savory component appealed to me."
Earthiness was also the goal behind the beet brownies with candied walnuts at Marion Street Market in Oak Park, Ill., where chef Steve Chiappetti also serves up a goat cheese almond eggplant cheesecake. "Roasted eggplant has a wonderful bitterness about it that blends well with the goat cheese," he explains, adding that the earthy beets are a great complement to rich, dense chocolate.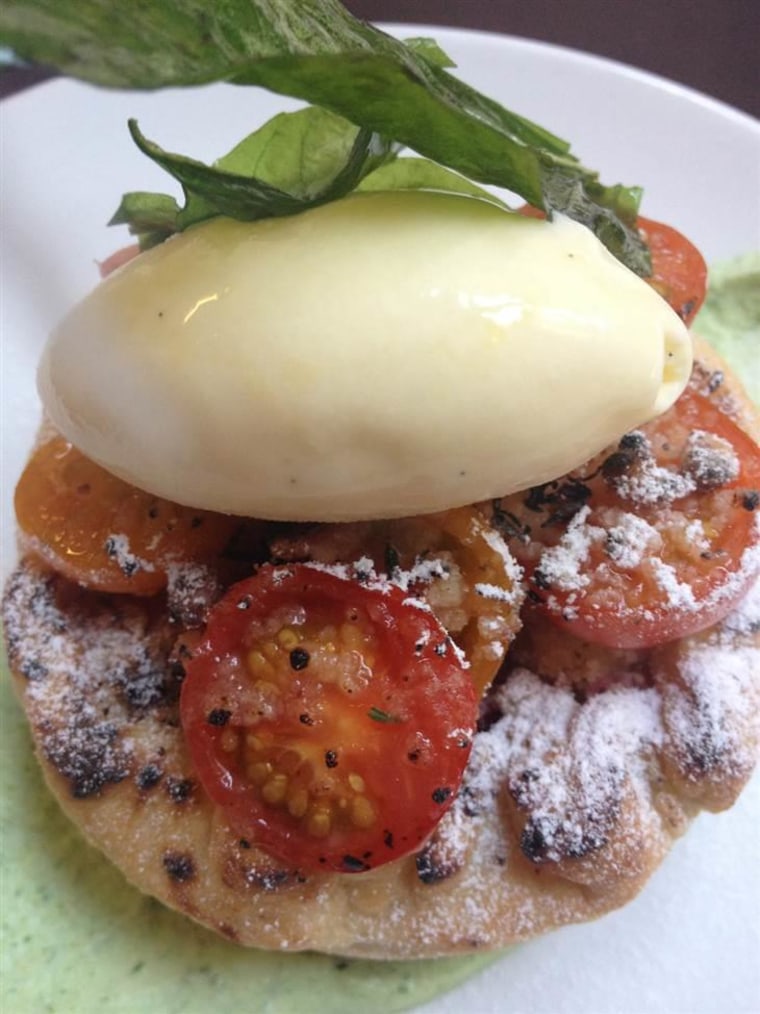 The brandywine tomato cobbler with olive oil gelato and basil zabaglione at The Florentine in Chicago would pair well with that eggplant cheesecake. Chef Chris Macchia says the tomatoes work surprisingly well in the dessert because their high acidity plays well with the sweetness of the other components. "When cooked, the tomatoes had the same texture you would expect from a plum or peach in a summer dessert," he says. "We added thin slices of white asparagus to the bottom of the tart to add more texture." The dish was part of a special heirloom tomato menu, but with any luck, he'll bring it back next summer.
Starchier vegetables, like winter squash, also bring unique benefits to sweets, says executive chef John Hogan, of Chicago's River Roast. Inspired by the soft-serve machine, he recently tried out a red kuri squash ice cream, made with brown sugar, cinnamon and orange juice. "Diners get the nuances of the squash puree and an extra 'mouth feel' because of the starch in the squash," he says. "It takes traditional soft serve up a level for a more robust flavor."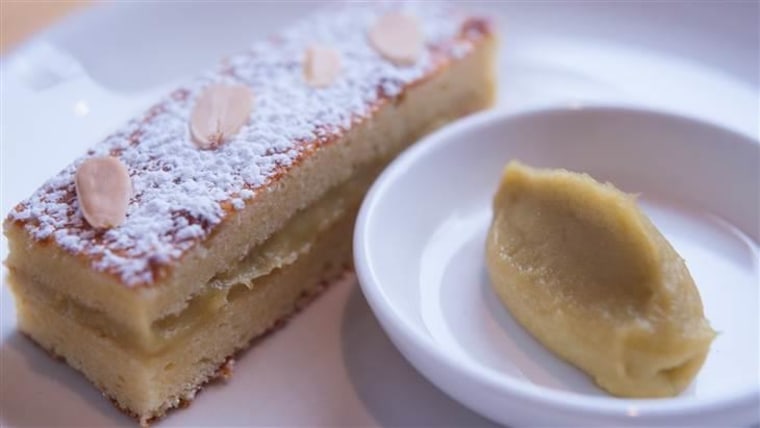 And celery is making an appearance on multiple dessert menus, which seems surprising, but it's refreshing, points out executive pastry chef Aya Fukai of Sixteen, also in Chicago. It's especially so when blended with pineapple in a granite, as she does. The pineapple-celery granite, which also includes black pepper for kick, is part of the restaurant's 16-course winter tasting menu.
A perfume-designer friend actually inspired the celery compote that chef Roberto Santibañez serves with almond cake and raspberry rose ice cream as a special at Fonda, his contemporary Mexican restaurants in New York City.
A dinner party where they worked and played with scents and food sparked the idea of celery as a sweet. "When cooked with sugar, the celery becomes more like green apples, and this transformation makes it so versatile," Santibañez says.
Intrigued? Santibañez shared his recipe for celery compote with us — pair it with spiced desserts or something nutty, he says, like carrot cake, gingersnaps or almond cake.
Related: Get the full recipe for Amanda Cohen's carrot meringue pie
This article was originally published Mar. 9, 2015 at 5:27 p.m. ET.