We caught up with Vanessa Hudgens, the stylish star of Broadway's "Gigi," as she ate breakfast and prepped for her TODAY appearance. Of course, we took the opportunity to pepper her with questions about — what else? — food!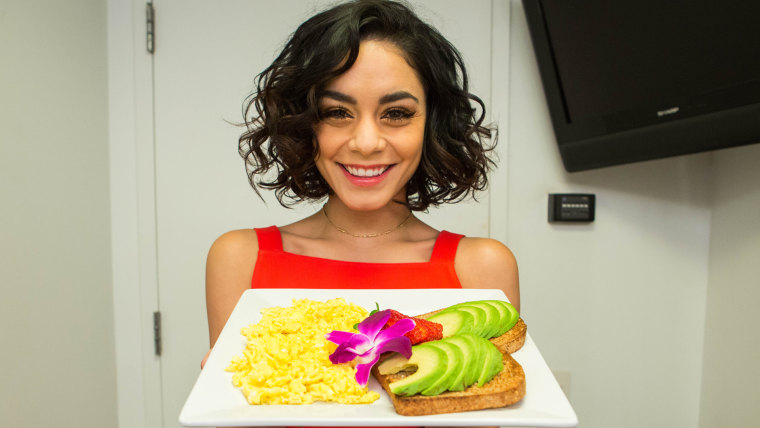 What's your go-to-breakfast?
Scrambled eggs, avocado and Ezekiel bread. I smush the avocados on the toast, add olive oil and pink Himalayan sea salt.
Beyond bread and butter: 11 ways to give your morning toast a total makeover
What are you like when you don't have your morning coffee?
I don't really have morning coffee! But I just love lattes so whenever I can get one, I get one.
How many times do you usually hit snooze?
I actually like getting out of bed. I wake up every morning excited about the day! Sometimes I hit snooze, but it's normally to cuddle with my dog. Her name is Darla she's a rescue and she's just the sweetest little ragamuffin I've ever met. She's a terrier mix, she's a mutt. We think she's 1 ½ years old.
Who's your ideal breakfast buddy?
Audrey Hepburn. She's so classy and so chic I just imagine us in a café together, sitting outside, sipping on coffee, talking about life and fashion.
What's your food philosophy?
I think about my body as being my temple, so I want to put food into it that will sustain me and give me nutrients and vitamins that I need. I of course indulge every now and then, but I try to think of food as fuel.
When you do indulge, what's your guilty pleasure?
Italian food! Pizza, pasta, and lots of bread.