When I Googled "Holy Grail of wine" the other day just to see what came up, I wasn't surprised to find that pinot noir seemed to be most associated with the phrase; great pinot noir is, in fact, more elusive than just about any other wine.
That is, until I think about great $10 wine. Now granted, this may seem like an oxymoron — great wine at $10 or less. After all, budget wine, by definition, is not going to have the same character and complexity of a wine, say in the $30 range.
And yet, when I do occasionally come across a distinctive inexpensive wine, I find myself saying, almost reflexively, "this is great," as I did not long ago when I tasted a wine called Sfida from the Puglia region in the heel of southern Italy.
Sfida means "challenge" in Italian, but no one will accuse this wine of being hard to figure out. Just look at the label. Not only is the type large enough for those who might have forgotten their reading glasses but it tells me exactly what I'm about to drink. I like that.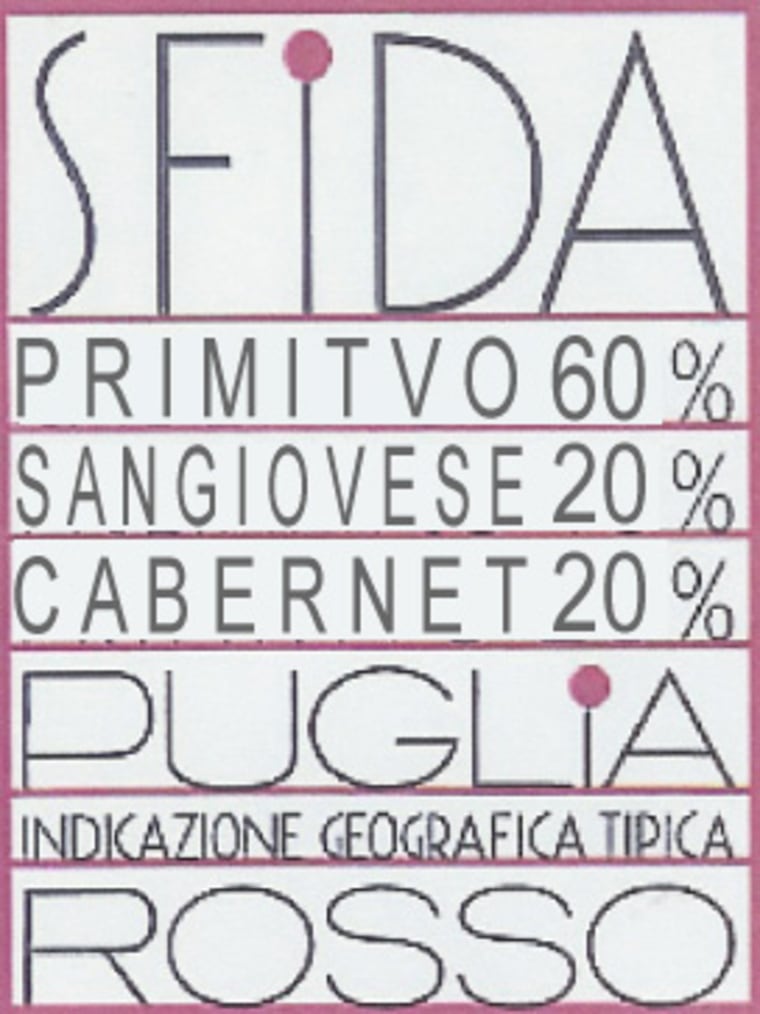 Sfida is a blend that varies from year to year both in varieties and proportions used. The 2003 is 60 percent primitivo, 20 percent sangiovese and 20 percent cabernet sauvignon.
Primitivo, as you may recall, is the genetic cousin of the American zinfandel and is now one of the most popular varieties coming out of Puglia. The sangiovese, which is grown throughout Italy, gives the wine a little more depth and the cabernet provides some structure.
All of this at a pretty impressive price of just $9 or so, depending on where you buy it.
The wine is soft and easy to drink, but you'll notice that it has a little tannin, the invisible remnants of the grape skins, yeasts and other solids, which give it some firmness and that structure I mentioned.
The fruit is typical of what you'll find in Puglian wines — ripe and jammy, mainly raspberry and blueberry, with some earth and spice notes.
This is a great wine to have with all kinds of pastas, pizza, burgers and even grilled chicken. Try chilling it for a few minutes to give it a slightly refreshing quality. The 2003 Sfida is one of the best under-$10 wines you're likely to find.
This week's wine:
Name: 2003 SfidaType: Dry redCountry: ItalyRegion: PugliaGrapes: Primitivo, sangiovese, cabernet sauvignonPrice: $9 or so
Edward Deitch's wine column appears Wednesdays. He welcomes comments from readers. Write to him at EdwardDeitch