It's February, which means that in the food world, talk of aphrodisiacs has reached a fever pitch.
Gwyneth Paltrow and her editors on GOOP.com are suggesting chocolate "sex bark," a treat that seems conventional enough, until you realize that the recipe calls for pricey ingredients like Sex Dust, an herbal preparation that costs $60 for four ounces and claims to "send waves of blood to all the right places" for both men and women.
Restaurants are trying to lure in couples with Valentine's Day menus designed to amp up the mood. (For example, as an homage to the upcoming Fifty Shades of Grey movie, customers at Sullivan's Steakhouse locations can slurp oysters and other reported aphrodisiacs while blindfolded with a tie to heighten other senses like taste and smell.) Even a quick search on Twitter for #aphrodisiac will bring up a flurry of recent results like Brazilian piranha soup, as well as more established ones such as chili peppers and dark chocolate.
But even if a restaurant or home-cooked meal is loaded with aphrodisiac ingredients, they won't be much help if you're left so stuffed that you're nodding off in between bites of dessert — moderation is the key to Valentine's Day eating. The menu suggestions below will help you separate aphrodisiac myth from reality and leave you with enough energy to follow dessert with a special kind of encore.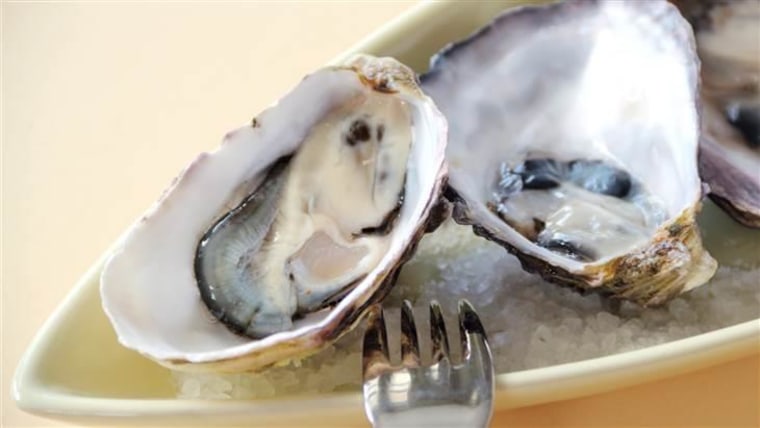 APPETIZER
Don't: Foie Gras
Do: Oysters
Rich, savory foie gras might taste luxurious, but Amy Reiley — a master of gastronomy diplomate of the Cordon Bleu and the author of "Romancing the Stove: The Unabridged Guide to Aphrodisiac Foods" — warns that on date night, it could stall action in the bedroom, thanks to the fact that a small serving packs a lot of fat. "That fat is the stuff that, over time, slows blood flow, which is essential to games of love, so this is not the way to start your night," she says. But go ahead and order those dozen oysters. Not only are they fun (and suggestive) to eat, they're packed with nutrients that can help during a romantic evening. "They offer a lean source of protein to help give you energy all night long and, in addition to offering the body zinc, which helps blood flow, there's some evidence that an amino acid found in oysters and other bivalves may directly raise sexual hormone levels," says Reiley.
Related: Oysters and 4 more foods that may make you feel happier now — and even better later
MAIN COURSE
Don't: Lobster Thermidor
Do: Seafood and spicy whole grains
Reiley says that although historically lobster is considered a passion igniter, "When cooked with butter, cream and egg yolks, it is transformed into the kind of main course that makes you long for a good nap — not a night of passion." As an alternative she suggests fresh lobster, shrimp or spot prawns that have been "simply steamed or sauteed to accentuate the sweet, briny flavors of the ocean." If you're looking for a side dish, try a spicy salad made with whole grains, which will prevent a blood-sugar crash and the resulting drowsiness. "This will not only give you a wonderful texture contrast, the heat from the chilies will raise the body temperature and get you in the mood to fling off all your clothes," says Reiley.
Recipe to try: Penne with peas, shrimp & basil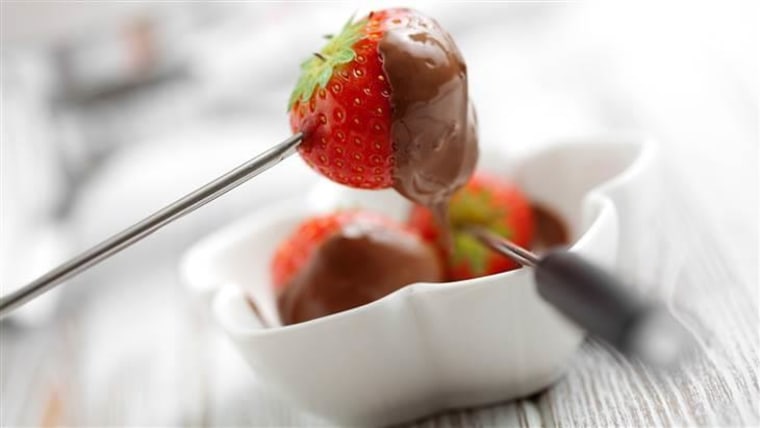 DESSERT
Don't: Death by Chocolate cake
Do: Chocolate fondue
A simple, elegant pot of fondue allows you to feed each other while indulging in fruits like strawberries, blueberries, figs and papaya, which are rich in purported sexual-performance–boosting vitamins like C and E. "You want to finish the meal with something energizing, and the cake is going to slow you down later," says Reiley, who suggests saving it for a festive night out with friends.
Related: Amazing chocolate fondue and 4 more dipping dessert recipes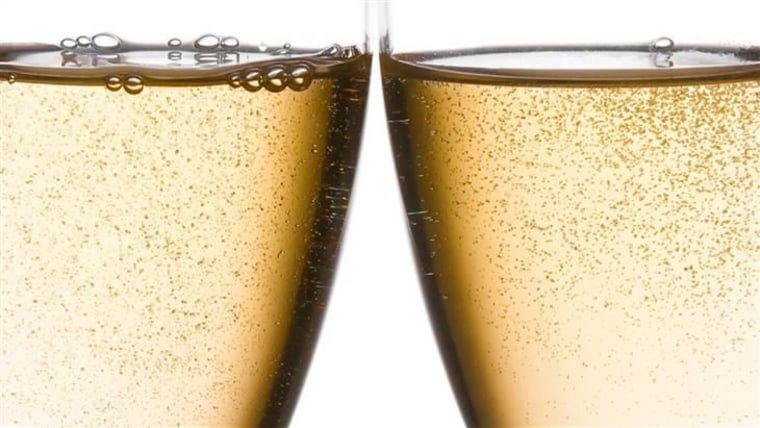 DRINKS
Don't: Wine pairings with every course
Do: One to two glasses of wine or a single cocktail, followed by espresso
"Wine can make a wonderful partner to romance, but alcohol is a depressant and overindulging can make you feel sluggish, sleepy or worse," says Reiley, who recommends limiting your consumption to at most one shared bottle of wine or champagne. And if you're coffee drinkers, order two espresso shots with dessert. "Coffee has been studied for its ability to get women, especially, in the mood by speeding up heart rate and increasing blood flow," says Sabra Switzer, who calls herself the unofficial "Love Officer" for Sullivan's. Reiley agrees, saying, "There's nothing like caffeine to give you a boost of energy for a bedroom tango."
Related: Affordable Champagne alternatives
This article was originally published Feb. 12, 2015 at 7:07 p.m. ET.