Lara Mason may have a playful sense of style when it comes to baking. But when it came time to prepare for her twin daughters' first birthday party, the mom and amateur baker wasn't kidding around for her latest masterpiece.
After more than 100 hours of prep time, Mason created two life-size replicas of her 1-year-old twin daughters, Lyla and Lily. The photo of the girls taking their first bite — of themselves — went viral, because it's pretty tricky to decipher who is human and who is cake!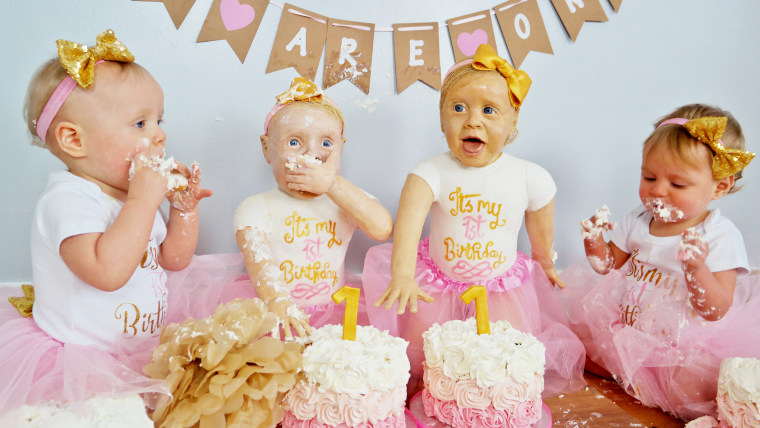 Mason lives in Walsall, England with her husband, Nikki, their two daughters, and dog, Bailey. The full-time mom works in customer service and, as a hobby, takes to the kitchen to casually bake up life-sized cake people.
Naturally, when it came time to plan Lily and Lyla's milestone party, Mason set out to bake a smash cake to match her favorite little people.
"Everyone had been going on for weeks about what I was going to do for the twins' first birthday cake, so I was definitely under some real pressure. I decided that the funnest and most memorable thing for us and them would be life-size cakes of the girls themselves," she told TODAY Food.
The cakes themselves were crafted using 44 eggs, 11 pounds of chocolate, almost nine pounds of butter, and nearly five pounds of flour.
But is it funny or creepy to be snacking on a life-size version of yourself?
"I totally understand that some folks might find it a bit creepy, but my husband and I get through everything by just trying to have a bit of a laugh and not take life too seriously, so why not?" Mason added.
The reactions have, in fact, been mixed. Some call the feat "incredible," while others are just plain "terrified."
The comments started piling up on Mason's Facebook page, Lara Mason Cake Art, which she started after friends kept begging to see more photos of her creations.
"WOW! Absolutely amazing!! ? Love it! Happy birthday to your twin girls. Fancy making one of these for our twin seven year olds? May need a few more eggs!?" one delighted commenter posted.
Mason made her first "cake person" in 2013 for Cake International (an international baking and decorating showcase) in Birmingham, England.
"It's one of the biggest cake shows in the world, if not the biggest, so I had to do something really amazing," Mason told TODAY Food.
She chose to create a life-size replica of "Pirates of the Caribbean" character Captain Jack Sparrow — because who doesn't want a slice of Johnny Depp?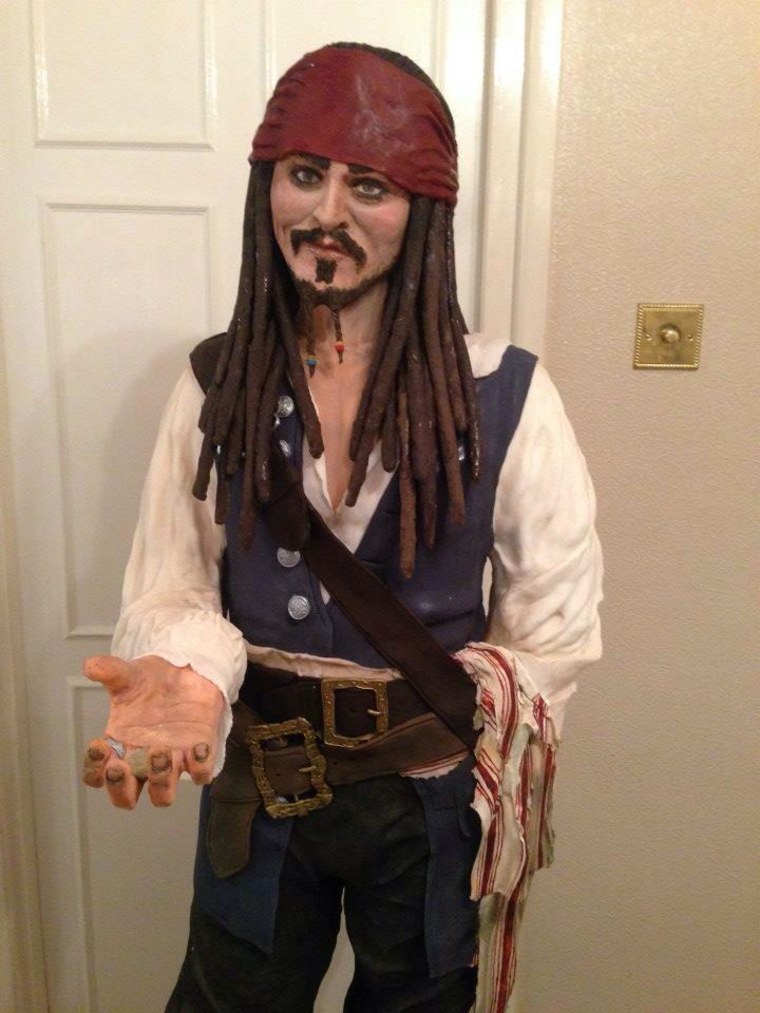 Since then, Mason has created replicas of herself and her husband (for a wedding cake!), Harry Potter, Prince George, and a Land Rover car so large that it needed to be transported by fork lift.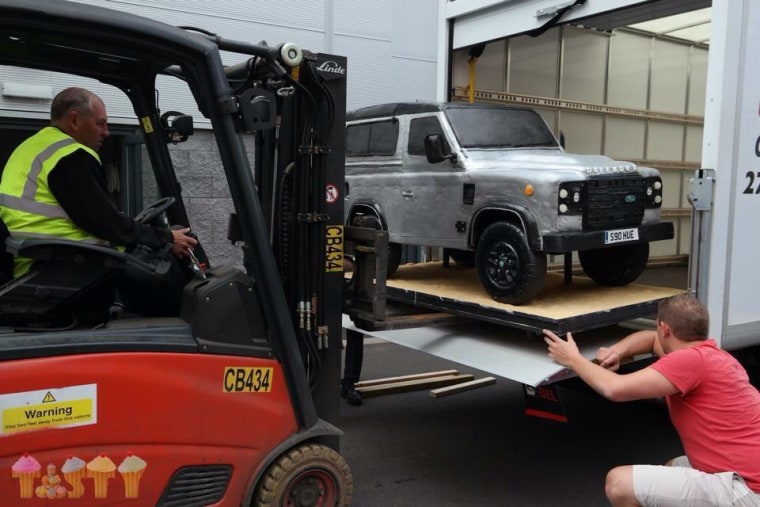 Though the adorable cake version of little Prince George won Mason the gold medal at Cake International in 2015, social media reactions were also mixed.
But her favorite cake design to date just hits close to home.
"I think because they are my gorgeous girls, this smash cake one of the twins has to take the cake! Pardon the pun," Mason told TODAY Food.
Don't worry, we love puns too.
If you're feeling ambitious, try making one of these deliciously decadent cake recipes: