Keep the can of tuna but ditch the boxed mix -- it's possible to make tuna casserole at home that brings back all those warm and fuzzy childhood memories without any of the processed preservatives. Start a new set of nostalgic traditions with your family!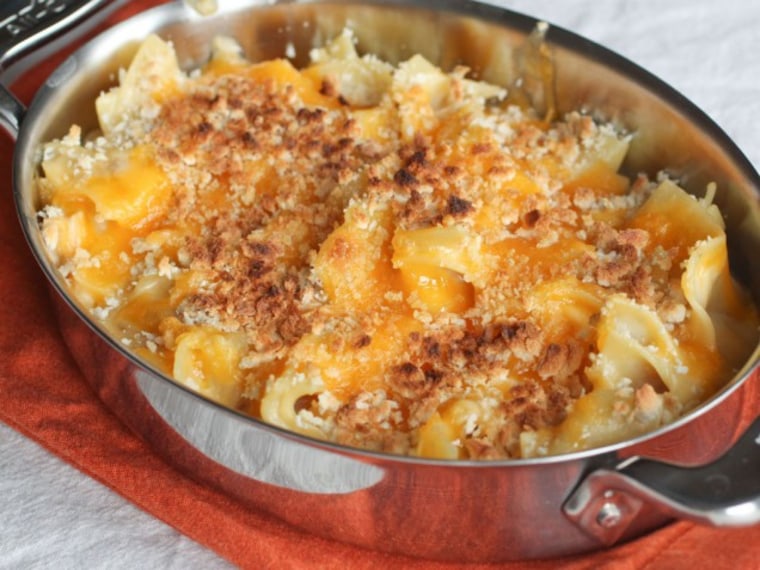 Ingredients:
5 tablespoons butter, divided

1 cup milk

1/2 white or yellow onion

1 teaspoon lemon juice

2 teaspoons soy sauce

1 can tuna, drained

1/4 cup white wine

1/2 pound cheddar cheese, shredded

1/4 cup flour

1/2 pound egg noodles

1 cup chicken broth

1 cup panko bread crumbs

Yield: 4 Servings
Directions:
Preheat the oven to 375°. Bring a 4-quart stockpot of water to a boil and add 1 tablespoon kosher salt
In a large skillet or 3-quart saute pan, melt 1 tablespoon butter over medium-low heat. Add the onion and stir in a pinch of salt. Cook for about 5 minutes, stirring occasionally, until softened.
Raise the heat to medium-high and add the soy sauce. Continue to cook, stirring, until the liquid in the pan is nearly evaporated. Add the white wine and bring to a boil, stirring occasionally, for about 2-3 minutes until the liquid is evaporated once again.
Transfer the onions to a bowl and reserve.
Melt the remaining 4 tablespoons butter in the skillet over medium-low heat and whisk in the flour. A clumpy paste will form. Add the broth a splash at a time, stopping to whisk and incorporate until the paste turns from clumpy to smooth, and eventually thins out into a sauce.
Whisk in the milk, bring to a boil, and then reduce to a simmer, whisking occasionally, for about 5 minutes or until the sauce has thickened.
Stir in the onions, lemon juice, tuna, and half the shredded cheddar. Season with salt and pepper to taste.
Add the egg noodles to the boiling water and cook until al dente according to package directions, then drain. Mix the tuna sauce with the cooked noodles and pour into a 9-inch square baking dish.
Top the casserole with the remaining cheddar cheese and the bread crumbs. Bake for 20-30 minutes, until the casserole is bubbling and the topping is golden brown.
This recipe originally appeared on iVillage.