There's no doubt that California's Napa Valley has the right stuff for producing world-class dry riesling. This first became apparent to me several years ago when I tasted the exceptional riesling from Smith-Madrone, the vineyard on Napa's Spring Mountain owned by Charles and Stuart Smith, who make very limited amounts of the wine.
I found further evidence the other day with the beautiful 2005 Dry Riesling from Trefethen Vineyards in Napa's Oak Knoll district. Crisp, bright and almost bone dry, this is another welcome example of California on the lean side — a wine that is the antithesis of the massive fruit and alcohol style that defines many California wines, both red and white.
But then again, great riesling is never about how "big" a wine is. Rather, it's about concentration of fruit, complexity and subtlety. By those measures German rieslings, which can be sublime in their sweeter, or fruitier, low-alcohol styles, have always set the standard by which others are judged. Trefethen's dry riesling, with its excellent fruit and multiple layers, is highly successful in its own right.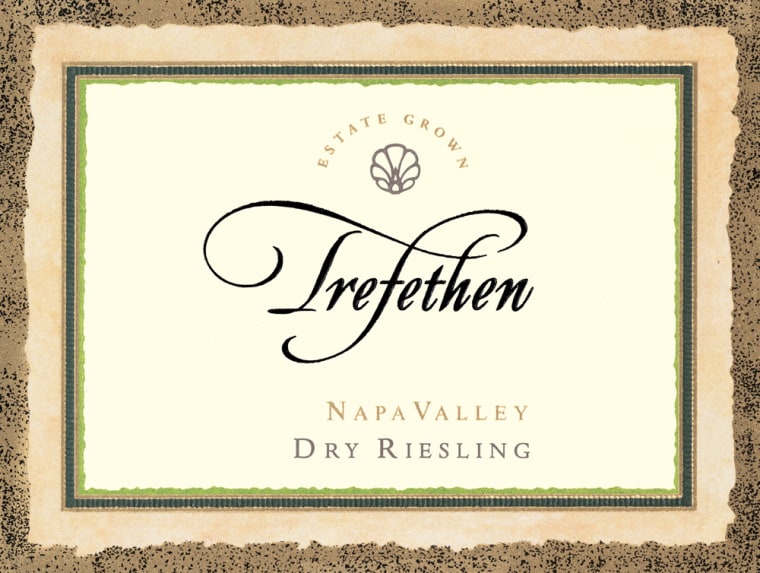 This $20 wine offers ripe white peach flavors along with a hint of strawberry and a good deal of lemon and lime. I also found an intriguing note of anise, with its licorice-like aromas. The wine is fermented in stainless steel, as is customary with riesling, without exposure to oak, and is framed by a pronounced mineral presence, which remains in the back of the mouth for what seems like a couple of minutes.
The wine is wonderfully refreshing to sip by itself but is a natural companion to Asian and other spicy foods, such as Indian. I would also go along with Trefethen's own recommendations, which include crab, lighter fish, pork and turkey. It's got the acidity to hold up to any of these foods.
This is a wine of considerable dimension that unfolds as you sip it. "That's our style and personal preference," says Janet Trefethen, who runs the 500-acre estate with her husband John. "We say our wines won't knock your socks off. They'll slip them off. And that's what I want them to do."
The family has been growing riesling, among many other varieties, since John Trefethen's parents bought the property in 1968, at a time when Napa was about "mostly peaches, prunes and walnuts," Janet Trefethen reminds me. She picks up on one of the defining qualities of the riesling, describing "the brightness of the acidity that is so refreshing and gives the wines lovely structure." That's a function, she says, of the slightly cooler climate in the southern end of Napa where the Oak Knoll district is located, and a long, "gently warm" growing season.
Trefethen's wines are made entirely from estate-grown fruit, meaning that no outside grapes are used. About 5,000 cases of the '05 riesling were produced. This is a wine of pure elegance for summer drinking — and well beyond.
Edward Deitch's wine column appears Wednesdays. He welcomes comments from readers. Write to him at EdwardDeitch