When you travel around the sun-baked Aegean Islands of Greece, you feel like you're a million miles from home. Though most of the islands are only an hour or two by plane from Athens, there is a remoteness that makes them unique in Europe. Among the more unusual is Santorini, with its black volcanic sands — and its extraordinary wines.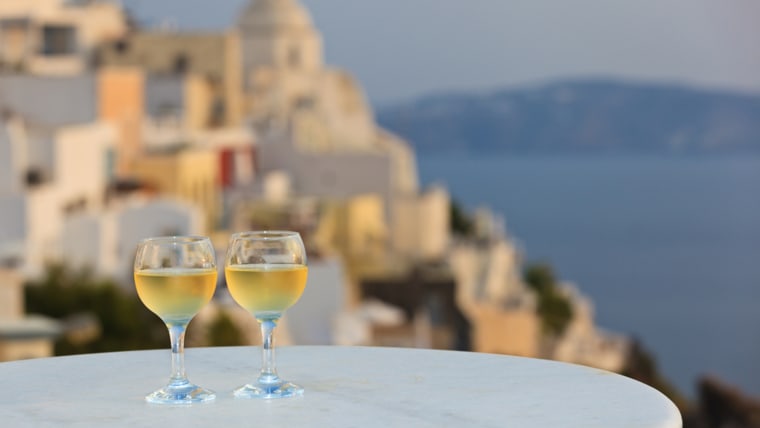 In any discussion of world-class white wines, Santorini must be included. Those volcanic soils impart a striking minerality that provides a complexity separating them from most other white wines from Greece and pretty much everywhere else.

The high acidity of assyrtiko, Santorini's dominant grape, makes the wines superb for not only simple grilled fish, octopus and raw sea urchin, which are ubiquitous on the islands, but for chicken and even grilled pork and lamb. Most are made without oak.
Among several Santorini whites I tasted recently, two are worth seeking out. The 2013 Santorini Assyrtikofrom Domaine Sigalas shows elegance and depth with ripe stone fruit (peach and apricot), orange and lemon notes and a mineral quality that helps to give it an impressively long finish. While Wine-searcher puts the average price at $22, it also lists plenty of retailers that offer it for under $20.
The second outstanding example was the 2013 Santorini Assyrtiko from Art Karamolegos, a lively, citrus-driven wine with lemon-lime notes, white peach and a touch of cream. It's a gorgeous wine with perfect balance and a mineral-driven finish. It would be great with broiled fish and raw clams and oysters. It's priced at about $20 or so.
These wines, like many other lighter whites, tend to be promoted as "summer" wines. While the great whites of Santorini certainly fall into that category, they are truly wines for all seasons.
Edward Deitch is a James Beard Award-winning wine critic. Find many more of his wine reviews and commentary on his blog, Vint-ed.com, and follow him on Twitter.