Many die-hard farmers market shoppers start to complain of root vegetable fatigue by right about now in most parts of the country. Long gone are the tables of tomatoes and strawberries, leaving us with lots of rutabagas, turnips and other hearty winter veggies that require a lot more creativity.
But there's no need to douse every root vegetable in olive oil and roast the heck out of it — chefs are taking a much lighter hand with root veggies lately.
In fact, The New York Times names raw or lightly cooked root vegetables among its food predictions for 2013.
If you're in the mood for a salad come mid-January, try a celery root salad (below), from Diane Morgan, author of the new cookbook, "Roots,"(Chronicle) a massive compendium that profiles every kind of root veggie. Celery root — an admittedly ugly, bulbous root — can be intimidating, she says, but don't be put off by it. For this salad, she peels it and cuts it into matchsticks, tossing it with celery, celery leaves and the leafy tops of the celery root. (Celery and celery root used to come from the same plant, but are now cultivated separately, she notes.) The result: a crunchy, fresh salad that beats the heck out of any bagged lettuce mix you'll get otherwise this time of year.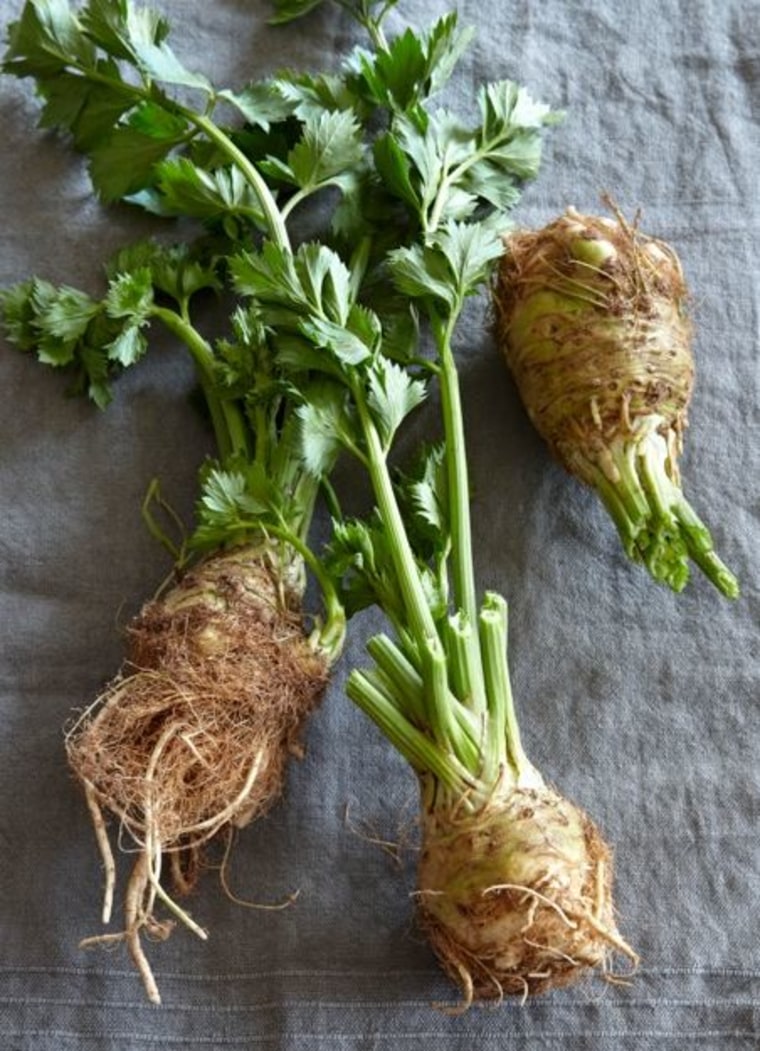 Once you're addicted and need inspiration for more winter salads, just look around at all the restaurants serving up raw winter veggies right now. At Boulud Sud in New York City, chef Aaron Chambers does a salad Tropezienne — shaved, raw celery, fennel and artichokes placed on top of a bed of frisée, dressed with a white balsamic vinaigrette.
More From Today: Romanesco Cauliflower Recipe, A Delicious and Eye-Catching Side Dish
Lucy Restaurant & Bar at Bardessono in Yountville, Calif., offers a freshly dug carrot salad with carrot chips, carrots confit, shallot-curry dressing and carrot fronds, all pulled from chef Victor Scargle's onsite garden. BLT Steak in New York City juxtaposes raw shaved beets with traditional roasted ones, in a beet salad topped with gorgonzola and apple. And at Brookville in Charlottesville, Va., chef Harrison Keevil lightens up rich dishes by putting mini salads of shaved carrot and cilantro on top of rich braised meats.
Modernists chefs are also getting in on the trend. At The Bazaar in Los Angeles, José Andrés puts raw jicama — another intimidating, bulbous root—to work as an edible serving dish. He tosses thinly sliced jicama with lime juice, honey and olive oil, then forms it into a small cup to serve with a dollop of guacamole and cilantro-seasoned corn chips.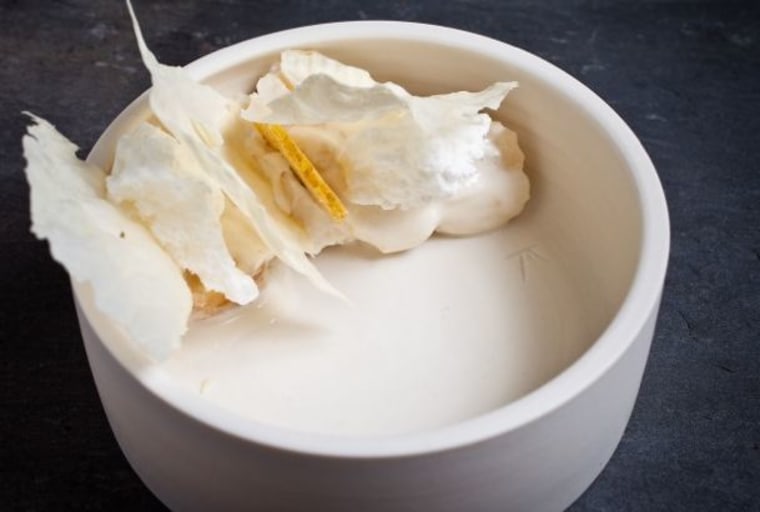 The prize for most unusual (but delicious) use of a root vegetable this year probably goes to chef and foraging champion Matthew Lightner at Atera in New York City, where he serves parsley root for dessert. The chef has root veggies all over his menu, but for his parsley root split, he lightly candies the parsley root, giving it a sweet, chewy texture that recalls the marshmallows in rocky road. He mixes it in with freeze-dried banana, which has the taste and texture of ice cream, for a brilliant riff on a classic banana split.
Before you head out to the farmers market this weekend newly energized, remember that not all root vegetables can be eaten raw—Morgan cautions that raw taro can irritate the throat. A good rule of thumb is that low-starch roots (beets, carrots, turnips, celery root) are great raw (potatoes, not so much).
Celery root, celery heart and celery leaf salad
Diane Morgan, "Roots: The Definitive Compendium With More Than 225 Recipes," Chronicle Books (2012)
Serves 4
Dressing:
3 tbsp extra-virgin olive oil
1½ tbsp Moscatel vinegar
½ tsp kosher or fine sea salt
¼ tsp freshly ground pepper
⅓ cup golden raisins
Salad:
1 medium celery root, about 12 oz, trimmed, peeled, and cut into matchsticks
¾ cup thinly sliced celery heart (see Cook's Note)
½ cup lightly packed celery leaves
¼ cup lightly packed fresh flat-leaf parsley leaves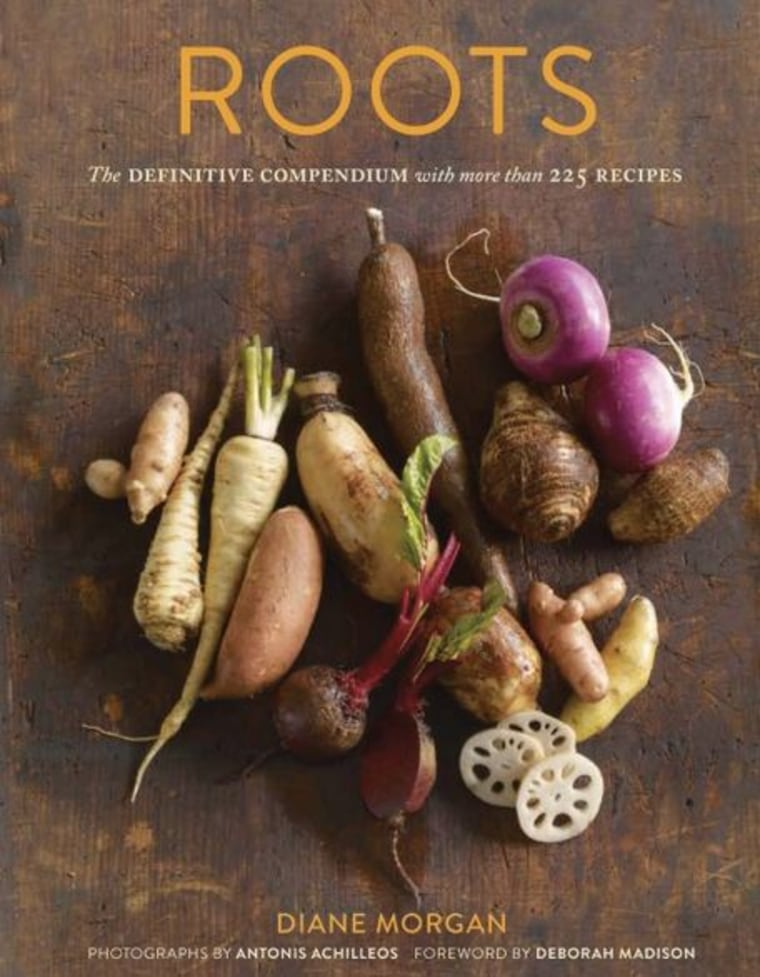 To make the dressing, in a small bowl, whisk together the oil, vinegar, salt, and pepper. Add the raisins and set aside for at least 15 minutes to allow the raisins to plump.
In a large bowl, combine the celery root, celery heart, celery leaves, and parsley and toss to mix. Whisk together the dressing briefly, then pour just enough over the salad to coat the ingredients lightly and toss well. You may not need all of the dressing. Taste and adjust seasoning.
Set the salad aside at room temperature for 5 to 10 minutes to allow the flavors to meld before serving.
Cook's note: Use only the lightest green, innermost ribs—the heart—of the celery.
More from TODAY Food:
5 dishes that will make you keen for quinoa
8 tasty, healthy dishes to kick off the new year
Make celery root and apple soup