A $200 cake one woman ordered for her granddaugher's first birthday has sparked debate on TikTok, with some swearing it came straight out of Netflix's "Nailed It," and others saying she got what she paid for.
On Nov. 7, TikTok user and Tennessee resident Khrissy (@khrissyjoe1) posted a TikTok about her experience ordering a forest fairy-themed cake for her granddaughter's first birthday — and its not-so-fairy-tale-like ending. The video quickly went viral, garnering over 5.2 million views.
"I spent well over $200 on this cake, and this is what I got," Khrissy says in the video. "This is the worst cake I've ever seen in my life."
In the video, she shows a lumpy and messy-looking creation, though, in its defense, it does look like it grew straight from the forest floor, dirt and all.
Khrissy says that when she told the bakery — which she has decided not to name — she was less than pleased with the cake, the baker admitted her shortcomings: "She said, 'Well, I will admit it was a lot harder than what I thought it would be.'"
"These are … fake plants. They're supposed to be fondue," Khrissy adds, confusing the melted dip with fondant icing. "Not to mention there was hair in the cake."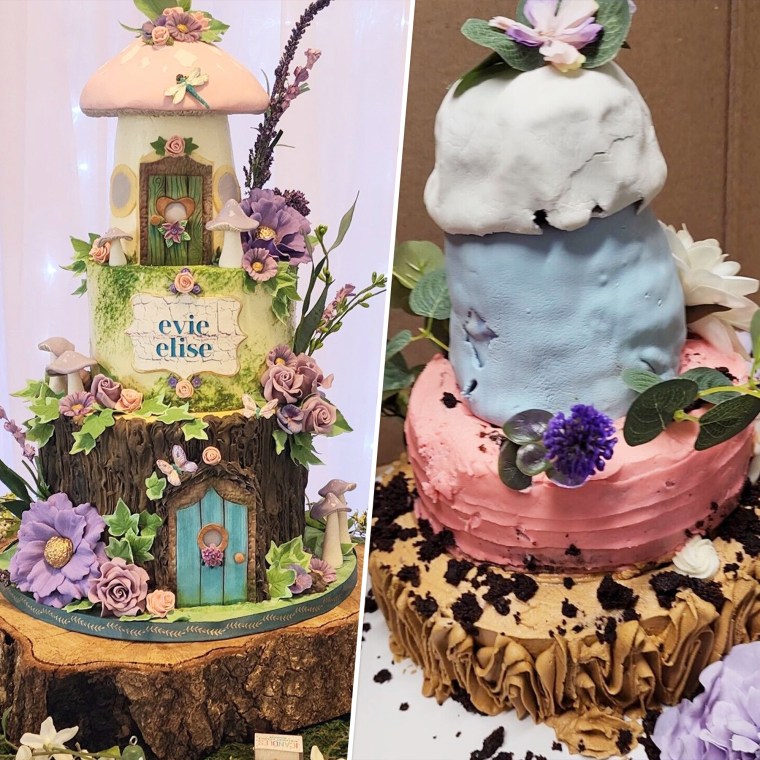 In the buzzing comments section, folks generally took Khrissy's side, but some suggested her expectations were too high for a $200 cake.
"It looks like play doh," commented one TikTok user.
"I would've thought I was being pranked! Looking around for a hidden camera!" wrote another.
"This looks like one of those Kylie cakes!!" commented someone else, referring to the drama known as #CakeGate, when baker Kylie Allen posted a TikTok about a customer dispute and went mega-viral in April.
"Try to see if there's a bachelorette party you can donate it to," another TikTok user joked, referencing its phallic shape.
After several commenters asked Khrissy what the cake was supposed to look like, she shared the inspiration image for the cake in a short TikTok that garnered an additional 1.4 million views. In the video, she shows off a intricately decorated cake she found on Pinterest called "Fairy cake with sugar flowers."
"Only $200 should have been a 🚩," commented one person.
"As a cake decorator: this is a $800 cake," wrote another.
"This is classic client expectations (versus) client budget😂," commented someone else.
"Regardless of the worth of the cake, the baker should have been honest before accepting any money," one TikTok user wrote, to which another replied, "yes!! the baker should have said something beforehand."
The inspiration cake was made by Texas baker Dena Reed of Dena's Sweetly Unique Cakes, who, when reached for comment, estimated that her own creation costed a little over $300.
Editor's note: Reed is the creator of the cake in this photo that Khrissy showed to her baker for inspiration; she did not create the cake Khrissy received. Khrissy has decided not to name the baker.
"I would have paid $500 for the cake, something to represent my granddaughter, just something that was hers," Khrissy, who asked that we only use her first name to protect her identity, tells TODAY.com. She later posted an update on TikTok revealing that she was refunded half of the cost of the cake ($100).
"We didn't even eat it. It had hair in it," she says.
But despite not being able to enjoy the cake, Khrissy says she has thoroughly enjoyed the internet's response to it.
"The comments have been hilarious," she says. "Honestly, I can't wait until my granddaughter is old enough to look at this and be like, 'Oh, my, you really failed.'"