Pablo Picasso once said, "Inspiration does exist, but it must find you working." Never was that more true for one true artist, who has found her perfect medium in manipulating buttery dough and fruity fillings.
On Feb. 13, Jessica Leigh Clark-Bojin, who goes by u/ThePieous on Reddit, posted her latest creation: a scroll-stoppingly beautiful pie that is as much three-dimensional painting as it is dessert. Posted in the subreddit r/MadeMeSmile, the strawberry pie art was inspired by a particularly poignant episode of the hit HBO show "The Last of Us" and went viral in r/baking, r/food and other subreddits, too.
"I baked a 'Last of Us' themed strawberry pie for Valentine's Day," reads the post by Clark-Bojin, which has also quoted a line from the third episode of the popular apocalyptic television show. The episode in question, titled "Long Long Time," received widespread praise for its deeply moving portrayal of Frank (Murray Bartlett) and Bill (Nick Offerman), two survivalists who meet by chance and fall in love, including one pivotal scene involving strawberries.
Clark-Bojin's post has gone viral on multiple social media platforms, including on Reddit with more than 79,000 upvotes, tens of thousands of views and likes on TikTok and on Instagram, where the piemaker extraordinaire received love from both of her award-winning subjects in the comments section.
"This is epic!!" exclaimed Bartlett on Instagram, along with the heart-eyes, applause and heart emojis.
Offerman went for a punny plaudit, commenting, "This strawberry pie is bananas!"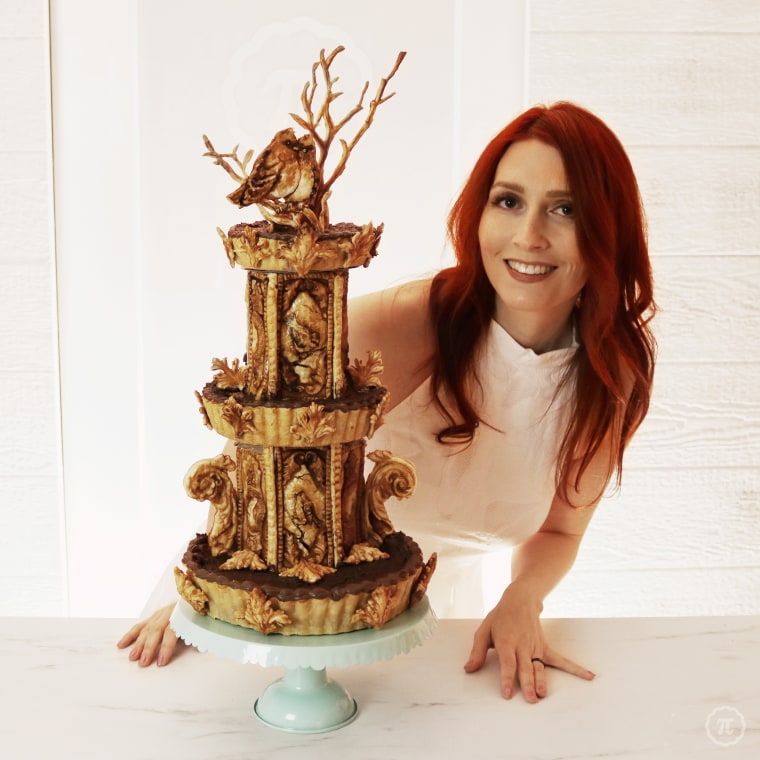 For Clark-Bojin, intricately designed pies are a way of life these days. Living and working in Vancouver, Canada, the pie artist and author of "Pies Are Awesome: The Definitive Pie Art Book" says she found her talent for pie-baking unexpectedly while working in movies.
"I was a filmmaker before this. I was in the process of trying to raise money for my second feature film," Clark-Bojin tells TODAY.com, adding that on a whim, she made a New Year's resolution to not eat any sugar for the year.
"Out of desperation for some kind of dessert that I could actually eat, I decided that I was going to learn how to bake pies because I could make them without adding any sugar to the filling and just have fruit and crust," she says.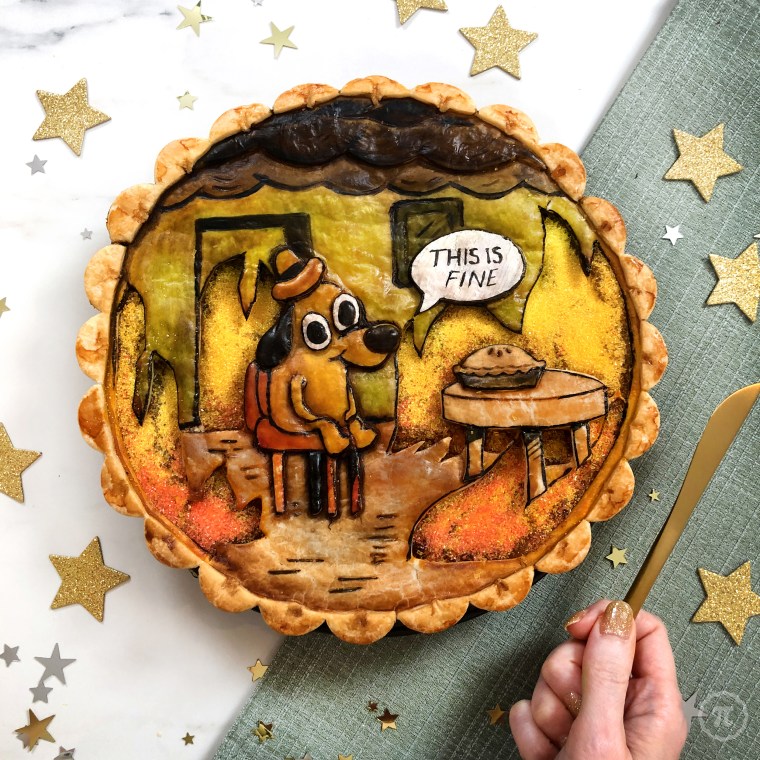 After getting ingredients for pie crust at the store, Clark-Bojin baked her first-ever pie, finishing it with a carved-out fire-breathing dragon crust. "I stuck it online. And my family was like, 'Wow, this is amazing.' Because they've never seen me actually bake anything before," she says. "I was always the person who was told to bring the buns to parties. I didn't know how to turn my oven on!"
After her first pie, Clark-Bojin says she was hooked — and she was surprised there weren't more people like her out there from whom to learn the ropes.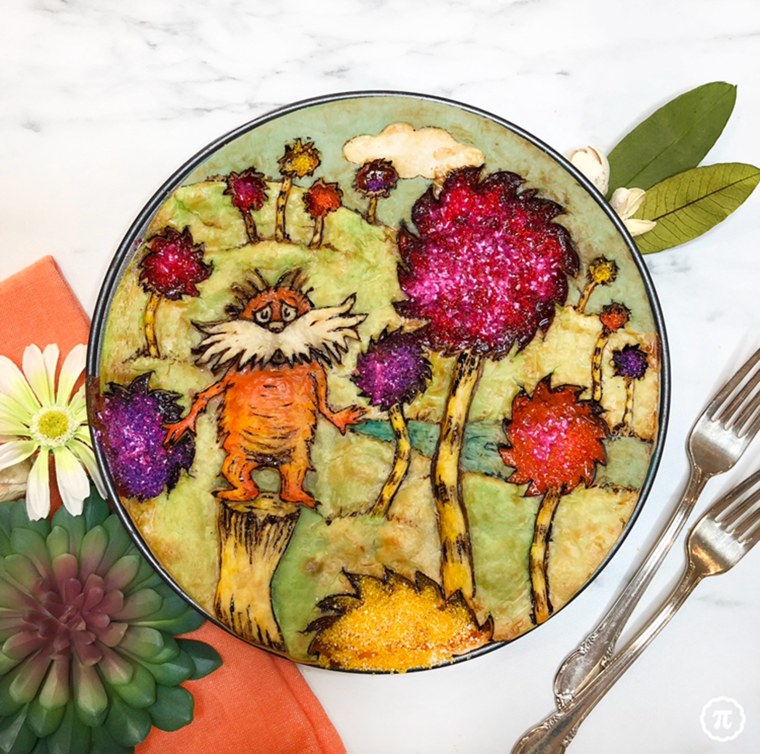 "Back in 2016, I found out for the first time that pie art wasn't a thing that people did, and I found that very strange because of so many gorgeous examples of cake art, cookie art, waffle art, pancake art and all this stuff," she said. "Why not pies?"
Clark-Bojin says that her pies are 100% edible — and in fact, on her TikTok and elsewhere, she often slices into her creations on camera and takes a bite, proving they are. If you're wondering how the heck any of this is possible, you're not alone.
"It's not as simple as just taking a photograph and pressing a button," she says. She starts by creating a template in Photoshop, then hand drawing to make sure the stencil will work in dough, delineating darker sections from lighter ones.
"Once I've got that as a base, I'll use egg white and cinnamon to press in and then it gets a bit darker in the oven," she says. For the fine details that someone can't really stencil, like detail around the eyes, hair or stubble, she hand paints the pies with an emulsifier like vanilla extract or vodka mixed with brown gel food coloring. "It's very much like watercolor painting."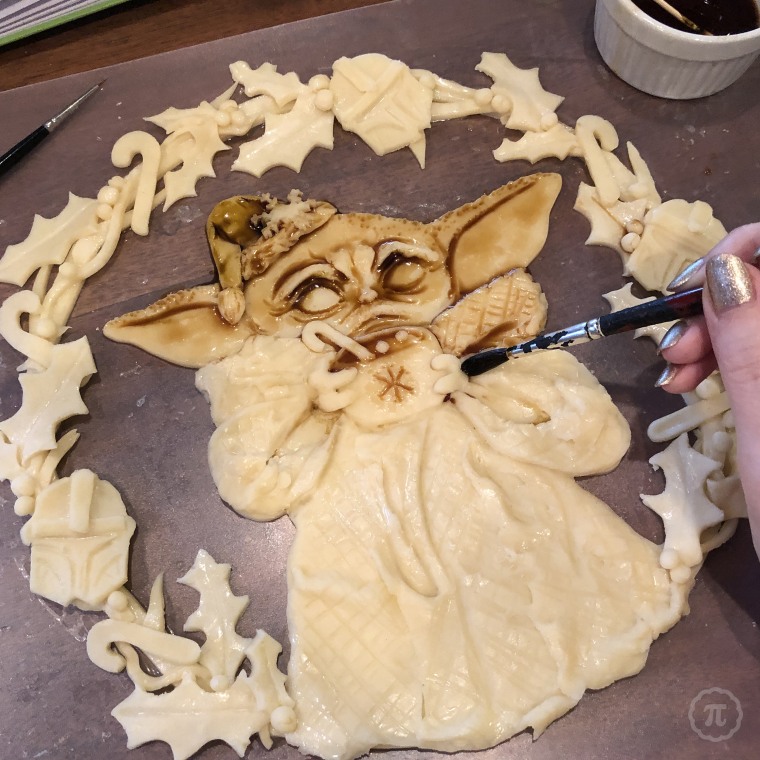 While honing her craft, Clark-Bojin discovered there was an audience for her pies, judging from the fact that several of her creations before her "Last of Us" pie have gone mega-viral. In fact, after joining Reddit in 2018, her very first post — a trio of Harry Potter-themed pies — received nearly 13,000 upvotes on the platform.
"I belong to a number of Reddit subs and each one of them has their own sort of flavor, their own rules, their own etiquette," Clark-Bojin says, adding that she estimates that more than 10 of her pies have gone viral in various subreddits, including a "Super Mario Bros" pie, a Christmassy "Raspberry Yoda" pie complete with Baby Yoda, and a pie celebrating the moon landing, all which received more than 75,000 upvotes a piece.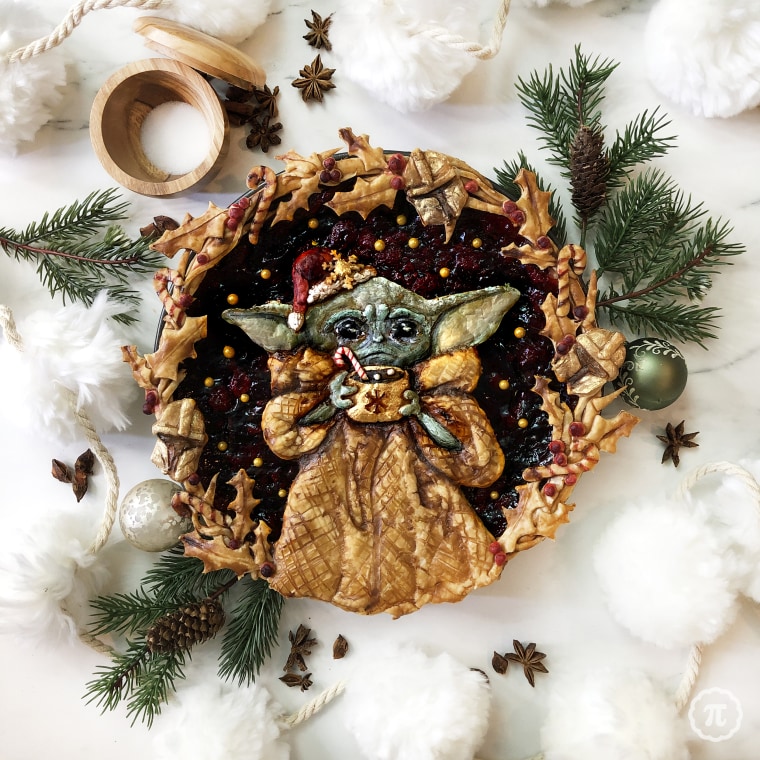 "The communities like r/food and r/baking that I'm a part of, they're very community-oriented," she adds. "Whenever I post I get really meaningful conversations and people are very lovely. It's an amazing place to meet new people and workshop ideas and exchange knowledge with people."
Clark-Bojin says she's made many friends on the platform, some who she's met IRL. She's also noted a growth of pie artists in her community, naming Nokx Majozi, Kate McDermott and Arlene Lott as friends and inspirations in the pie-making space. Lott actually won Food Network's first-ever show dedicated to pie art called "Thanksgiving Pie Fight," a show Clark-Bojin appeared on as a judge.
Clark-Bojin's pie-making talent has led her to some amazing spaces: producing pie videos for the Food Network which have garnered millions of views, being featured in Ripley's Believe it or Not! in 2019, and even appearing on TODAY helping judge a pie contest in 2019 along with chef Marcus Samuelsson and PieconicNY owner Christopher Knable.
Still, Clark-Bojin asserts that anyone can pick up the craft of pie art, as long as they have a little faith.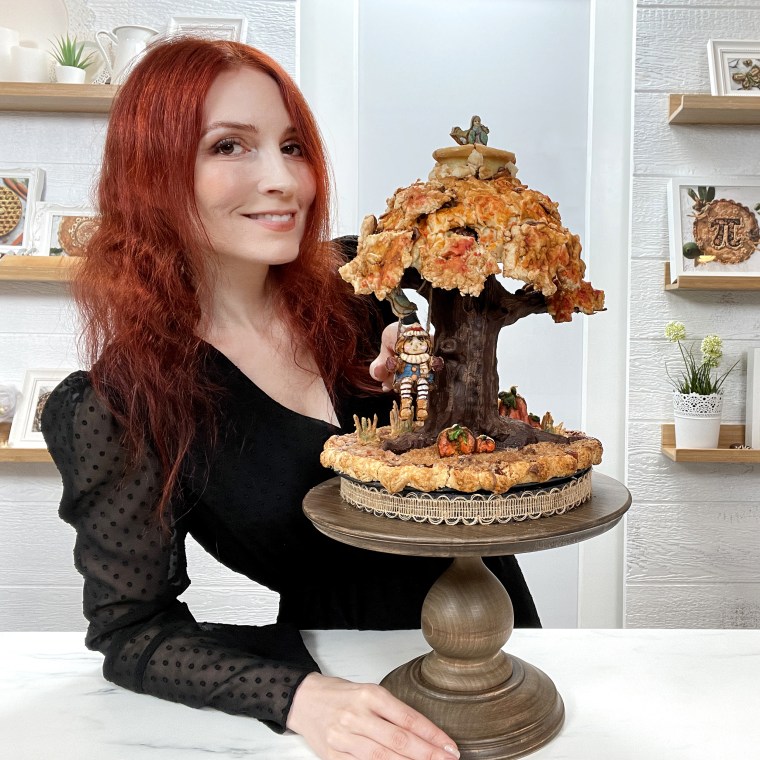 "This is way simpler than it looks," she says, adding that she's always open to sharing those secrets with people on all her social media channels. "All of the weird, intimidating-looking things that I post are all just a bunch of little tiny science tricks that I figured out through trial and error.
"Anybody can do this — and it's super fun."