Neil Patrick Harris has a rather unique trick for adding extra flavor and texture to his nut butter and jelly sandwiches.
The actor, 50, just penned a "Grub Street Diet" for New York Magazine, chronicling his eating habits for five days in a row. In the blog post, the star revealed his go-to sandwich add-on that might just delight your inner child.
In a diary entry from July 8, Harris shared the treat he prepared for himself when he got the munchies.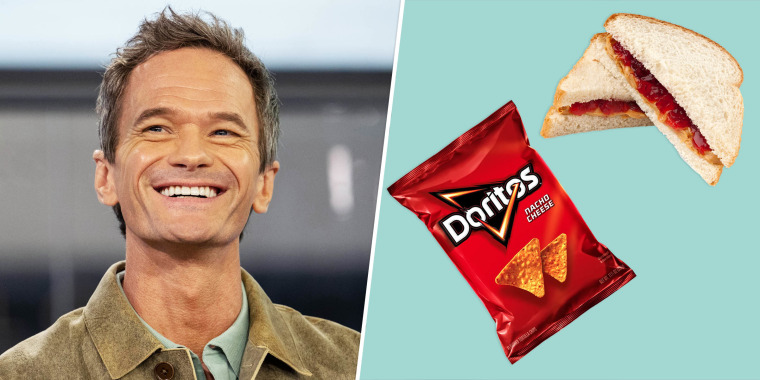 "For a snack, I went with an English muffin with almond butter and jelly. Plus, my favorite addition: nacho-cheese Doritos in the sandwich itself," he wrote.
The father of two went on to explain why he likes the quirky combo.
"It adds umami and a crunch. You get the brightness of the nacho cheese to balance out the almond butter and the jelly," he wrote.
Of course, Harris is aware that some folks might be inclined to yuck his yum, but that doesn't really bother him.
"I think it's magnificent, while others wince," he said.
We know of at least one other celebrity who would likely be on board, though: Channing Tatum. The star recently stopped by TODAY and told Hoda Kotb and Jenna Bush Hager about his "go-to sandwich": peanut butter, jelly and Cheetos.
"When I was a kid, I loved peanut butter and jelly and just Cheetos (on it)," he said.
The co-hosts gave the concoction a try and Jenna instantly noticed that there were a "lot of Cheetos" in between the two slices of bread.
"Usually there wouldn't be this many Cheetos, and more jam," Tatum said.
"By the way, if somebody says they don't like a Cheeto, they're lying," Jenna said.
Hoda also pointed out one nostalgic element about the sandwich.
"Oh my God, it's on white bread, just like old school," she said.
After trying the sandwich, Hoda admitted that it was "really good." And as someone who is known to put chips on her sandwiches, we think she'd also be on board for Harris' culinary creation.