No stranger to viral videos, one big family's poolside snack has gained the rapt attention of the internet.
On May 5 and 6, Alicia Dougherty, who runs the "Dougherty Dozen" social media accounts, posted a pair of videos to TikTok that have since gone viral. In the clips, the enterprising mother of 12 makes and serves nachos for her kids — except this chip dish has been assembled in a kiddie pool.
"Happy #CincoDeMayo have some #PoolNachos," wrote Dougherty in the caption of the first TikTok on May 5.
In the 16-second video, Dougherty can be seen dragging a kiddie pool full of nachos to her patiently waiting family before they all dig in.
"Snackerty Board got upgraded to a #NachoPool for #CincoDeMayo #FridayNight #PoolOpening," wrote Dougherty in the caption of a May 6 TikTok which went even more viral, amassing nearly 4 million views. In the time-lapse video, Dougherty assembles the nachos in a 36-inch pool from Family Dollar.
While kneeling beside her in-ground pool, Dougherty pours in bags and bags of Tostitos chips — 10, in fact — before adding the toppings: browned ground meat, nacho cheese, salsa, multiple bags of shredded cheeses, lettuce, olives, cherry tomatoes and, finally, sour cream.
Reaction to the video was as mixed as the nachos themselves. While plenty of folks commented in support, others expressed horror at the extreme family-style meal.
"That looks like a lot of fun. Those are memories that are gonna last forever," commented one TikTok user.
"I feel like I have been doing life all wrong," said a second.
"My entire family said we need to try this (that's 13 people) I'm still not sure, haha! Thanks for the Inspiration," wrote a third.
And, on the other side of the chip ...
"What in the USA is this lol," commented one TikToker.
"No ma'am," wrote another.
"At what point do we start to think 'this is insane'?" asked a third. "Cause I think you are beyond that point."
"The chips at the bottom are just wasted lol," commented yet another person, to which someone else responded, "That was my thought, nachos need to be layered like a beautiful lasagna."
"Would love to see how much of that you all ate," wondered another user, to which another replied, "12 kids + the parents i'm sure it all went."
Dougherty also replied to a comment asking what they're going to do with the leftovers by simply stating that they "eat them."
Perhaps surprisingly, this isn't the first time a family has gone viral for their maximalist approach to nachos. On June 23, 2020 TikTok user @stefherder shared a video of her family's "nacho table." Their inspiration, a seafood boil, swapped the crustaceans for corn chips and topped them with queso, ground beef and other toppings spread across a long table covered in aluminum foil.
And back in November 2016, an Austin, Texas man famously threw a birthday party with a kiddie pool nacho platter.
But Dougherty says she got her inspiration from another viral TikTok involving a group of friends, a ton of chips and their own kiddie pool.
"My friend, Kiersten, sent me a TikTok video on @Growkingbleesing where they had a Nacho Pool and nachos is one of my favorite foods, so I knew I had to recreate it!" Dougherty tells TODAY.com in an email, referring to a video from April 21 where TikToker @officialgrowkinggalaxy drags a kiddie pool full of loaded nachos to his (adult) friends who go to town on it.
Dougherty says the nacho pool took just over six minutes to assemble, a process which was shared in even more detail in a May 9 behind-the-scenes TikTok that also went viral.
"The kids LOVED the Nacho Pool! We snacked on it for hours! They thought it was so cool," she says.
The pool's swift assembly tracks with the mom's proven ability to meal-prep at the speed of life, given her many other TikToks where she makes breakfast and packs lunches for her kids.
Dougherty says this process usually takes about 30 to 45 minutes every day after prepping everything the night before. "So it's ready at 5am," she adds.
As for how she feels about the online reaction to the nacho pool, Dougherty says, "I'm glad people saw it how I saw it: A fun family activity."
"As with everything you do on social media, there are mixed reactions, but I'm glad the majority enjoyed it and also a lot of people said they're going to try it this summer, so I thought it was great that it gave people a fun summer activity idea," she adds.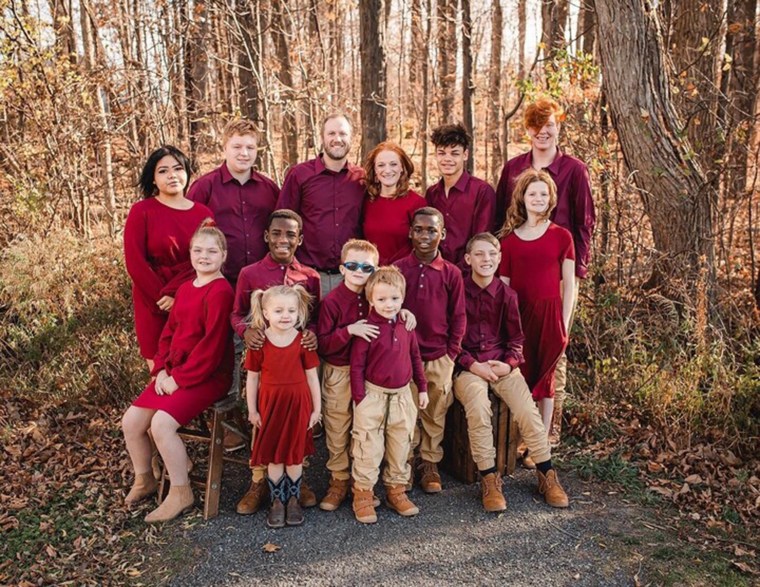 For Dougherty, her husband Josh and their kids — Alex, 17, James, 16, Nevaeh, 14, Patrick, 14, Dayshawn, 13, Bree, 12, Zoey, 11, Dashel, 9, twins Jordan and Jason, 8, Bodhi, 6, and Harlee, 4 — epic smorgasbords are a daily occurrence given their family's size, so why not have a little fun with it?
And if you're wondering — like many — if Dougherty cleaned the pool before assembling the nachos in it, "YES," she says, emphatically.