With the new year comes a new batch of cleaning tips from a pillar of homemaking.
On Jan. 3, Tito's Handmade Vodka announced a partnership with Martha Stewart with a new campaign just in time for Dry January.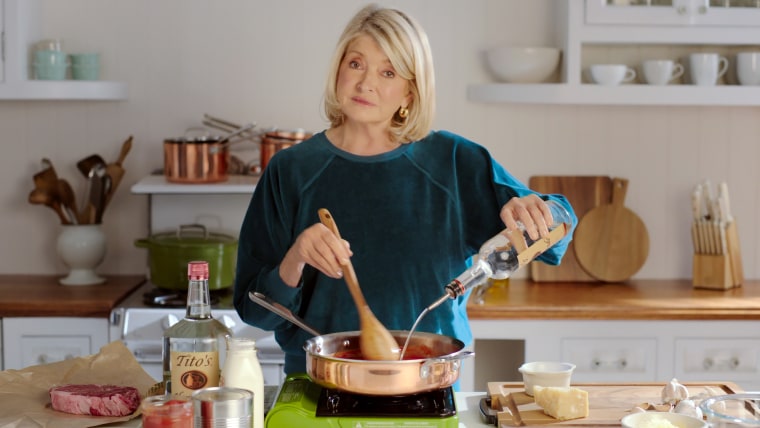 Dry January, for those who aren't familiar, is the month when people choose to stop drinking alcohol after a cocktail-rich holiday season in December to start the new year on a healthier and sober note. Stewart herself stopped by the TODAY plaza last month to share her (very) boozy eggnog recipe that included three different types of spirits, so this month Stewart is helping others turn over a new leaf.
In a hilarious 60-second clip, the marvelous maven of entertaining suggests various ways you could use Tito's in a way that doesn't include taking a swig directly from the bottle like you may have done on New Year's Eve.
"Hey, I get it. It's Dry January, so you're not drinking much," says Stewart in the clip as she sits with a bottle of Tito's. "But if you have Tito's lying around, just don't stare at it, use it."
The tongue-in-cheek campaign showcases how "Dry January" can easily become "DIY January," as the lifestyle expert makes use of Tito's in various comedically innovative ways. These include sanitizing a pair of "musty" boots and spicing up her "Friday night" by cutting through dirt and grime using a bottle of Tito's that has a custom-made spray attachment. Stewart even adds a bit of Tito's to crushed tomato to make a vodka sauce — then adds a little bit more.
The whimsical video starring Stewart shows the DIY queen herself using Tito's in everyday household tasks that actually do have basis in fact. You can clean mirrors and windows, and deodorize shoes with vodka, and you can also use vodka to keep cut flowers fresh like Stewart does before saying "smells like February." Just don't pour it on your potted plants unless you're trying to clear the way for new spring growth.
You can even use a handle of Tito's to tenderize meat, since a bottle of Tito's is at least twice the weight of any meat tenderizer you could buy — and well, you can't make an espresso martini with one of those after you're done searing that steak on Feb. 1, can you? It's a win-win.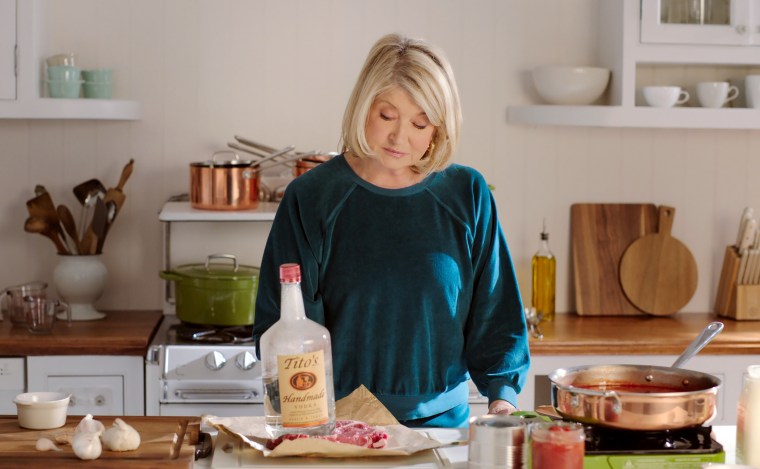 While Stewart encourages you, like the 35% of adults in the U.S. that took part in Dry January in 2022 to use her handy tips to stay sober this month, Stewart mysteriously has a martini by the end of the video.
"Aw, f--- it, Martha needs a drink," she says at the conclusion of the clip.
To complement the video, Tito's has launched a limited-edition collection of DIY January bottle-topper attachments for those that want to try out the tasks for themselves. The toppers include "The Deodorizer" which turns a smaller bottle of Tito's into a spritz bottle for musty fabrics and more; "The Flavorizer," which allows you to portion Tito's to make penne alla vodka and more; and "The Cleanerizer," which gives the typical spray cleaner bottles in your closet a run for their money.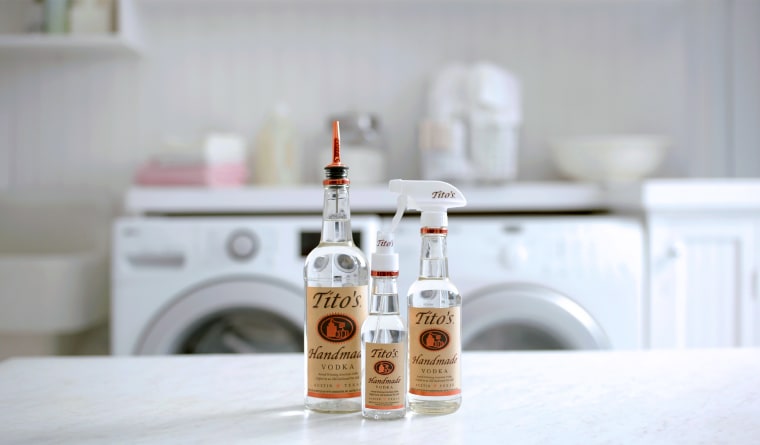 All three toppers can be purchased for $10 on Tito's website with all net proceeds going to the customer's choice of nonprofit the brand has teamed up with, including Meals on Wheels America, the USO and more.
And while Stewart fully encourages those who want to take their Tito's to a DIY place this month, as you saw in the commercial, she hasn't partaken in Dry January in the past — but she's open to it.
"I'm not a very prodigious drinker, so it doesn't really matter if I do a Dry January or not, but now that I did this fabulous commercial for Tito's, I'm certainly considering it," Stewart tells TODAY.com. "I also practice Lent, so I usually give up everything, like drinking and sugar and coffee and all of those things. That's 40 days instead of 30 days, so I think that's maybe punishment enough."
Stewart says one of her favorite ways to use vodka isn't the most wintry tip, but suggests you keep it in mind for the summer, well after Dry January.
"Whenever I cook lobsters, I put a big dose of Tito's in the steamer with the water and bring it to a raging boil and give my lobsters a drink," Stewart says. "Because if you were going to get boiled alive, you'd like to have a drink, too."
For Stewart, the commercial was, more than anything, a "good time."
"Everybody was in on the jokes," Stewart says, adding that she was particularly impressed with the DIY kit Tito's made, including a 3D-printed sponge attachment made specifically for the commercial. "Everybody was giggling away the whole day."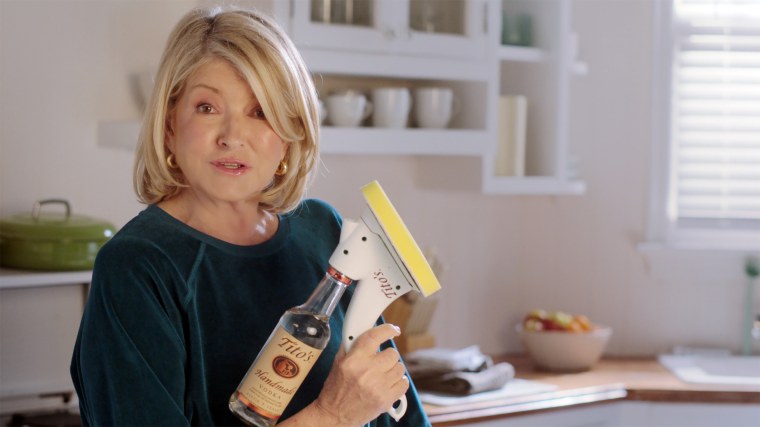 When asked what her New Year's resolution is if she's not giving up drinking, she says, simply, "Be happy."