It's very easy being cheesy for Channing Tatum.
The "Magic Mike" star shared on TODAY Tuesday that his "go-to sandwich" is a combination of peanut butter, jelly and Cheetos, straight out of a 10-year-old's dreams, so Hoda Kotb and Jenna Bush Hager decided to give it a try.
They munched on the unwieldy creation after the "Logan Lucky" star revealed it's long been one of his favorites.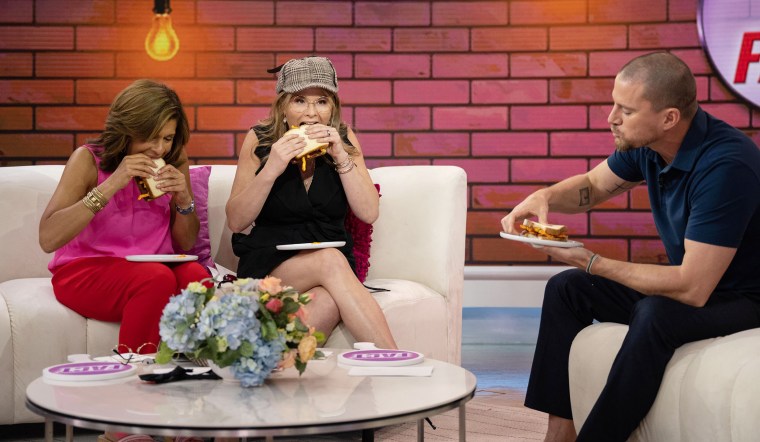 "When I was a kid I loved peanut butter and jelly and just Cheetos (on it)," Tatum said.
The TODAY crew was not stingy with the crunchy snacks when they brought out sandwiches for Hoda, Jenna and Tatum.
"Wow, that's a lot of Cheetos, though," Tatum said. "Usually there wouldn't be this many Cheetos, and more jam."
Jenna was just fine with it.
"If somebody says they don't like a Cheeto, they're lying," she said.
Hoda appreciated the nod to childhood.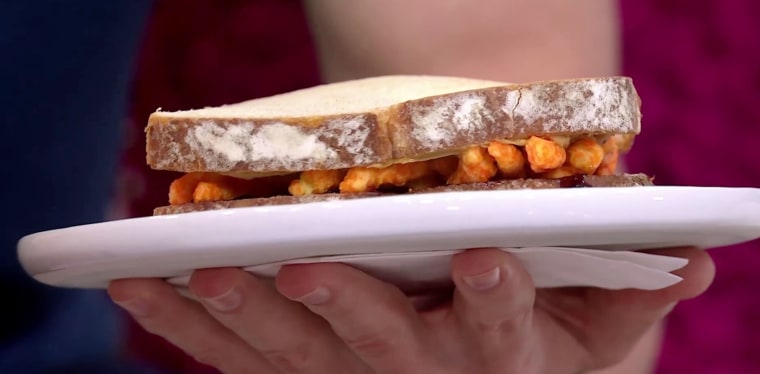 "Oh my God, it's on white bread, just like old school," she said.
Hoda and Jenna enjoyed the unorthodox pairing of an iconic snack with an iconic sandwich.
"That's really good," Hoda said.
Tatum, 43, who is releasing his latest children's book, "The One and Only Sparkella and the Big Lie," has previously described his affinity for Cheetos in his usual PB&J.
In a Reddit AMA in 2015, he mentioned "peanut butter jelly sandwiches with Cheetos underneath" as an item he would want with him if he was stranded on a desert island.
It sounds like his Cheetos creation is his only real deviation from the norm. He also shared in the AMA that he's "not a very adventurous eater" and just likes pepperoni on his pizza and cookie dough ice cream for dessert.