Big Ice Cream is wilding out. On the one side of ice cream innovation we have immediately tantalizing flavors like "Ted Lasso"-themed biscuit-flavored ice cream. On the other side, the daring: chicken and waffles and mac and cheese flavors that have divided audiences in the freezer aisle. Now, a new contender emerges: This time, utilizing the flavors of America's most popular salad dressing.
On March 8, Van Leeuwen Ice Cream announced the launch of seven new flavors for the upcoming spring season — but the one on everyone's lips is its new ranch flavor.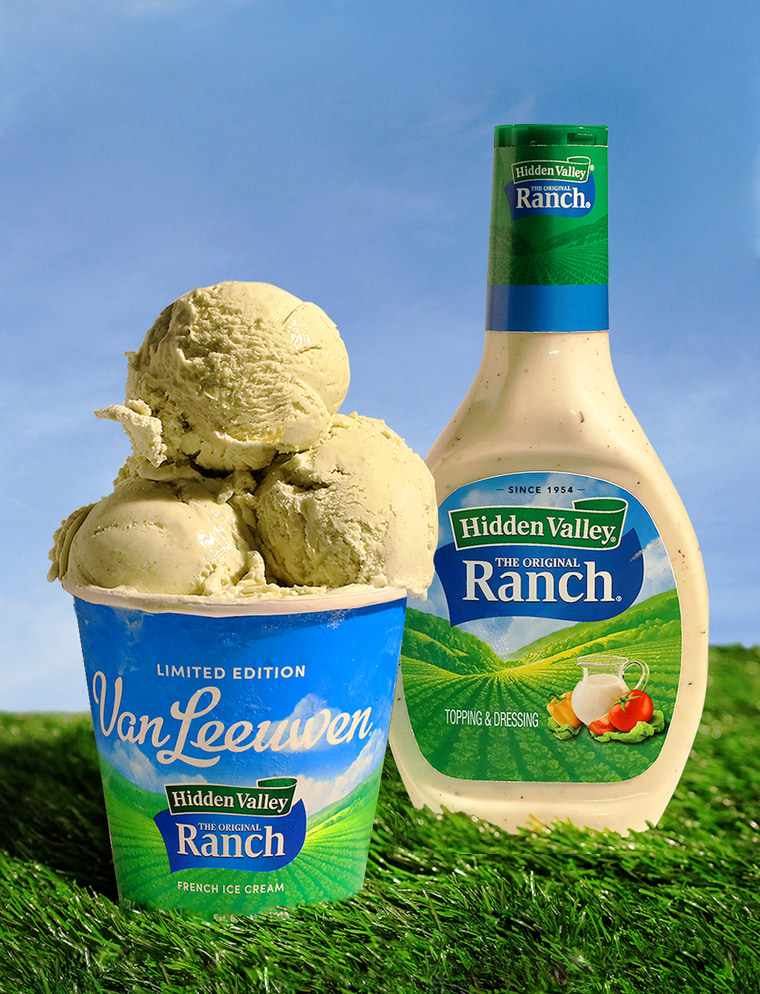 Created in honor of National Ranch Day on March 10, the ice cream company has collaborated with the top-selling ranch brand in the country, Hidden Valley Ranch. The 14-ounce packages will be sold for $4.98 exclusively at Walmart locations nationwide starting March 20 through May 28.
In a press release, reps for the brands admitted that ranch and ice cream may not be a typical pairing, but that the Hidden Valley Ranch x Van Leeuwen flavor delivers a "surprisingly tasty twist on the sweet treat." (The brands kindly sent me a carton, so I'll be the judge of that. More on that later.)
The companies said the ice cream boasts the savory flavors of ranch, and includes buttermilk, flavorful herbs and a "touch of sweetness," suggesting that the unique treat pairs well with salty snacks.
"We're so excited to debut this new series of flavors and unveil what is possibly our most surprising ice cream yet: Hidden Valley Ranch," Ben Van Leeuwen, co-founder and CEO of Van Leeuwen Ice Cream in a press release. "We have done some creative collaborations and can't wait for Walmart shoppers to try this new and exciting flavor along with our other Spring specials."
"We know that Hidden Valley Ranch goes with just about everything — pizza, carrots, French fries — but ice cream is a first for us," added Rachel Garrison, associate director at Hidden Valley Ranch, in a press release, adding that the company is excited about this creamy mix of savory and sweet. "Insider tip? Top your scoops with crushed pretzels or potato chips for a perfect salty crunch."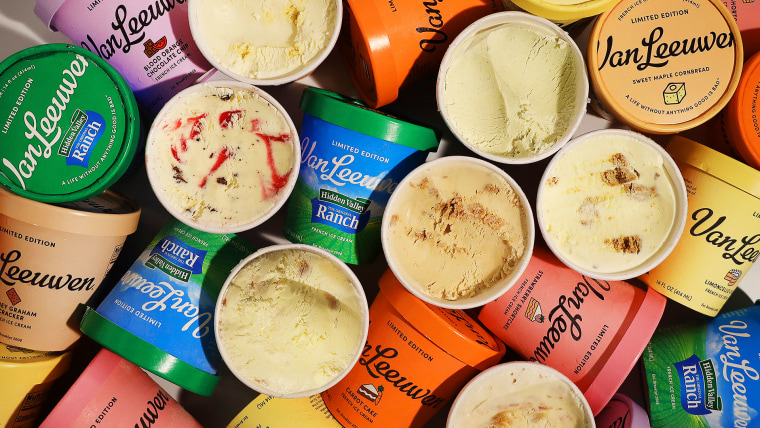 The other (much more conventional) flavors offered in Van Leeuwen's spring lineup include Carrot Cake, Strawberry Shortcake, Honey Graham Cracker, Limoncello Cake, Sweet Maple Cornbread and Blood Orange Chocolate Chip.
So, what does it taste like?
Ranch dressing ice cream isn't Van Leeuwen's first savory-leaning ice cream flavor, releasing in the past year a mustard ice cream (which I've never personally tried) and a caramelized onion ice cream (which I tried and really enjoyed).
I seemed primed to enjoy a savory-sweet pairing in this vein — after all, I'm someone who typically goes for a honey mustard or poppy seed dressing when given the option. Still, admittedly, a spoonful of this ice cream threw me for quite the loop.
Right before the spoon hit my tongue, my nose got a heavy whiff of garlic, which is attributed to the fact that there's both garlic powder and onion powder in the ice cream. This made my brain expect something savory, but as there is a healthy amount of cane sugar in the ice cream — more than the garlic and onion — the resulting taste was a shock to the senses.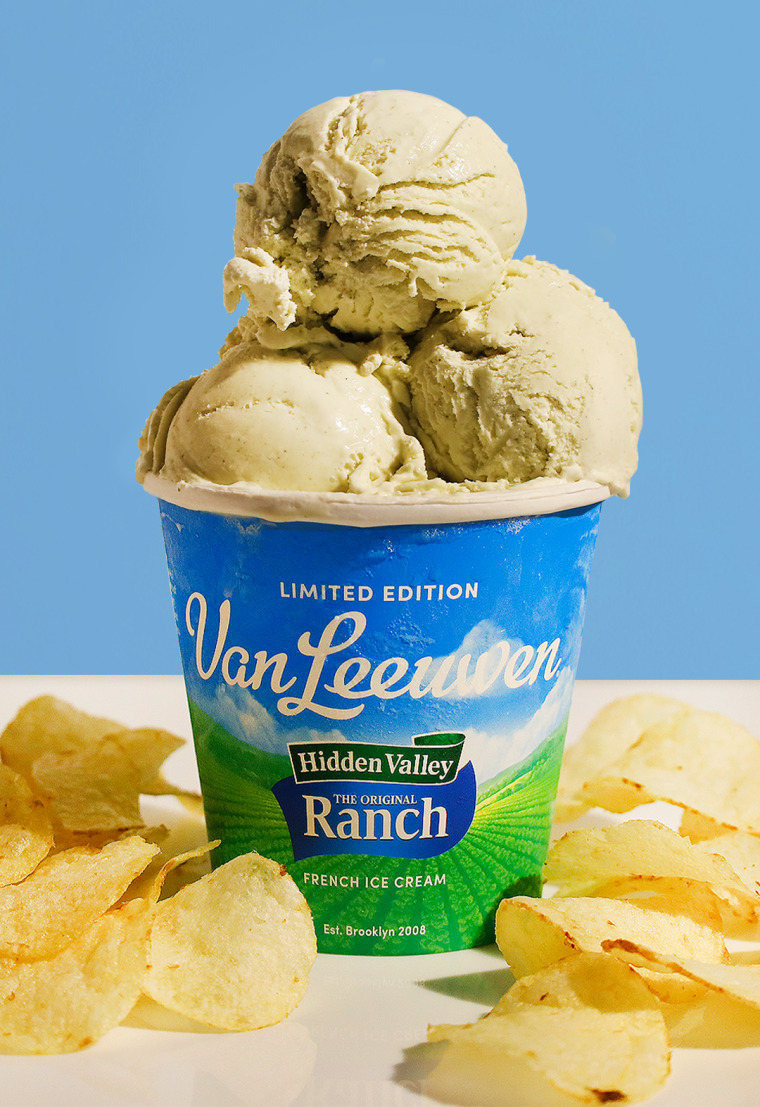 I did also try a few spoons with crushed potato chips on top, and the flavors of the ice cream did in fact mesh a little better together on my palate. But, after trying a full scoop to be absolutely sure, I can say though the ice cream is a beautiful shade of chartreuse, it is not for me.
Still, for ranch stans, this may be up your alley, and though it doesn't taste exactly like Hidden Valley Ranch to me, it's certainly in the same neighborhood. The addition of buttermilk definitely helps that association ring true.
But the garlicky-chiveness of the treat really lingers on the tongue, so maybe curious souls should skip this one on date night.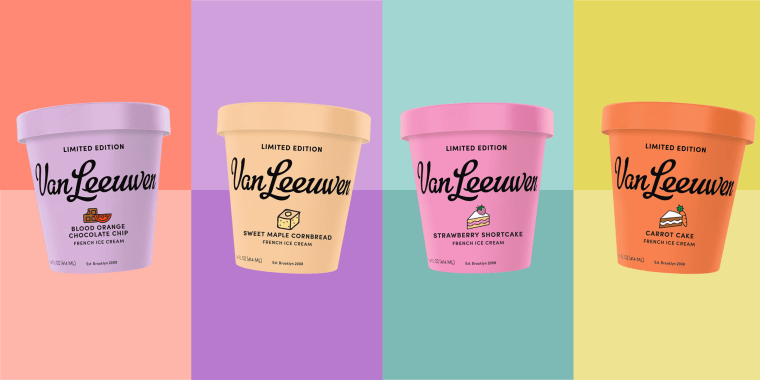 The mischievous flavor-makers over at Van Leeuwen did, however, send me all of the other flavors in its spring offering, and the standout to me is the Sweet Maple Cornbread flavor.
"Who can resist maple ice cream with pieces of honey cornbread? No one that we've met. Well, maybe Joe but he wears white after Labor Day and doesn't love puppies," reads the flavor's description on the press release.
I know this can't be referring to me, even though I do proudly wear white year-round. Unlike that other Joe, though, I think this new cornbread flavor is magical. And I love puppies, too.