A mom trying to plan the perfect theme party for her son's birthday was handed a very odd-looking obstacle from the bakery section of her local grocery store.
On Oct. 29, TikTok user @babygirls0s0 posted a video about her experience ordering a Minion cake from Texas-based grocery chain H-E-B — and it ends with a shockingly surrealist take on the yellow creature from "Despicable Me."
Editor's note: The below video contains expletive-laden language.
"Yo, I just picked up my son's Minion cake from H-E-B and this is the ugliest f---ing thing I've ever seen," she starts the video. "This is so not what I asked for and his party's tomorrow. It is totally fixable and I'm not that picky so I just took it. But this is the ugliest f---ing thing ever."
The TikToker then describes what she was looking for, repeating what she told to an employee taking her cake order. Showing a picture of a Minion cake from Pinterest, the mother says she wanted blocks of blue and yellow, but that it didn't have to be as intricately iced as the one in her example.
"She even asked me, 'Do you want it to be ombre to go from blue into yellow?' and I'm like, 'No, straight blue, straight yellow,'" she says, adding that the cake would be quickly ruined by her son anyway.
"This is what I got. What the f--- is this?" the TikToker says, showing the true head-scratcher of a cake. While the cake is Minion-esque, it's as if it were made by H-E-B's very own Salvador Dalí. Not only is the cake ombre, it is adorned with a frosting-covered ribbon.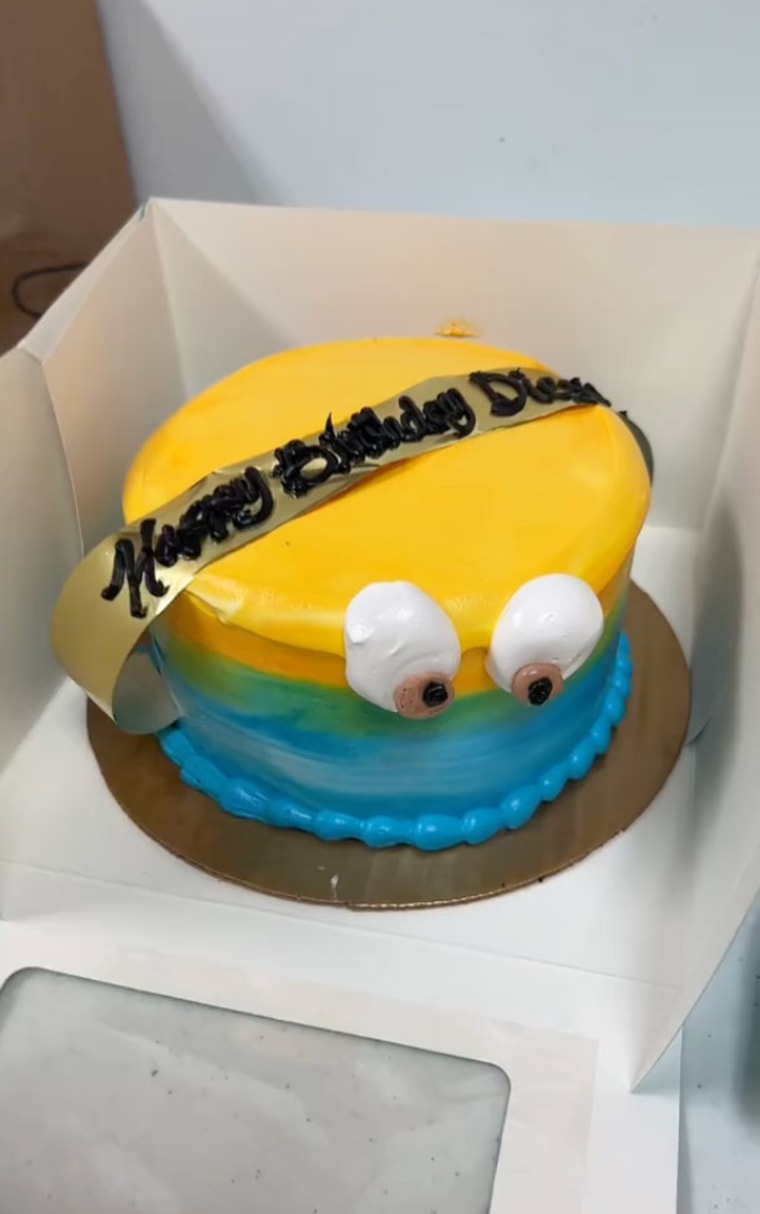 "What the f--- is this? Where are my swirls? Why is it green? What happened to the goggle circles?" she asks, neglecting to point out the hilarity of the eyes drooping off the side of the cake, evoking Dalí's melting clocks.
With nearly 13 million views as of publication, many people took to the comments section to crack jokes about the disfigured dessert.
"That was 10 times worse than I expected hahaha," commented one user.
"Wait. Are you sure you ordered it from HEB and not Wish???" wrote another.
"NOTHING COULD HAVE PREPARED ME," shouted another person.
"when you said 'it's totally fixable' i was not expecting THAT," wrote someone else.
"The way my jaw dropped because you said it was fixable… how is that fixable? 😳," commented yet another.
@babygirls0s0 did not respond to TODAY.com's request for comment, but she did post a few updates about what she did to fix the cake.
"It has been highly requested for a cake update. So here it is," @babygirls0s0 says in an update posted Oct. 29. The TikToker describes some simple edits she, her fiance and her mother-in-law made to the cake to make it look like it would say "banana" at any moment. "What we ended up doing is this. Look how pretty this was. And it took two seconds."
Adding a printed Minion topper to the cake, the TikToker took the provided ribbon and placed it around the cake, hiding the green ombre effect. She also added more flair to the cake with "Happy Birthday" toppers and a colorful birthday candle.
The mother also shared the full scope of the Minion-themed birthday party for her little one, and she truly went all out, with door covers, cupcakes, beverage dispensers and more all keeping with the theme.
When reached for the comment, H-E-B provided TODAY.com with the following statement:
"At H-E-B, we strive to provide quality products to our customers and to ensure they are satisfied with their purchases. We understand the customer's frustration and apologize for the inconvenience. We are working to make things right."
This cake fail is far from the first in recent memory to send the internet into hysterics. In April, a man's Costco birthday cake order went viral when the bakery took his instructions too literally, icing it with his own diagram of the request. Then, in May, TikToker Tefi Pessoa recounted a similar story about how Publix also took her mother's cake instructions very literally, icing it with her exact written instructions. In the same month, a Texas baker misread an order for an Elmo cake, thinking it said "emo cake," which resulted in a very moody "Sesame Street" dessert that also went totally viral.