An artist is creating one-of-kind works of art using his fridge like a crayon box.
On TODAY March 16, Al Roker caught up with Harley Langberg, a 34-year-old father and partner at an investment company who has a unique side hustle: making food art on his account, @harleysfood_art. To his more than 40,000 followers, Langberg shares his impressive portfolio of plated paintings, some of which take up to five hours to create.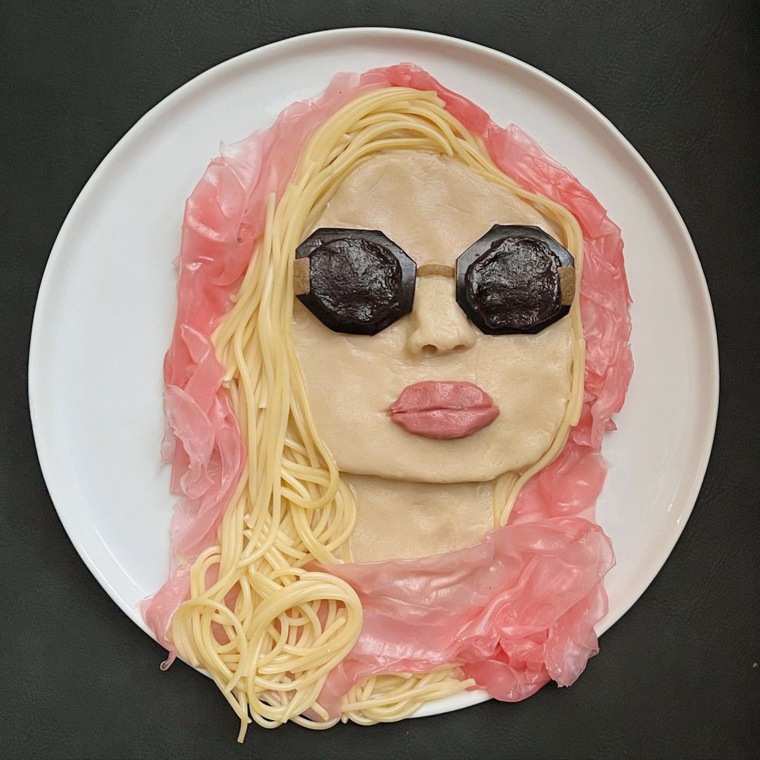 "I've done hundreds of pieces over the years, and something that started out as a hobby and something that really combined two of my passions of food and art has really grown into something that I could see myself doing for the rest of my life," Langberg told Al.
Langberg, who hails from New York City, said he has appreciated art for his whole life while growing up among the myriad museums and galleries in the five boroughs and surrounded by street art. Langberg also took art history classes throughout his years as a student, cementing his passion for the form.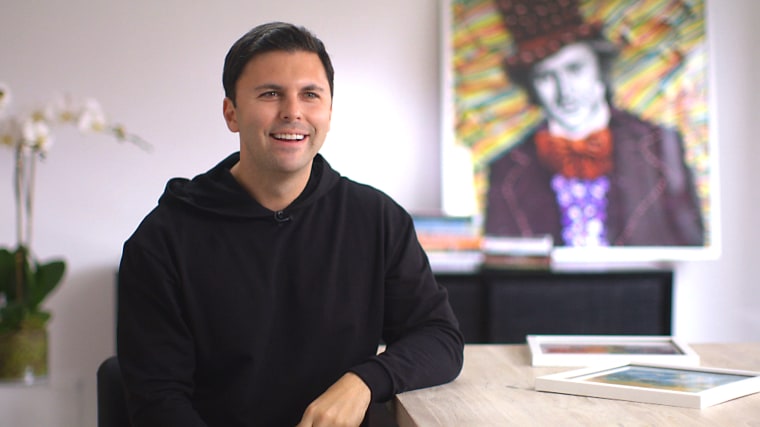 "I've had such an appreciation for art. And my favorite is mixed media," Langberg said. "In a sense, that's what I'm creating today with food art."
Langberg said that he also has a culinary background, growing an interest in cooking from the age of 5. "I always tell people my parents are the worst cooks ever and I was so tired of takeout and delivery that I had to cook for my own survival," he joked.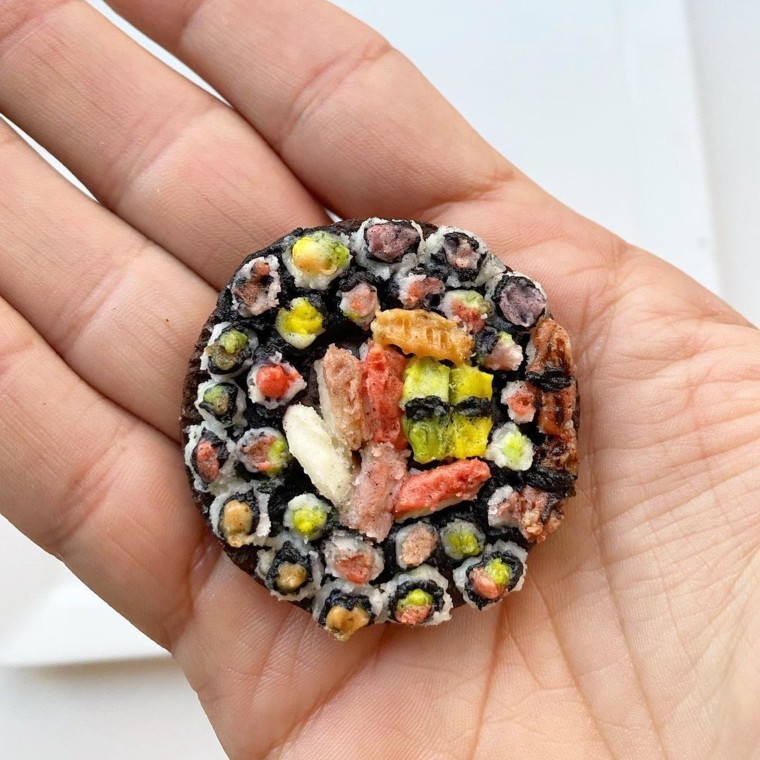 He continued building his unique skill set while in college, even while pursuing a business degree at Northwestern, attending an advanced culinary program at the School of Culinary Arts at Kendall College.
"I did catering, I've worked in some restaurant kitchens," he said. "Cooking will always be ingrained in me forever."
All of these skills came to fruition almost a decade ago, when the artist found his muse by chance.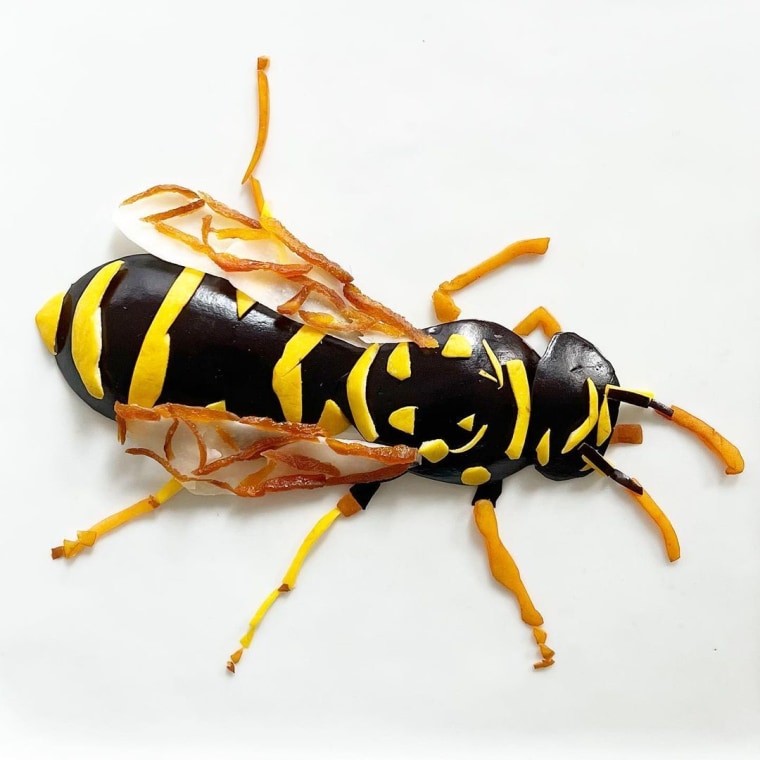 "Nine years ago, when I was living in the Meatpacking District near Chelsea Market, they had a food art photography exhibition throughout the walls of the market, and that was the first time I ever saw this art form," Langberg said. "I remember standing in front of each piece for, like, 15 minutes."
Langberg said he was inspired to try the art form out for himself, noting that food art seamlessly blended two of his greatest passions. That very night, he went and bought eggplant, rosemary and some peppers and created his very first piece, a recreation of Banksy's "Flower Thrower."
"I've created hundreds of pieces since," he said.
Throughout his art journey, Langberg has created works using pasta, fresh produce, tortellini, pickled ginger and whatever else he can get his hands on at the supermarket.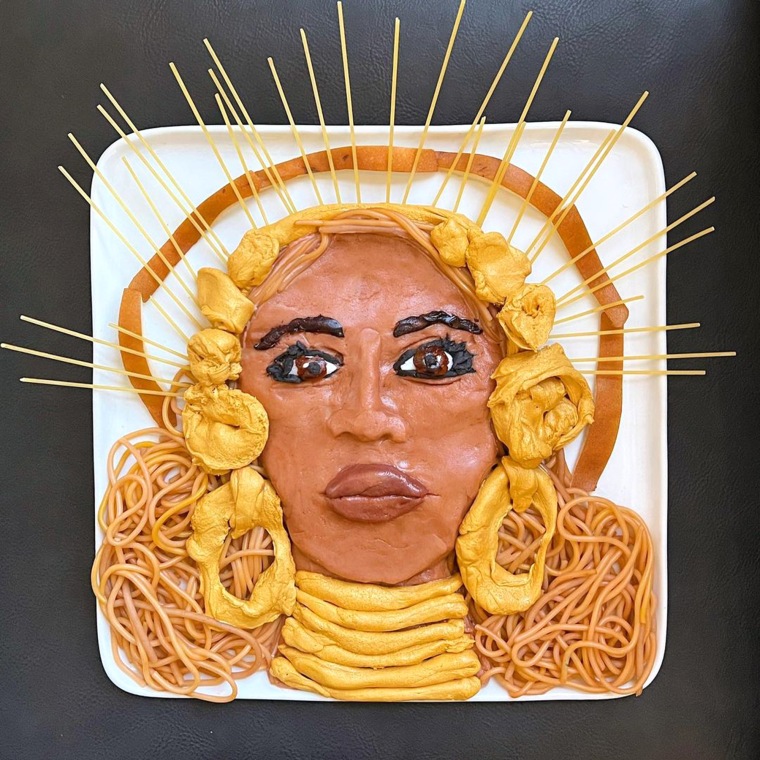 The artist has found himself creating edible artworks for a myriad of clientele including Illy at the New York Film Festival, the Metropolitan Museum of Art, Chilis, Sony Pictures and Whole Foods — the very spot where he says he finds most of his ingredients.
"I think a couple favorite parts have been, you know, just seeing the opportunities that have came about from my food art," Langberg said, adding that he never thought he would find himself in magazines. "I never thought that I'd be here today, you know, talking to you."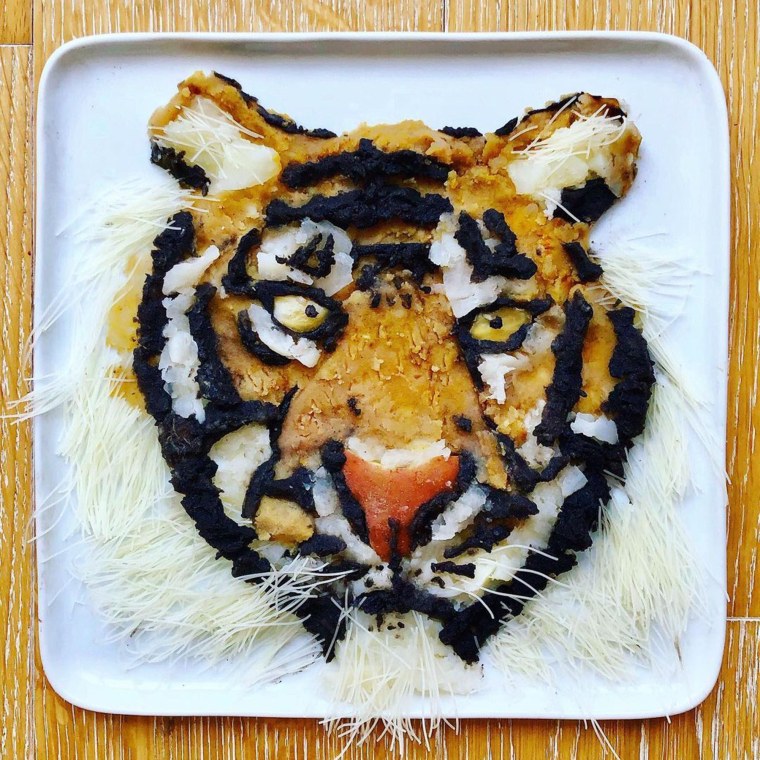 On his favorite works of art to create, Langberg said he enjoys making colorful works (a favorite of his 2-year-old daughter Blake) as well as fashioning images of animals and marking milestones with tribute portraiture.
"I loved creating both Ruth Bader Ginsburg and also Serena Williams," he said. "You know, both of these women are true icons, and I feel those were also two of my best portraits, since people right away knew who they were."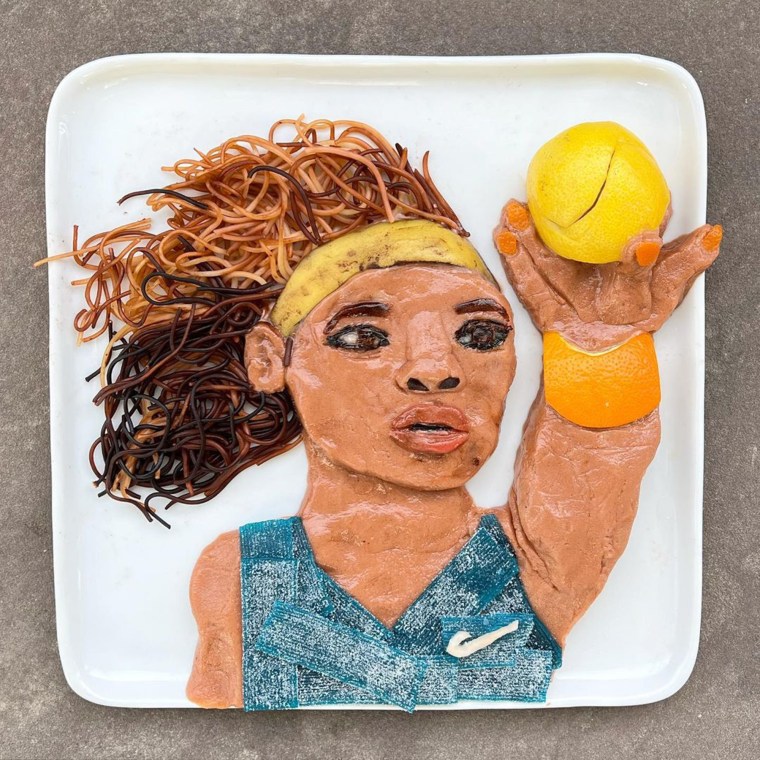 For his Serena Williams portrait, as a huge tennis fan, Langberg said he wanted to commemorate the occasion with a tribute when the tennis star announced her retirement in August 2022.
"I created the piece using cookie dough, one of the other ingredients I love to use," he said. "I dyed it with food coloring, used pasta for the hair … I always love using pasta, 'cause it really creates realistic-looking hair. And I wanted to create a 3D component with the ball, so I carved a lemon to look like a tennis ball, which was a lot of fun."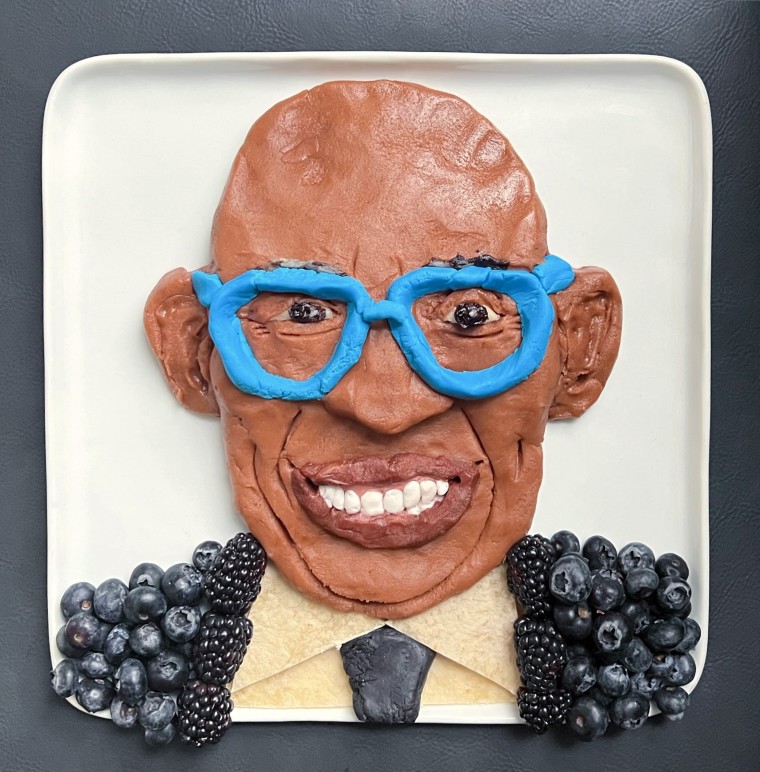 Langberg was also tasked with creating a special pair of works for the day, crafting the 3rd Hour logo as well as a portrait of Al. For the piece, Langberg used cookie dough, tortillas and blueberries.
"I think the fact that food is so universal and so global is really what gets people excited," Langberg said. "Because they can see really, like, 'Oh wow, I had that for dinner last night.'"