You might need to mustard up a little courage to try the latest Skittles flavor.
On July 25, French's and Skittles announced what the pair is calling summer's tangiest yellow candy: French's Mustard-flavored Skittles.
The candy-coated brains in the boardroom of one of America's most famous candies is teaming up with the nearly 120-year-old condiment company to create the unique treat ahead of National Mustard Day on Aug. 5.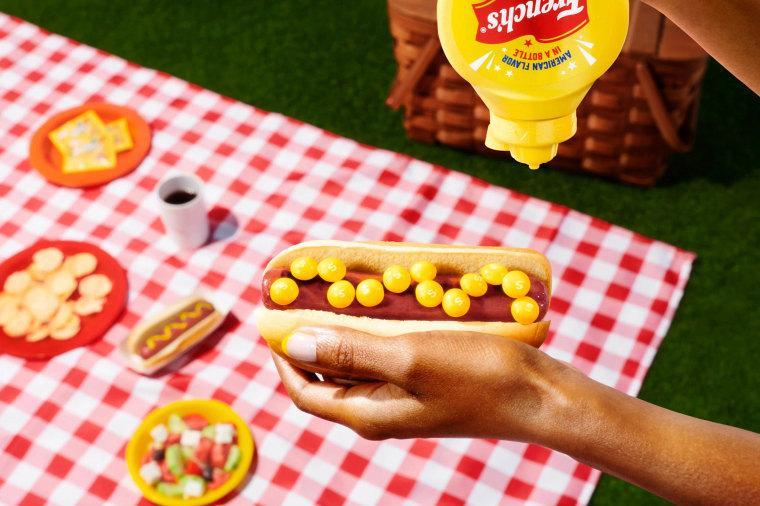 "SKITTLES is always looking to inspire moments of everyday happiness and deliver unexpected ways for fans to experience the brand," said Ro Cheng, marketing director at Mars, in a press release. "That's why we've teamed up with French's to create the first-of-its-kind SKITTLES that combines their tangy mustard flavor with our iconic chewy texture to deliver this unique summer treat for National Mustard Day."
For those who tried French's other Mustard Day releases like its mustard-flavored hot dog buns, doughnuts or even its ice cream, grabbing a taste of this rainbow looks a little different this time.
Fun-sized packs of the mustard candy will be given away for free while supplies last at in-person pop-up events in Atlanta, Georgia, Washington, D.C. and New York City. If you live outside those areas and have a hankering for mustard candy for some reason, don't fret: You can also score a bag through an online sweepstakes.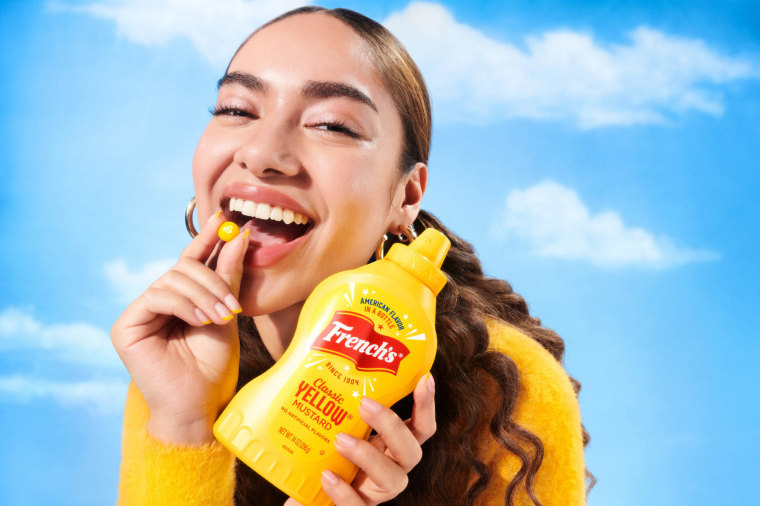 "From Mustard Ice Cream to last year's viral Mustard Donuts, this year marks the fifth time French's has gone all out with unique, flavorful innovations to celebrate National Mustard Day. With the yellow holiday landing on August 5th, we knew we had to outdo ourselves," said Valda Coryat, North America vice president of marketing at McCormick & Company (French's parent company), in a press release. "We are thrilled to collaborate with SKITTLES to deliver our beloved Classic Yellow® Mustard tang in a new, fun way to French's and SKITTLES fans alike."
Customers who are fans of the tangy flavor — or are just plain adventurous — will also have a chance to taste Mustard Skittles and receive branded swag through French's multi-stop tour up the East Coast.
The tangy treat will be transported via what the companies are calling the "Mustard Mobile," a bright yellow custom-designed vintage bus complete with giant Mustard Skittles on top. The company will be posting a map so people can stop by or follow along on its very yellow journey to these locations:
Reaction to French's past collaborations ranged from delight, when we reviewed the hot dog buns in 2021 and deemed them a "home run," to disgust, in the case of its mustard-flavored desserts like doughnuts and ice cream.
"I just saw an ad for Mustard Donuts and I am wondering how I charge French's with assault?" tweeted one person in 2022.
"What kind of psychopath would think to create mustard ice cream?" asked another in 2019.
"Be honest, you loved it!" French's wrote in response at the time.
Whichever side of the yellow brick road you stand on, until Aug. 5, you can visit this collab's dedicated website to enter for a chance to win a pack of the condiment-flavored candy.
And for the naysayers, you never know, like the Mona Lisa, this could be an absolute mustard-piece.