A misunderstanding between a baker and her client led to the happiest of accidents.
On March 19, TikToker Brianna Romero (@brinnicakes), posted a "storytime" about a recent order that went awry in the most hilarious of ways. In the video, which has been viewed over 11.3 million times, the El Paso, Texas baker recounts what happened when she received a rush order for a cake.
"Guys, so my worst nightmare happened," Romero says in the TikTok, while making an unrelated Kuromi-themed cake in the video. "Last week, a lady DMed me and asked me if I can make an emo cake, and I was thinking 'Yes, of course. I love emo and I love goth.'"
Romero, who says she's been perfecting her black frosting, agreed to make the cake.
"I get all the info, the flavor, when she needs it by and everything like that," Romero says, adding that after she finished frosting the cake on the day the cake was set to be delivered, she reached out to the client to ask if she wanted a number candle to go with it. "She says, "Yes, it's for my granddaughter and she's turning four.'"
Taken aback by how young the recipient of this "emo cake" was, Romero says she attempted to explain it away to herself.
"I thought I was a little bit weird because I don't know an emo four-year-old," she says. "But I was thinking, I was trying to reason with myself, maybe she just likes 'Wednesday' or something like that." 
"But, I don't know, something felt wrong so I DM her and I just say like, 'Yes, of course I'll add the four candle but if you don't mind me asking what is the theme of the party?'" Romero continues. "And she tells me, 'It's Sesame Street.'"
It's at this point Romero realized her mistake.
"My heart sinks a little bit because this is now making sense to me," she says, telling viewers that she went back to the original text to see what the customer initially said. "And when I scroll back, I misread emo and it says 'Elmo cake.'"
Romero says that with less than an hour to go before delivery, she rushed to her local Albertsons grocery store. After begging the bakery to throw an Elmo topper on the black cake, she says she decided to give the moody dessert to the customer for free.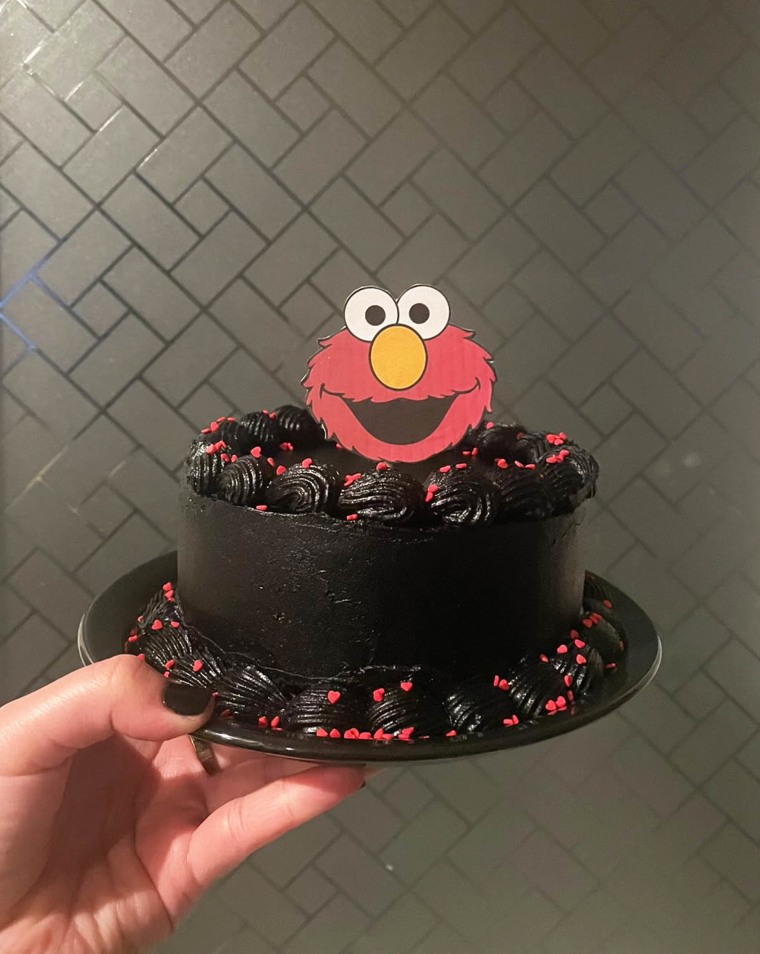 Reaction to the video was extremely positive, with customers saying Romero's honest mistake tickled them (much like a Tickle Me Elmo would).
Still, many of the comments were asking the baker one question: "I NEED TO SEE THIS EMO ELMO CAKE." So, in a subsequent TikTok, Romero admitted that she failed to include a photo of the actual order in the original video, so she gave the viewers what they wanted — a full goth reproduction.
"Heard yall wanted a reveal??? Sorry it took long, I would've included photos in the original if I had them but like I said I was in a rush," Romero wrote in the caption of the TikTok. "Anyway heres the freaking emo elmo cake okay!"
In the TikTok, which has over 2 million views, Romero shows screenshots of her texts with the customer before revealing a reproduction of the emo Elmo cake, complete with a side bang like a popular meme of the Sesame Street character.
"This is so funny," commented one person on TikTok, adding cry-laughing emojis. "Elmo with a side bang has me in tears."
Then, on May 4, a tweet sharing the baker's plight went viral on Twitter, giving a second wave to a cake that probably listens to a lot of Dashboard Confessional and Morrissey.
"I'm in tears. This baker said she misread the customer text asking for a 'Elmo' cake & instead made an 'emo' cake but realized last minute & tried to improvise. Y'all," tweeted user @DeeLaSheeArt, showing a screenshot of the cake.
The tweet, which was viewed 10.5 million times, again inspired laughter across the internet, with a heaping side of admiration.
"This is going to the saved file lol," tweeted one person in response.
"The scream i just scromed. I'm crying!!!!!!" tweeted another.
"ELMO! At the Disco," wrote another Twitter user, referencing emo pop-rock band Panic! At The Disco.
The screenshot of the cake was even retweeted by Wonder Woman herself, Lynda Carter, who joked that the cake reminded her of Eve 6, a band first formed in 1995 — a time when the emo genre was very popular.
For Romero, all this attention on her cake mistake is surprising but welcome.
"It's crazy because I've never had a big following on any platform or for any reason," Romero tells TODAY.com, adding that she's been baking under the name "brinnicakes" for about one-and-a-half years. "It's been fun. It's silly to me."
"Brinnicakes is my nickname, like, since before I was born," Romero says. "My grandma wrote it in a little journal when she found out that was gonna be my name."
The 24-year-old, who just got her Master of Business Administration last year, says that she has been receiving many requests to make the emo Elmo cake for other folks, as well as other uniquely themed cakes, thanks to the viral video.
"My orders are predominantly through Instagram, people just DM me with the dates and their ideas and stuff. Because I feel like I'm still learning, I'll take on most challenges," she says. 
But Romero is currently taking time off from baking because of a broken wrist, so any creative cake requests will have to wait until she heals.
"I always do farmers markets, but because of my wrist right now, I'm not," she says. "But as soon as I'm back, I will take some to market."