You've seen the chickles, the pancake spaghetti and the blue cookies, but TikTok's latest recipe obsession is cottage cheese "ice cream." This unlikely-sounding treat has hundreds of taste-testers singing its praises, no ice cream maker required. And most versions have just a couple of base ingredients, two cups of cottage cheese and two tablespoons of honey or maple syrup, with infinite mix-ins like cookie bits, fruit, cocoa powder and peanut butter. 
Depending on the flavorings, a one-cup serving comes in around 300 calories, packing at least 25 grams of protein and almost 200 milligrams of calcium.
The top-viewed video on TikTok is @paigelindgren's banana cream pie tutorial, with 1.2 million views. She suggests adding graham cracker crumbs to make the pie flavor pop.
TikToker @lainiecooks has a strawberry cheesecake version with about a million views and a game-changing method: Pour the mix right back into the original cottage cheese container for easy peasy freezing.
Despite rave reviews and an excellent nutritional profile, a few commenters are worried about the repercussions when TikTok has a new ingredient darling. "Cottage cheese is the new cauliflower," quipped user @shekinah, and @leeannwithswan answered, "Cottage cheese gonna be $25."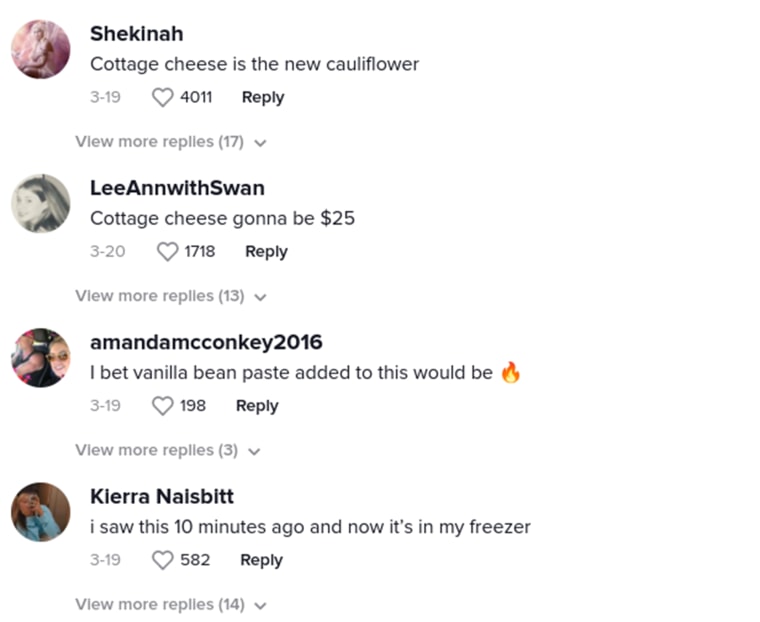 I actually agree with some of the eye-rolling over adding cottage cheese to everything, because there is such a thing as too much protein, and in my registered dietitian opinion, a lot of TikTok food trends lean hard into toxic diet culture. Nutritional tunnel vision can lead to forgetting to include other important nutrients like fiber and vitamins, and even unhealthy patterns like restriction or orthorexia.
Cottage cheese can be pretty unpredictable when added to recipes that are cooked, too. Not only do high-protein foods like eggs not need more added to make them healthy, but scramble them with cottage cheese just a few seconds too long, and you'll get watery eggs interspersed with something like mozzarella.
I like the idea of this recipe because it takes a very sugar-heavy dessert and makes it more balanced, easier to indulge without overdoing it. It also doesn't rely on ultra-processed protein powders or diet sweeteners.
The apparent originator of the trend has a similar take on healthy eating. Kenzie Akers (@kenzieakers), Indiana-based wellness advocate and mom of three, got the idea to freeze her usual high-protein shakes and cheesecake dips all the way back in March 2022.
I caught up with Akers to talk about her creation, and she says she started increasing her protein and moderating her carb intake as part of a weight loss strategy. This kind of sweet, indulgent snack with a healthy and filling twist is one of her favorite techniques, but she's a big believer in a real-food approach.
"I've been through the entire journey of restriction and substitutions, and after all that, you still want the real stuff! So, I just eat the real stuff, and fit it into a healthy diet overall," she says. When she posted a video of a fast-food meal recently, commenters called it a "cheat day," but Akers says she wants people to know it's not cheating to her — it's part of a balanced and joyful lifestyle. I can get behind that!
Commenters' feedback has been almost totally positive, so she has a series of other cottage cheese recipes coming up, including a "brownie batter" dip.
Naturally, I couldn't resist trying it myself. One tip — if you have already used a bit of cottage cheese for something else, you'll have room to blend everything right in the container with a blade guard-equipped immersion blender, but be sure to hold it securely and vertically for safety.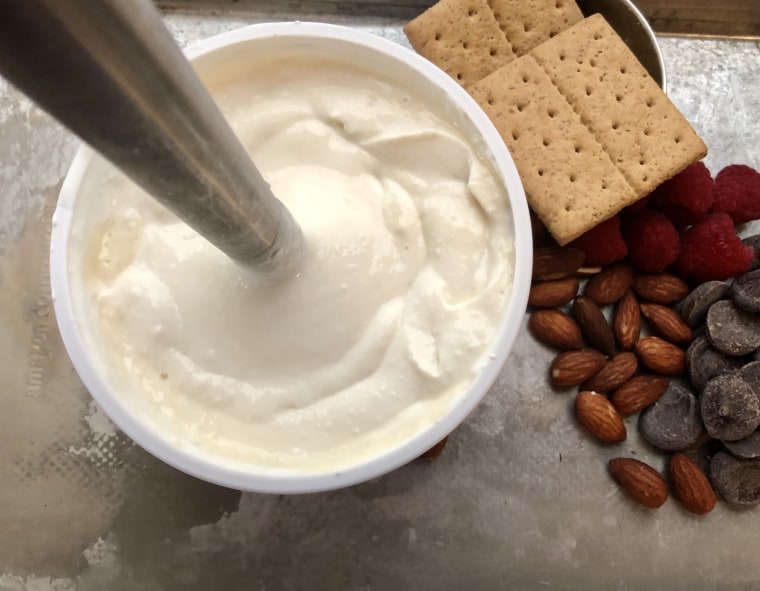 I tried several batches, blending in melted chocolate chips, fresh berries, bananas and vanilla extract. Both full-fat and 2% cottage cheese worked well. The thick texture makes it incredibly easy to fold in a perfect swirl of jam or marshmallow spread, and chopped nuts or fruit pieces don't sink to the bottom. 
Adding the graham cracker bits to a double scoop of chocolate and strawberry jam swirl yielded the best ice cream I've ever made at home.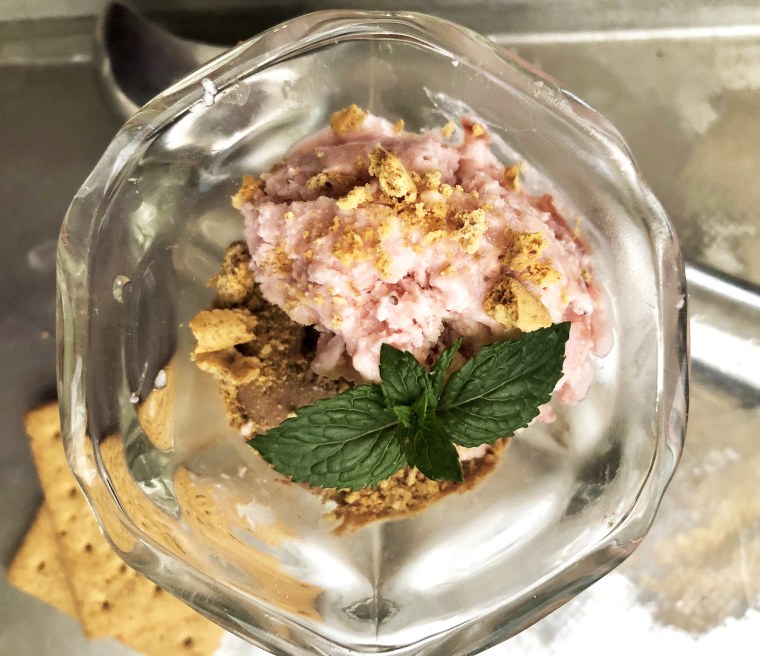 Expect a little bit of a salty tang that isn't characteristic of traditional ice creams. A lot of the flavors are described as "cheesecake," and I really found that to be the best description.
My favorite flavor? Churro! I melted sugar with cinnamon in a skillet, spread it on a silicone mat to cool and harden, and stirred it into a honey-vanilla base. The added sweetness and crunch are the perfect foil for the creamy complexity of cultured dairy.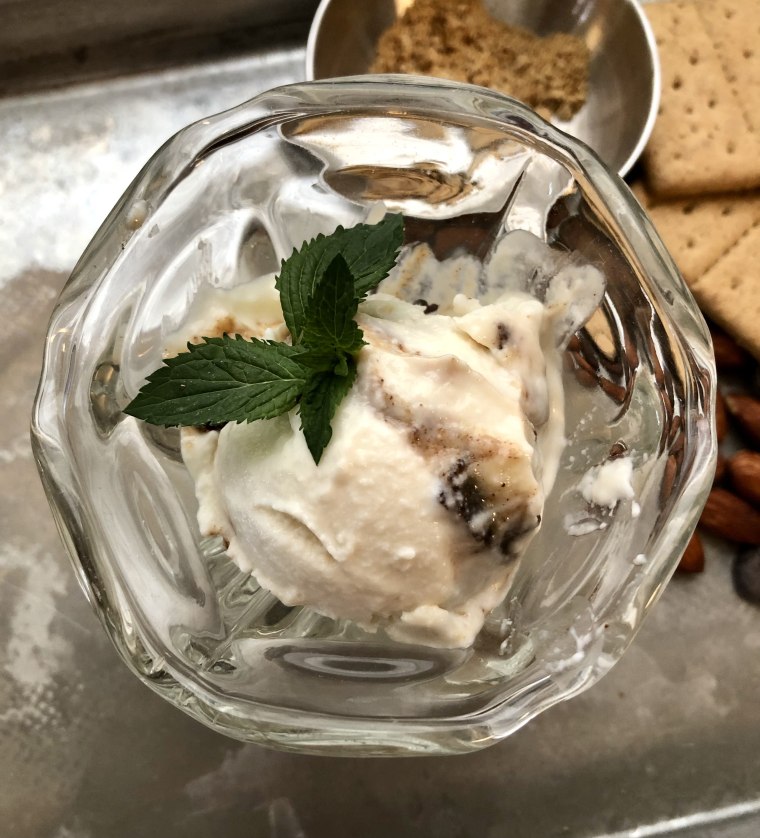 Everything I tried worked, but it's not entirely foolproof. Some additions, like sugar or alcohol, can inhibit solidifying if you add too much, and liquid ingredients might form larger ice crystals. One of the keys is to nail down freezing time for the best texture; it varies by freezer and container, but two to three hours is typical. If you find it's frozen too hard, resist the temptation to pop it in the microwave for a few seconds, because when you heat cottage cheese too much, you may find bits of a mix-in you'd prefer to miss: mozzarella!