Since meals were cooked in the hearth, cast iron has been a major part of home cooks' culinary experiences. For one man, a recent journey with the smelted metal has led him to a place perhaps no other has gone before: a mirror finish.
On Jan. 22, Reddit user u/fatmummy222 who asked to be referred to as "Dewey," posted a set of images on the r/castiron subreddit that quickly went viral. In the post, which has been upvoted more than 52,000 times, the user shares the latest chapter in his months-long cast-iron story: an astonishing 80 coats of seasoning. Yes, eighty.
"I'm at 80 coats now," Dewey wrote in his now-viral Reddit post. "Don't do it, guys. This is just for internet clout and for 'science'. And also to make random internet strangers unreasonably mad."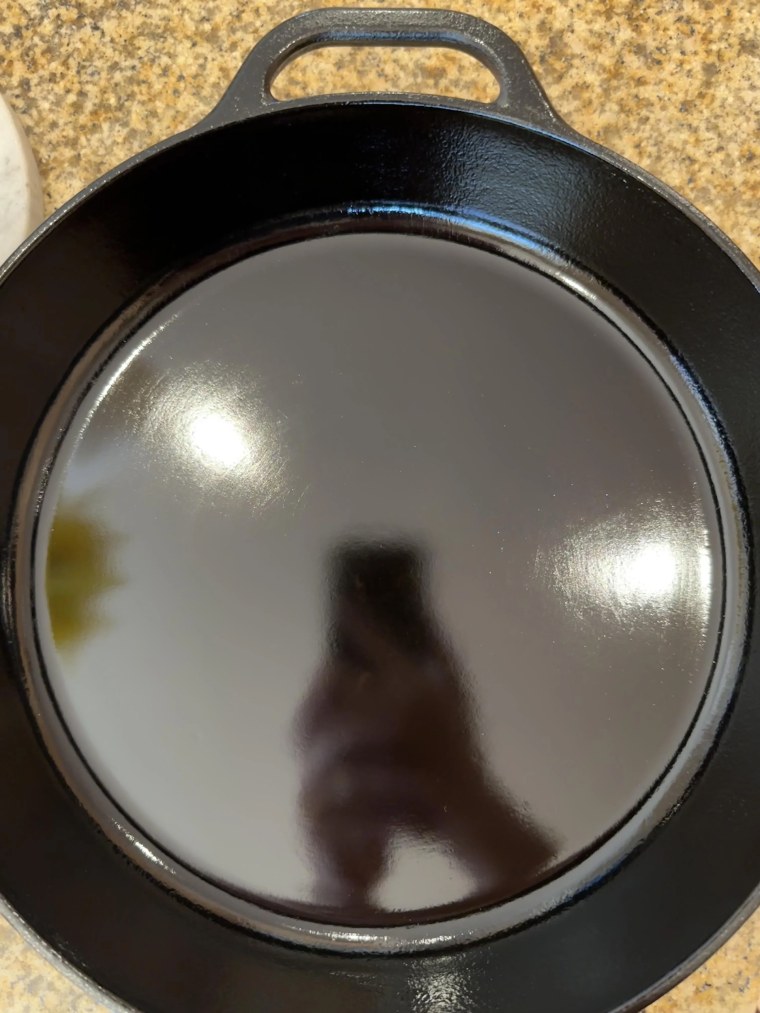 For those unfamiliar, seasoning cast-iron cookware is necessary to prepare its rough surface for cooking.
By applying a neutral oil all over its surface and placing it in the oven, a coating is baked onto the surface of the cast-iron item, sealing it and making the cast iron's surface nonstick.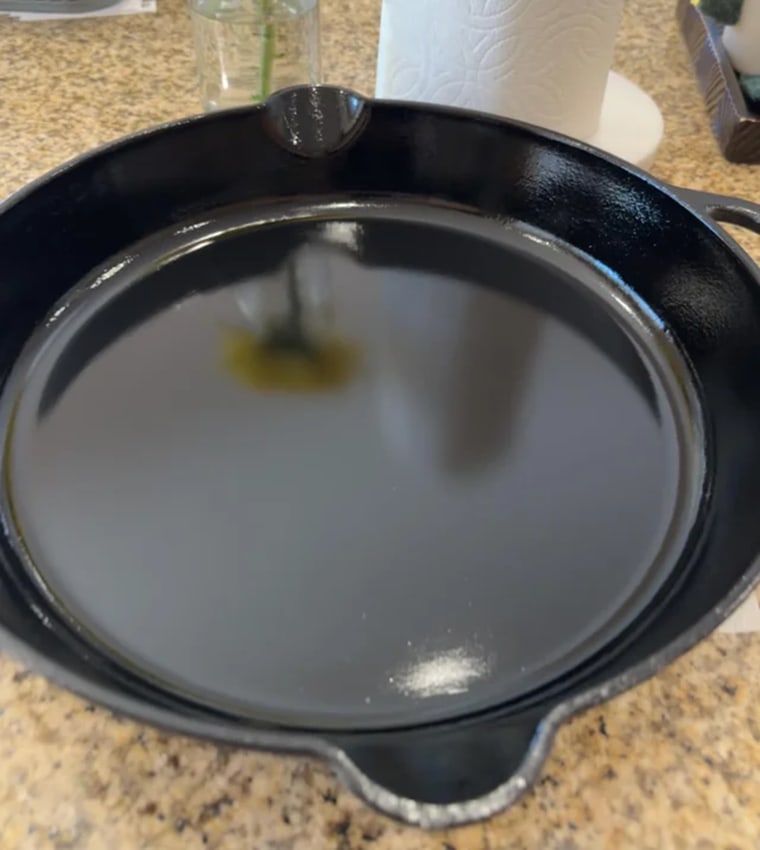 Although it's recommended that you only need one coat of seasoning to start searing those steaks and baking those Dutch baby pancakes, many folks apply multiple coats of seasoning onto their cast-iron skillets and Dutch ovens. But, like, four or five.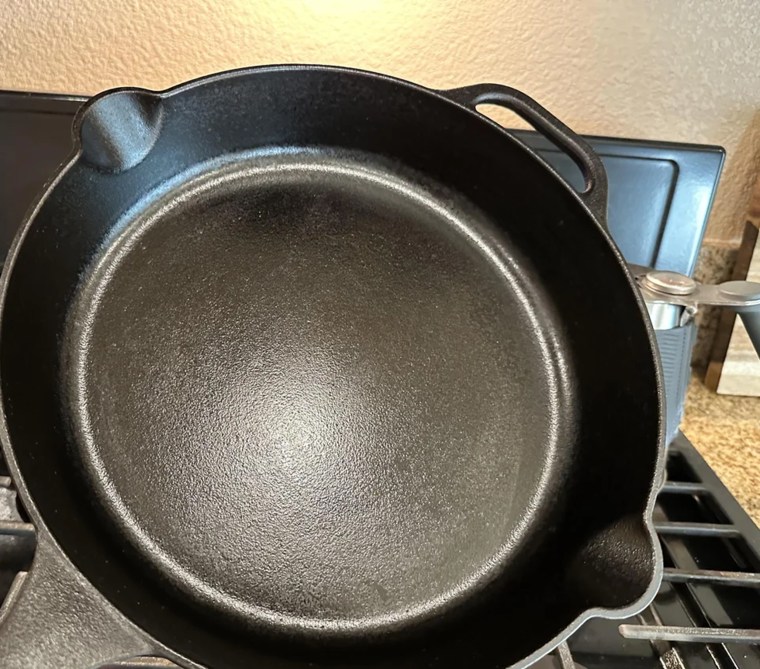 Applying 80 coats of seasoning is something else altogether, and from the more than 4,000 comments on Dewey's latest post, reactions to his now-mirror-like skillet range from awe to confusion and much more.
"Dude hang your mirror back in your bathroom," wrote one Redditor.
"OP is doing the lord's work," commented another Redditor, to which another punnily replied, "The lard's work?"
Still, there are some commenters who expressed real concern for the seasoner extraordinaire, wondering aloud if he is doing anything else with his time other than seasoning a single cast-iron skillet.
"OP's post history is a trip," reads another Reddit comment. "I feel like they dropped literally everything else in their life to season this pan and make eggs for two months straight. They haven't even mentioned steak recently. OP, blink twice if you need help."
Dewey's seasoning journey with this specific skillet started all the way back in December 2022. He tells TODAY.com that seasoning and cooking with cast iron is not just for "science" and "internet clout"; the dedicated seasoner also says that cast-iron care is his way to unwind.
"I've been seasoning cast iron and carbon steel for a long time," Dewey says.
Dewey says he recently found the r/castiron subreddit, joining and sharing his experiences with the age-old kitchen item. "People will share seasoning ideas and recipes, and I got more into it."
He says he just enjoys the seasoning process, usually seasoning this particular skillet once every day or so. "I just like how the pan looks after. It's satisfying. It's like when you polish your shoes and make it all nice and shiny," he says.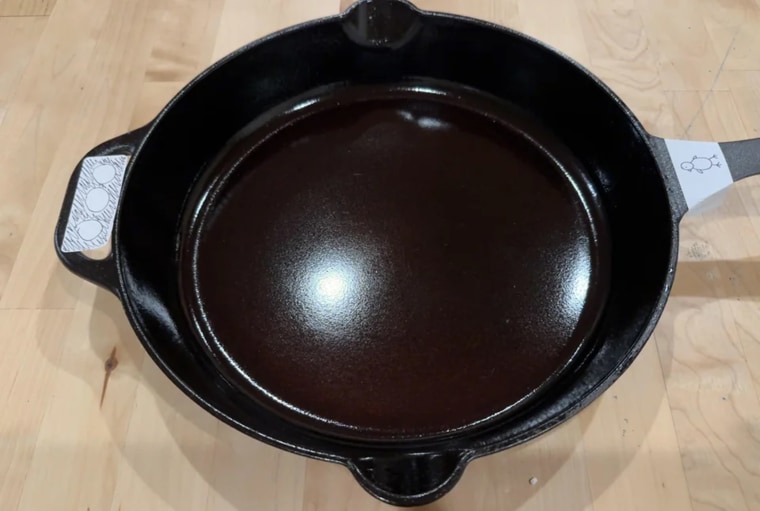 Commenters on the thread had many, many questions for Dewey, but the most prevalent one was: Why?
"It's both [experimental and meditative]," Dewey says, adding that he has seasoned this particular skillet with a combination of Crisco and grapeseed oil, among other techniques. "I actually enjoy doing it and I'm also curious. How far can I push it? How far can I go? Can I get an actual mirror finish?"
For those worried about the smell of his home after baking oily cast iron this many times, Dewey says that people worried about that in their own homes can just "open the window." He adds that his wife and daughter have also never complained, so he isn't too worried about that.
"On the subreddit, some people are a little set in their ways," Dewey says, adding that when people do experiments like he has, a lot of pushback is bound to happen. That's not stopping the intrepid seasoner, however: Dewey plans on continuing to add coats and document his journey on Reddit.
"I think what I want to say is, you know, just let people enjoy what they do. Doesn't hurt anyone you know?" Dewey says. "I think people should just relax. It's so fun."
By our estimation, he'll likely reach 100 coats by St. Patrick's Day. Perhaps he'll use his well-oiled skillet for soda bread. 'Tis the season.