If we told you there is a grassroots campaign for a discontinued Taco Bell item that has enough members to fill a football stadium, would you believe us? Well, you should, because there is.
The Beefy Crunch Movement is a 66,000-member-strong Facebook community devoted to demanding the return of Taco Bell's discontinued Beefy Crunch Burrito. Founded by a man named Richard Axton, the movement does more than talk about its beloved burrito on the social media platform: It organizes.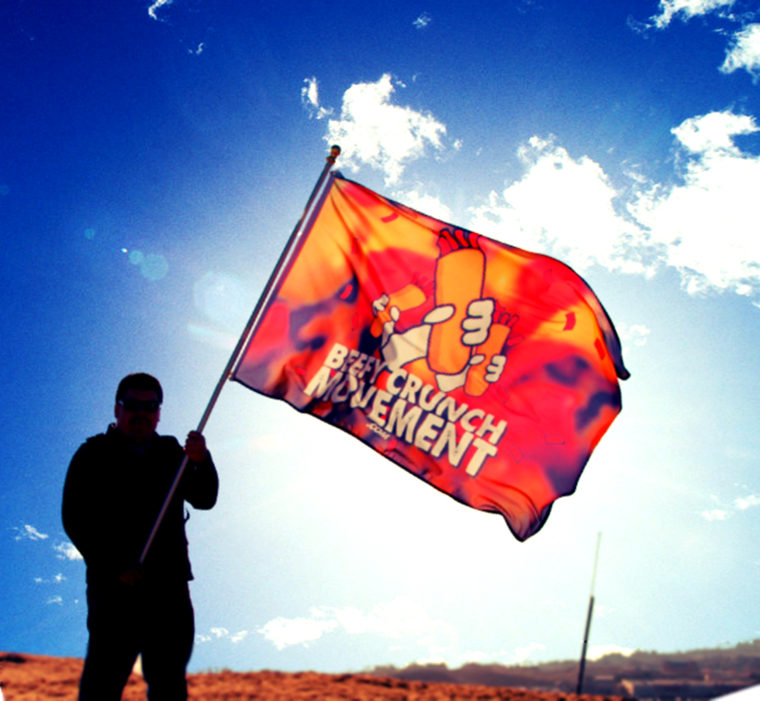 The movement started when Axton was horrified to find that the Beefy Crunch Burrito, which first debuted in December 2010 and featured seasoned beef, reduced-fat sour cream, rice, nacho cheese sauce and speckled with Flamin' Hot Fritos was suddenly discontinued in 2011. Which means the movement is coming up on its 12th year.
For Axton, it was directly in the drive-thru of his local Taco Bell on May 12, 2011 (yes, he knows the exact date) when he was told by the attendant that the Beefy Crunch Burrito was discontinued for the first time.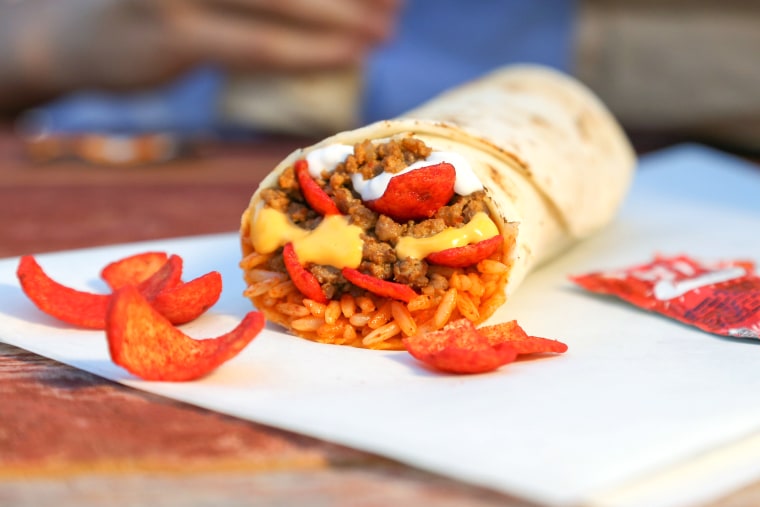 "I had been enjoying it for months up until this point and loved it so much that it was my usual," Axton tells TODAY.com. "I felt so overwhelmingly that it deserved to be a regular on the menu, I drove home and started the movement."
Axton says, at the time, Taco Bell had just begun its wave of menu innovations, with such masterpieces as the Mexican Pizza and the Cheez-It Tostada still merely ideas in the ether, years away from being born.
"You have to remember this was before any of the Doritos Locos Taco or Frito Burrito," he says. "So having actual Flamin' Hot Fritos in a burrito was a huge deal at the time!"
The movement is known for its attention-grabbing efforts which often make headlines. According to a video on Taco Bell's YouTube page, one fan drove 3,000 miles to get the limited-edition release of the burrito in 2015.
Other fans have gone skydiving with the burrito in hand and led copypasta campaigns, flooding Taco Bell's social media channels with the comment, "BRING BACK MY BEEFY CRUNCH BURRITO."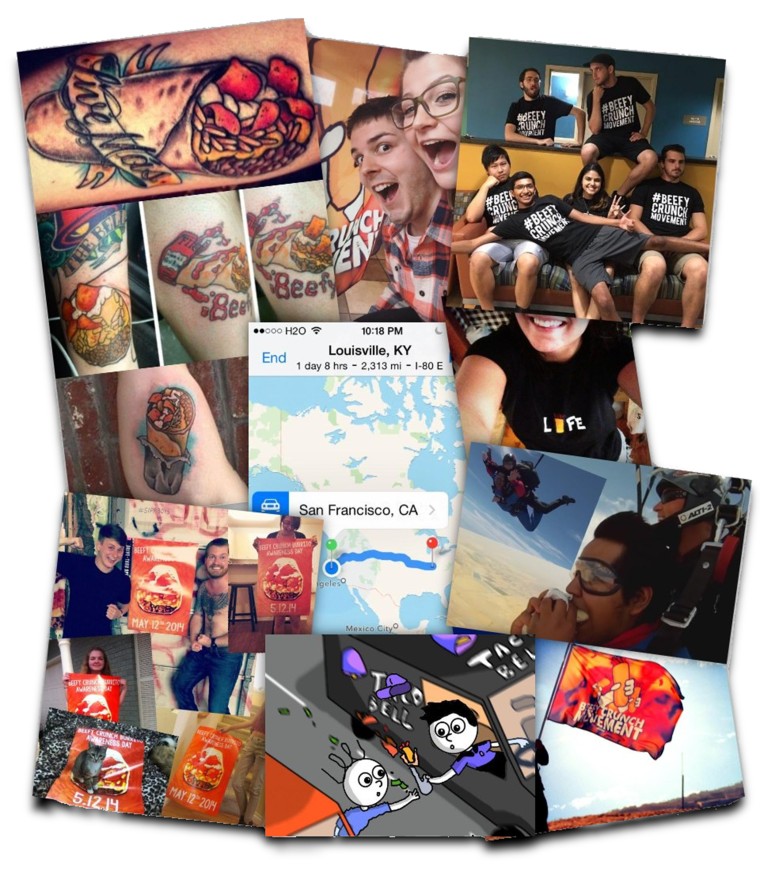 "The lasting power of the Beefy Crunch Movement's loyalty and commitment to their favorite burrito is something special," Matt Prince, a Taco Bell spokesperson, tells TODAY.com.
"They have an open line of communication with our teams, and we've worked with Richard and the group over the years. We've hosted them at the Headquarters and have celebrated several returns of the famed product over the years," Prince continues. "Taco Bell is nothing without those who share their passion for the brand. And, if this past year was any indication, anything is possible when you mix devoted fandom with beloved products."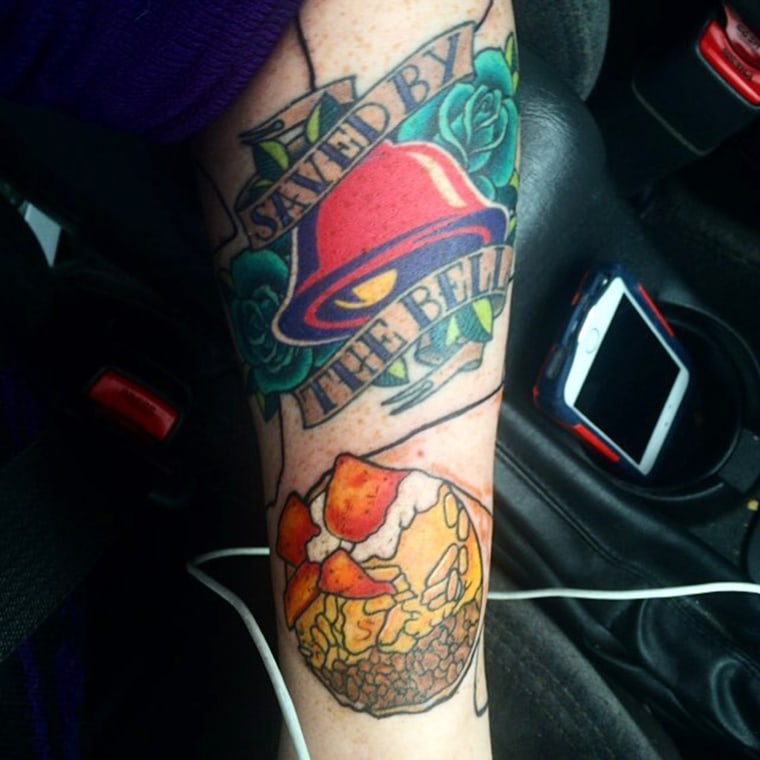 It should be noted that there's currently another menu item, called the Beefy Melt Burrito, still available on Taco Bell's menu today boasting most of the same ingredients as its crunchy counterpart. 
But the dish is completed with Fiesta Strips rather than Flamin' Hot Fritos, a move supporters of the movement deem wholly unacceptable.
"The last time I had a Beefy Crunch Burrito was in October 2018, during the last nationwide promotion," Axton says, signaling to the five long years he's been without his muse.
"We are doing whatever we can at the moment," Axton says, adding that it's difficult to stay engaged when there's currently little coming from Taco Bell that they can go on.
Still, with a passionate fanbase and a company that's willing to play ball, the Beefy Crunch Movement has stayed engaged in a push and pull over the crunchy, meaty treat that has even led some members to get inked.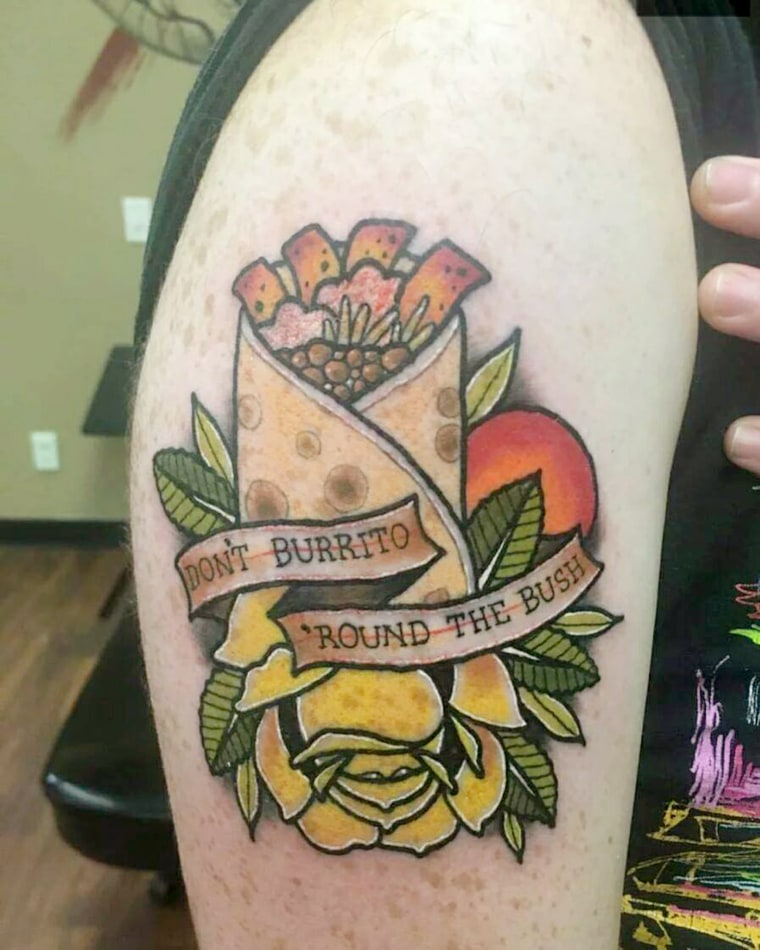 Axton says that the first Beefy Crunch Burrito tattoo was created in 2013, after Taco Bell asked social media "What would you do to bring back the Beefy Crunch Burrito?" Since then, a total of eight people have gotten the Fritos-dotted dish permanently emblazoned on their person.
"Even now in 2023, some 12 years since the Beefy Crunch debuted, the eighth tattoo was inked," he says. "This is the level of passion the Beefy Crunch fans have continued to display and it's high time they get recognized!"
Axton says that over the years people have reached out wanting their own Beefy Crunch Burrito tattoos, and the movement worked with some lucky hopefuls to make their dreams come true.
"Like Tia, who got hers as a tribute to a late friend who had cherished memories with over the Beefy Crunch," Axton says of a "Live Mas" tribute tattoo inked in 2017. "These stories are so special to us, and the tattoos are absolutely gorgeous, too."
The movement has been successful in getting the Beefy Crunch Burrito brought back in prior years, although its celebrations were short-lived. The Beefy Crunch has appeared on the menu for limited-time releases in select markets, like Louisville, Kentucky in 2015, nationwide in 2016, and most recently in 2018, but it's never permanently been on the menu. Axton wants to change that for good.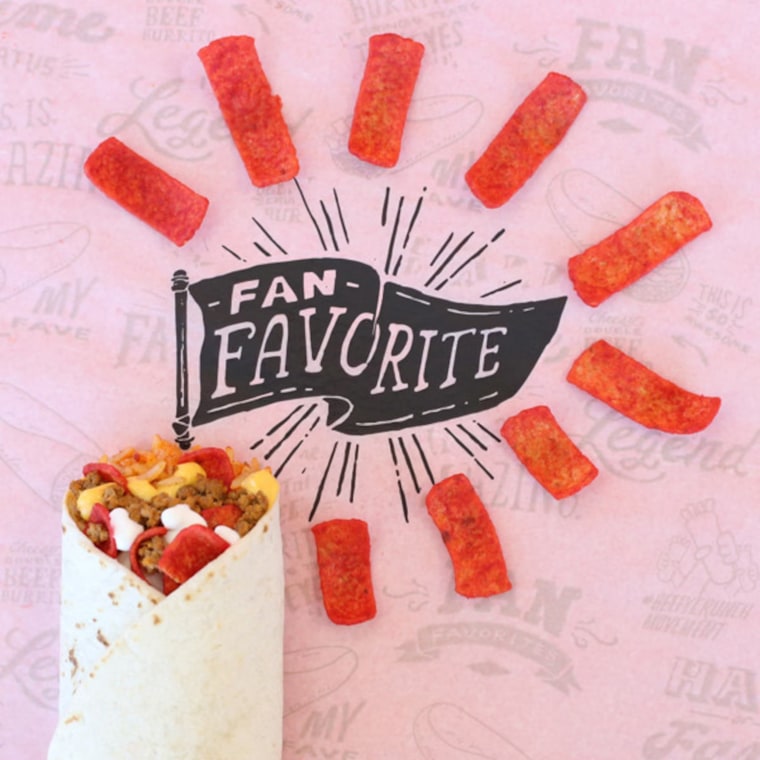 "The Beefy Crunch has only been on the menu nationwide for five weeks since August 2016, and unlike the Frito Burrito that was on the menu full-time for six years straight, we don't have that luxury air-time in Taco Bell customers' minds," Axton says.
Still, according to a post on the movement's Facebook page, there may be hope on the horizon. There is allegedly an upcoming vote to bring back the Beefy Crunch Burrito in 2023 on March 30, though this is unconfirmed by Taco Bell. How the movement got this intel is unknown.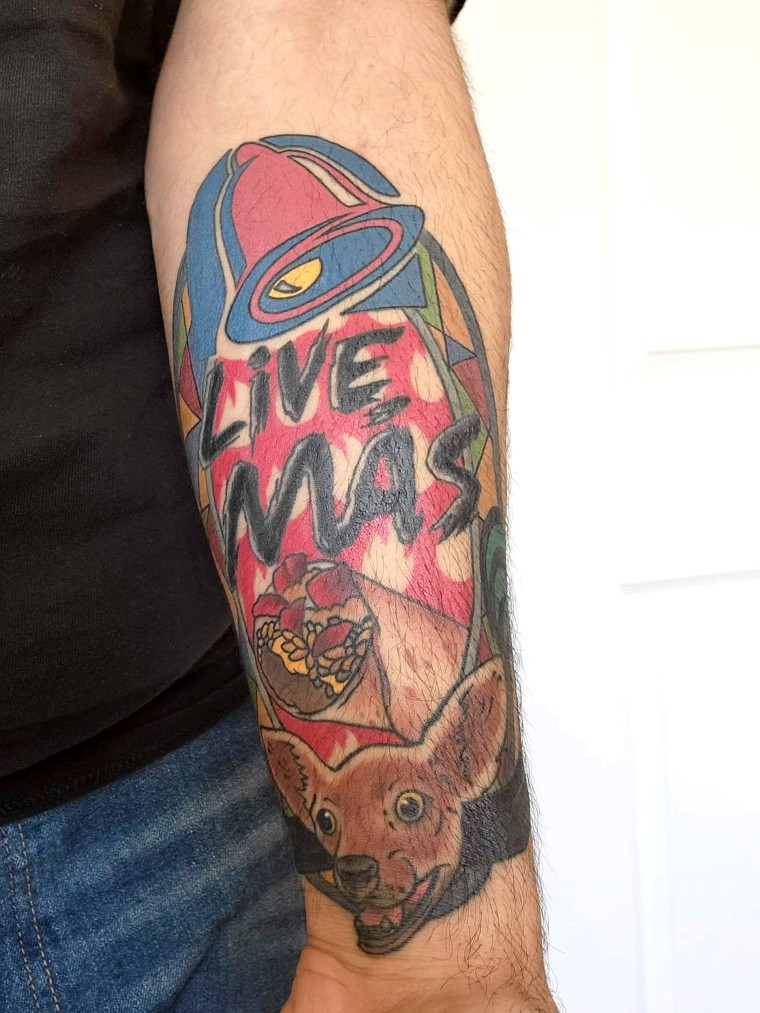 Axton says the group's next focus will be on the upcoming vote that he says ends April 12, hoping to rally Beefy Crunch fans of old and reach new ones, too. He also notes the "Crunchsters" are up against the Cool Ranch Doritos Taco, so planning is everything.
"While we are excited and willing to show our passion when asked, we are tired of having to play these games for the mere possibility of it coming back," Axton sternly notes.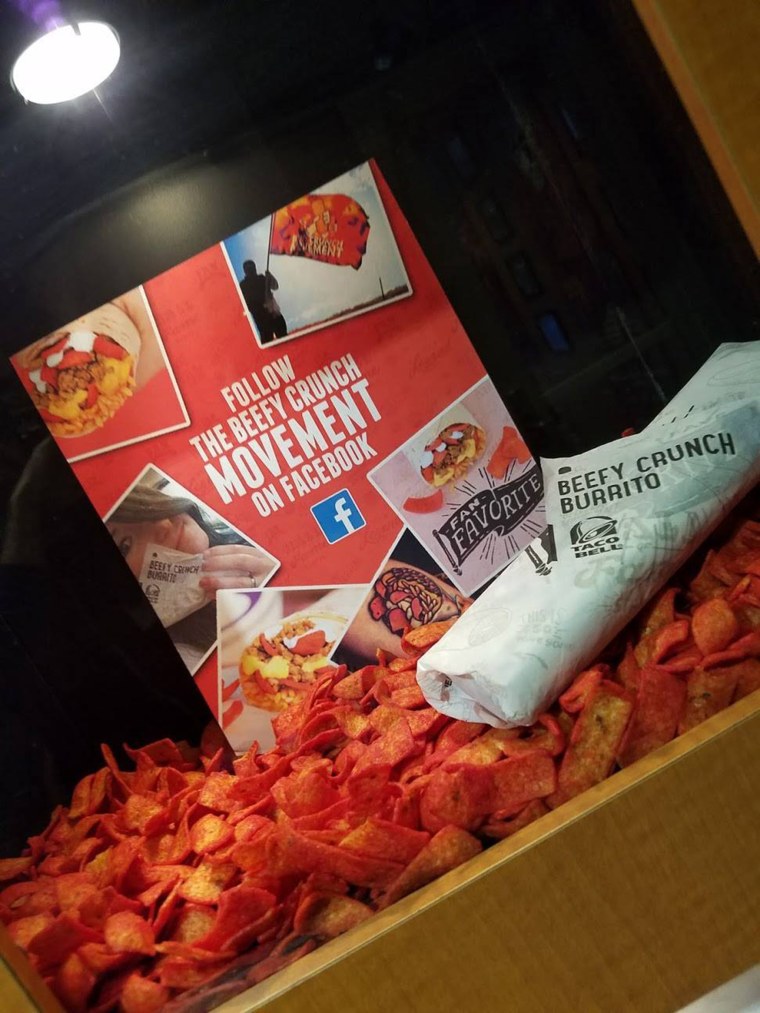 All in all, Axton says he and the Beefy Crunch Movement will be around for years to come, so Taco Bell better strap in, because they're coming along for the ride.
"We don't have the nostalgia to draw from like the Mexican Pizza, so as time goes on, we are having to try and come up with ways to reach the next generation," Axton says, joking that he wishes he could get in touch with someone like Doja Cat to assist in the fight. "But we will continue to do our best for as long as it takes."