First, it was cauliflower rice that won over the hearts of low-carb food fans. Then came cauliflower pizza crust. So what carb will the veggie conquer next?
Gnocchi, apparently. Trader Joe's, an early champion of cauliflower stand-in products, has recently unleashed cauliflower gnocchi on the world. So, of course, we had to try it out — and so did TODAY's Megyn Kelly.
Traditionally, gnocchi — a tiny, pillow-shaped dumpling pasta that's light and airy — is made from flour, potatoes and eggs.
First things first: where to find it. It's in the frozen aisle at Trader Joe's and it costs $2.69 for a 12-ounce bag (that's 2.5 servings at 1 cup each).
So what's in it? Cauliflower is the main ingredient, followed by cassava flour (a gluten-free flour made from the root vegetable), potato starch, extra virgin olive oil and sea salt.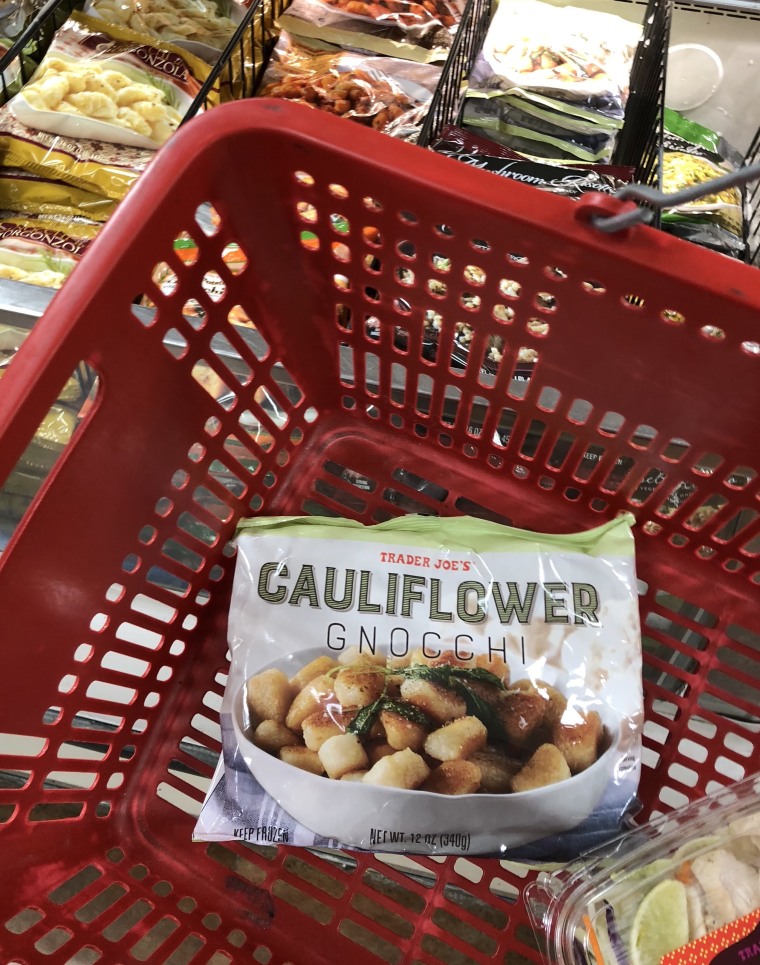 A 1-cup serving clocks in at 140 calories and 3 grams of fat. Traditionally, since some recipes call for cheese, a serving of gnocchi can run between 150 to 370 calories, with anywhere from 1 to 11 grams of fat.
Trader Joe's cooking instructions recommend sautéing this gnocchi in a pan, though there are also directions for boiling and microwaving it, as well. You don't have to wait for this pasta to defrost, which is a big plus (you just pop the frozen dumplings in a pan), and add some butter or oil. It takes less than 10 minutes, too. One note here, though: Turn your stove's vent on, or else your whole house will smell like cauliflower.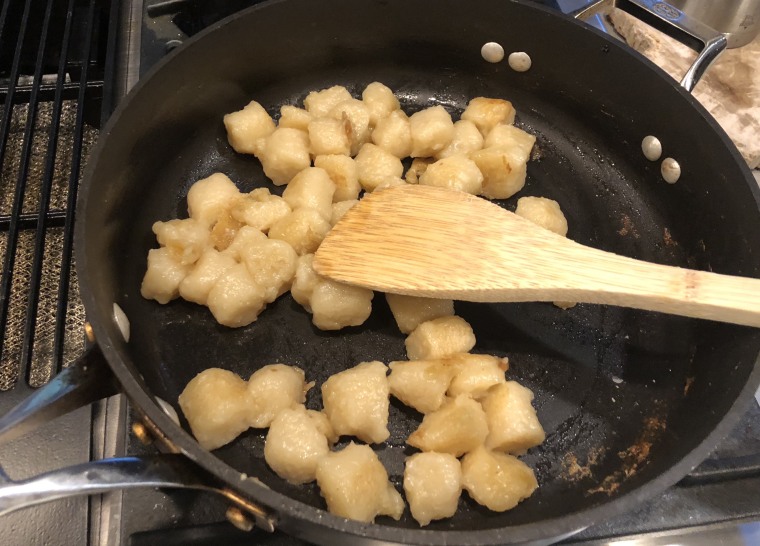 Finally, the moment of truth: the taste test.
I divvied up the gnocchi to try it plain, with tomato sauce and then with a brown butter-sage sauce — which is how it's served in the picture on the package. I also enlisted the help of my 7-year-old, who I had to pay $1 to persuade him to try it.
Without anything, the gnocchi are definitely very cauliflower-forward, so they need some kind of sauce if you're not a fan of that flavor. With the sauce, though, the cauliflower taste fades to the background, and the texture is a pretty spot-on stand-in to the traditional soft dumpling.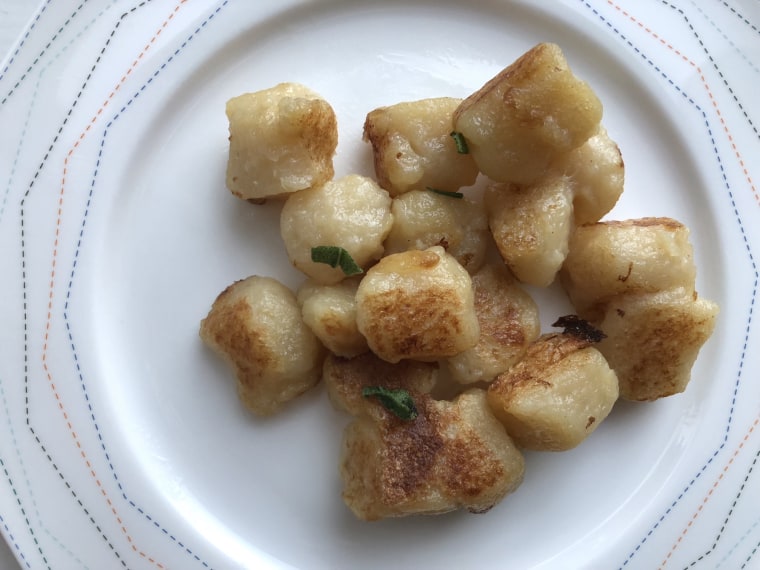 However, the taste and texture might not be for everyone. My son said, "Ew." And when I disclosed they were made from cauliflower, he gave a more resounding, "EWW!"
Personally, I have to say they are not nearly as addicting as Trader Joe's frozen Gnocchi al Gorgonzola. But if you're watching your carbs, or just fully onboard the trendy cauliflower train, then this new frozen food is definitely worth a try.
Plus, you get a little bit of fiber (6 grams per serving) and more veggie vitamins and minerals from the cauliflower.
TODAY's Megyn Kelly and a panel of guests tasted the pasta with two other sauces on Thursday. Everyone loved them covered in a tomato sauce and pesto sauce.
"It's amazing," she said. "You can't tell the difference between this and real pasta."