It's no secret that the aisles of Trader Joe's are filled with cheap and delicious foods. But sometimes even the old standbys need a little sprucing up before making it to the dinner table.
Instead of marinating, boiling, shredding, steaming, peeling and waiting around for my home-cooked meals to come together, I prefer a semi-homemade approach when the week gets really busy. Sure, you could always just heat up some of the store's famous Mandarin Orange Chicken and call it a day, but it's nice to be able to add a personalized touch to meals. Here are my favorite ways to spice up nine basics from Trader Joe's.
1. Take the guesswork out of prep work.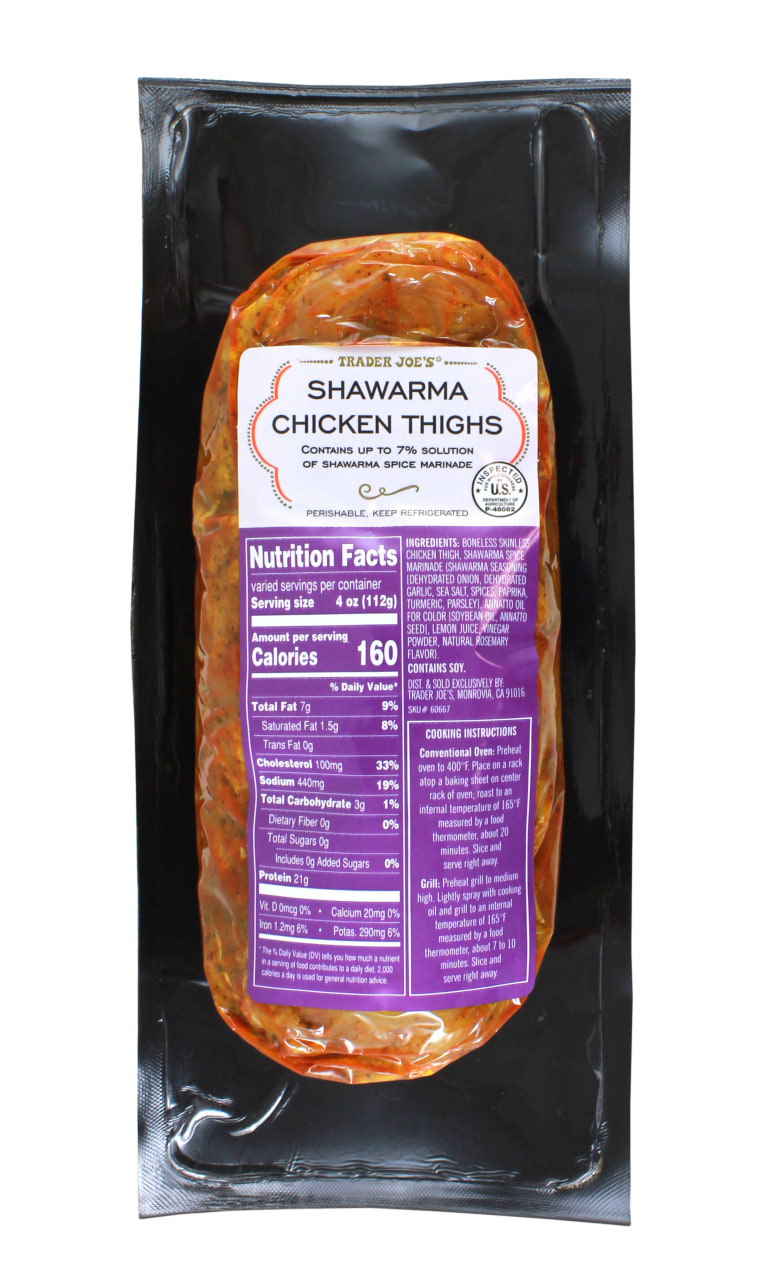 Chicken thighs are more tender and much easier to keep moist than chicken breasts. Trader Joe's has taken the prep work off the table with their pre-marinated meats — so they're ready to cook whenever you get home. This succulent shawarma chicken is marinated in onion, garlic, sea salt, cumin and cinnamon. All of the spices come together harmoniously but since the thighs are uncooked, the preparation possibilities are endless. Roast, pan-sear or grill the thighs and serve them with pitas or rice. Or, if you're going low-carb or keto, serve the meat with Greek yogurt and shredded iceberg lettuce. Plus, they're just $4.49 a pound.
2. Satisfying seafood on a budget.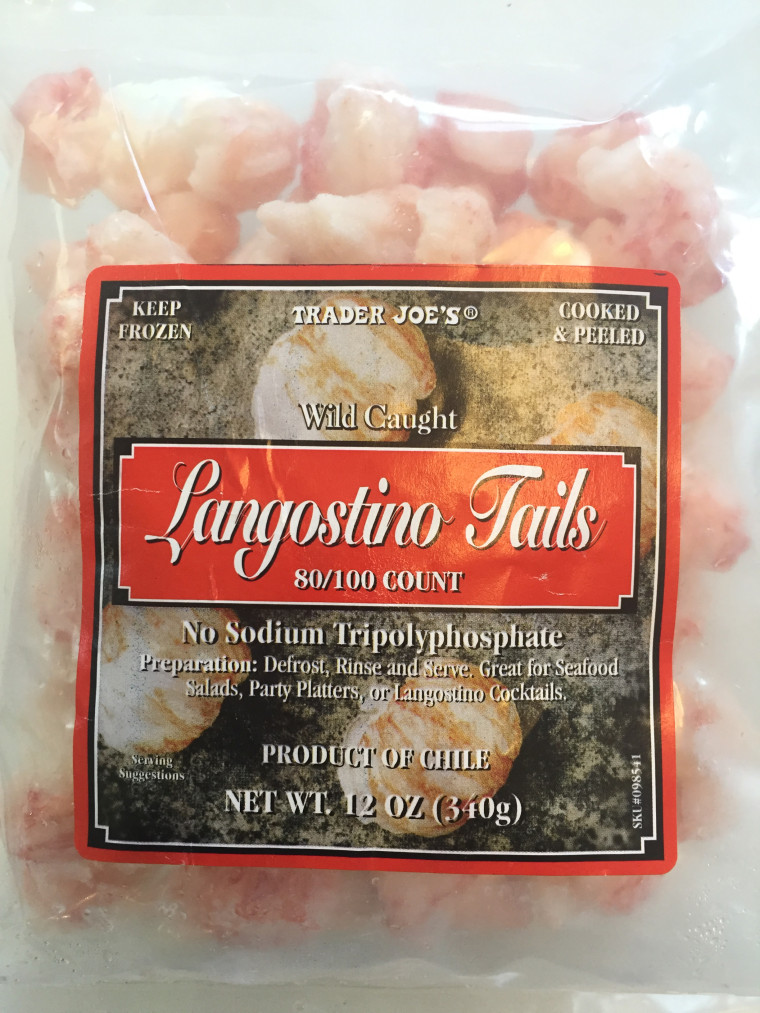 Langostino tails are similar in taste and texture to lobster, but they're a lot less expensive. These shellfish — available cooked and frozen — are a great way to mix up any recipe that typically calls for lobster or even shrimp. My favorite weeknight hack? Easy langostino rolls. Simply defrost and rinse the tails, chop them into about 1/2-inch pieces, mix with a little mayonnaise, lemon juice and minced chives or scallions, then serve a scoop or two in hot dog buns for a little taste of the beach any time of year.
3. Liven up lentils.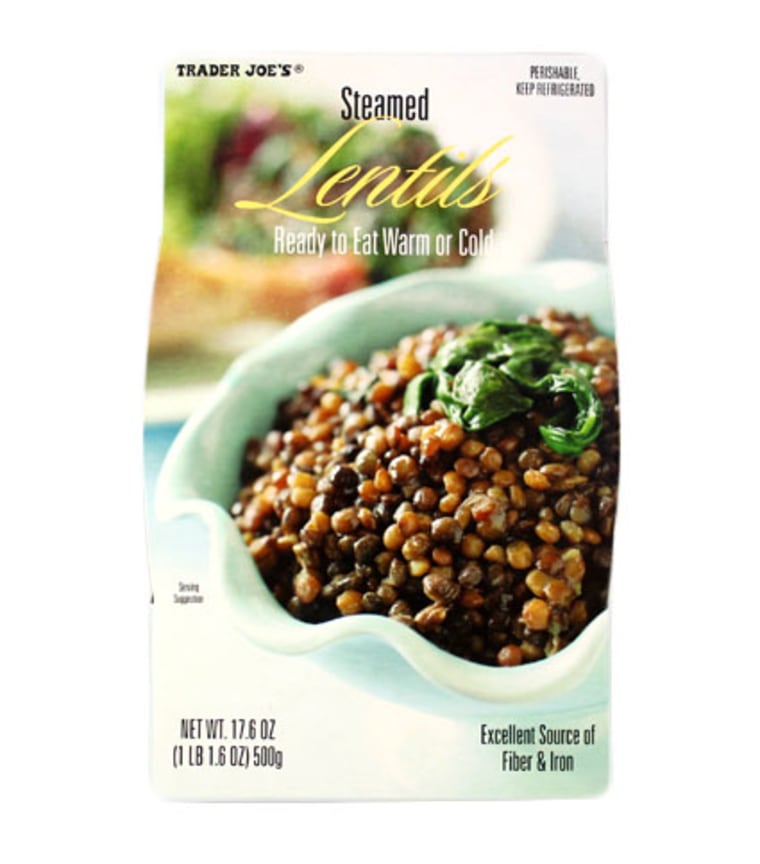 These pre-cooked lentils can be found in the refrigerator near the produce section of your local Trader Joe's store. Lentils are a great source of fiber and contain iron, protein, vitamin B1, zinc, potassium and vitamin B6, so they're a great way to boost the nutritional profile of a variety of dishes. Since they're already cooked, these packages are a major time-saver for salads, jazzing up plain rice, or our favorite quick curry: Just simmer one package of lentils with one bottle of Trader Joe's yellow curry sauce and a can of coconut milk. Talk about curry in a hurry!
4. Peeled baby beets can't be beat.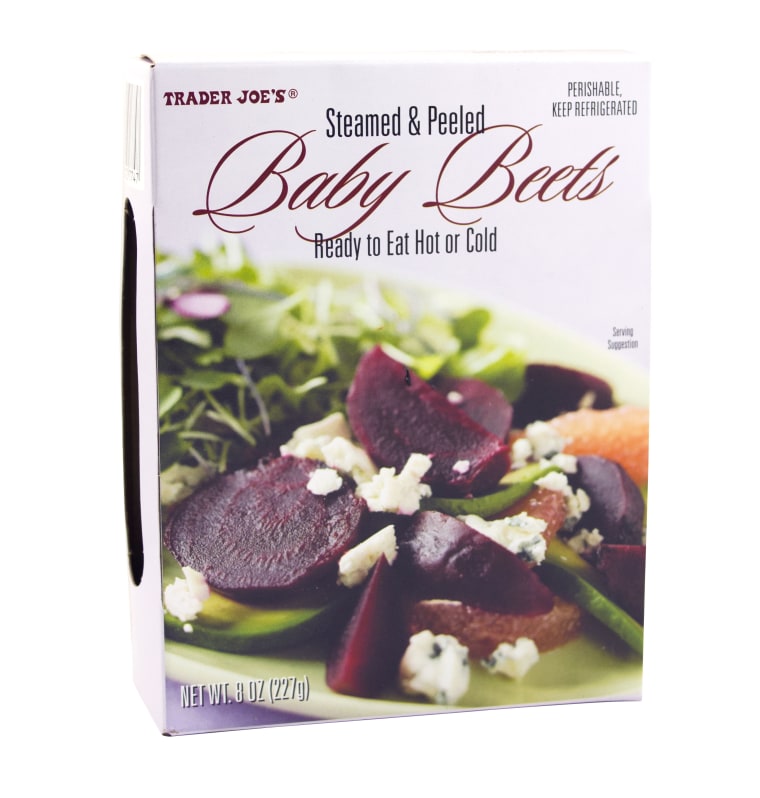 Beets are nutritious and delicious and incredibly versatile. But they can be a major stain pain for the unprepared home cook. The solution? These beets are already peeled and steamed so they're ready to add to any dish of your choice. For a quick salad, I recommend dicing the beets and combining them with chopped radicchio, goat cheese crumbles, your favorite nuts and any vinaigrette of your choice.
5. Matcha and blueberry lavender almond beverage
These new products, which are available by the carton, are perfect for perking up chia pudding, adding extra flavor to smoothies or giving oatmeal a super flavorful makeover. Each drink is vegan, gluten free, dairy free, soy free and contains just 60 calories per serving. The drinks retail for $1.99 a carton.
6. This miso is magic.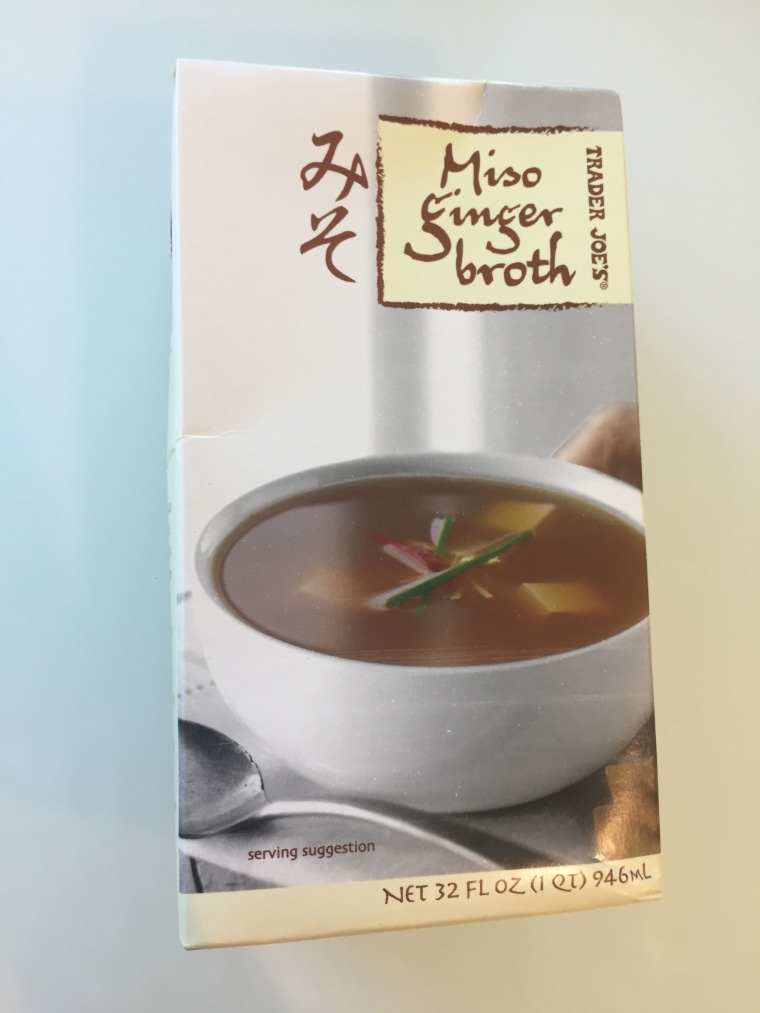 If you're not familiar with umami-packed miso, it's time to get onboard the flavor train. This miso ginger broth is a great substitute for plain old chicken broth and is just as versatile. Just pour it out of the carton and heat it up for an instantly satisfying soup. For another quick meal, simmer some broth on the stove, add in your favorite veggies, pre-cooked protein like shrimp or chicken, ramen noodles and enjoy a delicious soup in just 5 minutes.
7. Rock the guac.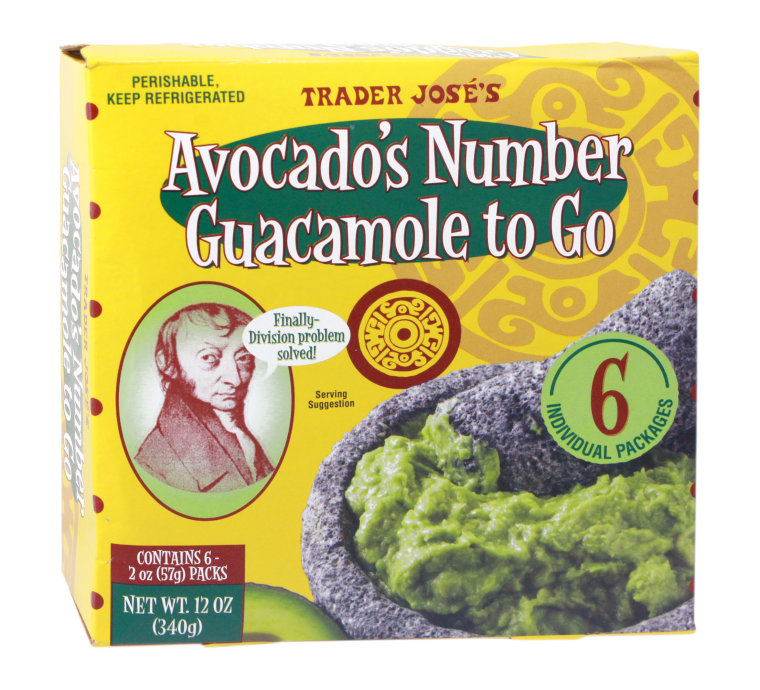 Unless you're allergic to this green fruit, chances are you eat avocado a lot. Hey, it's everywhere these days — on toast, in macaroni and cheese and even in lattes (yes, really). These individual packets of guacamole open up all kinds of possibilities for those of us who don't want to suffer through avocado hand or just want a personal-sized portion of guacamole without having to make a big batch that may turn brown before we've had a chance to eat it all. While these packs are great for chips and salads, we like combining them with Trader Joe's frozen mini tacos.
8. Eggplant has never been easier.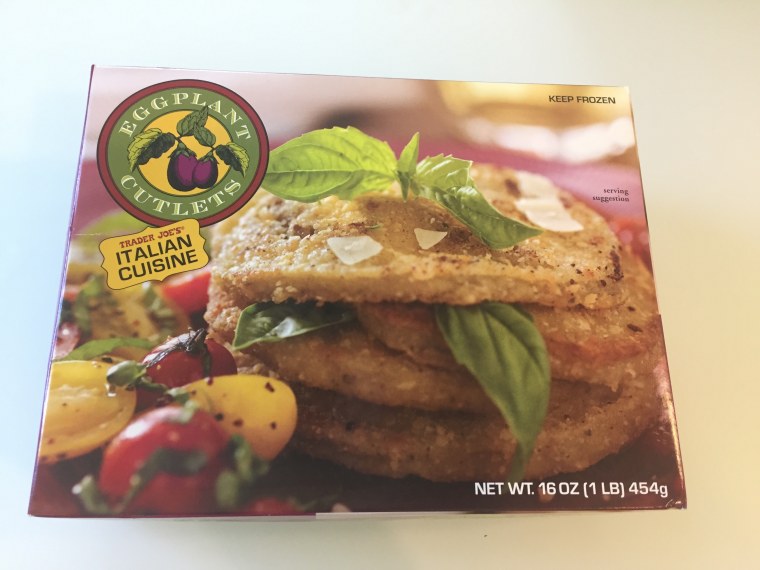 Eggplant is delicious but it can be kindof a pain to prepare if you don't have a lot of time. These breaded cutlets from Trader Joe's are available in the freezer aisle and they are basically the answer to hacking a super quick eggplant Parmigiana, or making an excellent eggplant sandwich. Just layer the defrosted cutlets in a pan with your favorite jarred tomato sauce, mozzarella and a generous sprinkling of good Parmesan cheese. Then bake it for about 25 minutes at 375 degrees. No frying, no messy paper towels, no muss and certainly no fuss.
9. Transform taco night.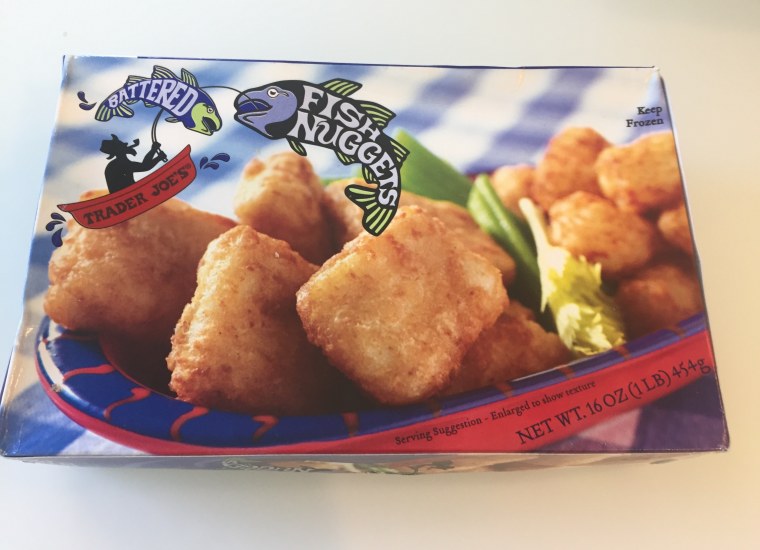 Taco Tuesday (or whatever night of the week you like 'em) is usually a family favorite. Instead of beef or chicken, try switching things up with seafood. These fish nuggets, made from battered Alaskan pollock, crisp up beautifully in the oven and, unlike some fish sticks you might find in another grocery store freezer aisle, actually taste and flake like real fish! Make up a quick and simple zesty slaw to cut through the richness of the deep-fried fish, add some warmed tortillas to the mix and — ta-da! — you're o-fish-ally a food star.
Check out more of our all-time favorite foods from Trader Joe's.