Convenience is one of the things we love about Trader Joe's, and what's more convenient than having a freezer stocked with meals and treats? Here are 19 of our favorite frozen finds at TJ's that always help us make our meals better.
1. Mandarin Orange Chicken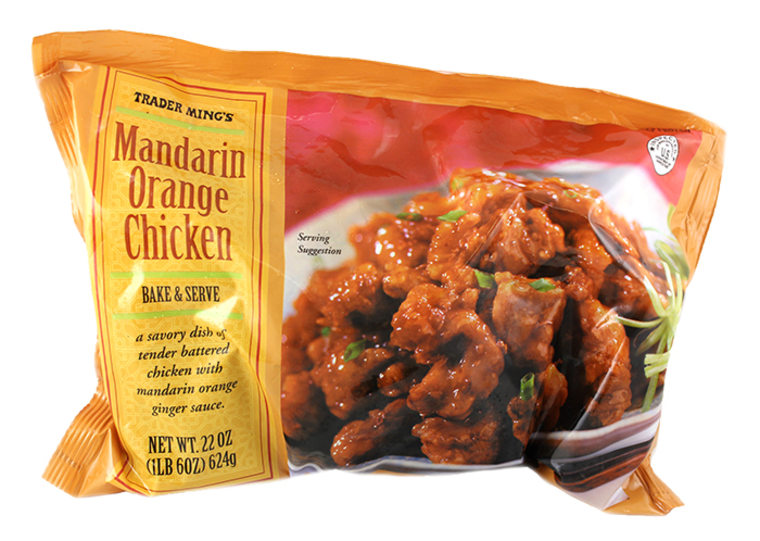 This product dethroned cookie butter in Trader Joe's most recent Customer Choice Awards and TODAY staffers love the frozen entree as much as the TJ's customers who were surveyed. And it makes dinnertime so easy: Just heat the chicken in the oven or a pan, toss with the sauce, add some rice and maybe a veggie and you've got a restaurant rivaling meal to serve at home.
2. Melodious blend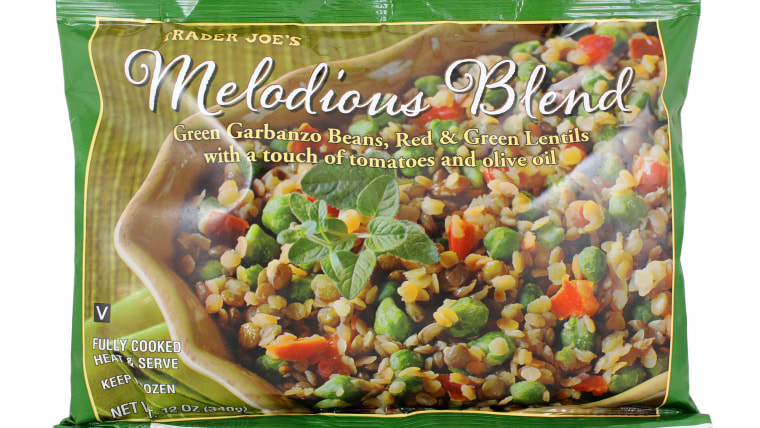 This heat-and-serve frozen side, which we also included in our list of favorite healthy Trader Joe's items, is a healthy and protein-packed mixture of green garbanzo beans, red and green lentils, tomatoes and olive oil. Serve it with quinoa for a hearty vegetarian grain bowl, or add sliced chicken breast to pump up the protein even more.
3. Shrimp stir-fry with gourmet pepper seasoning
It takes just seven minutes to get this healthy and satisfying one-pan dinner on the table. The shrimp, mixed veggies and lemon pepper seasoning are all included.
4. Cauliflower rice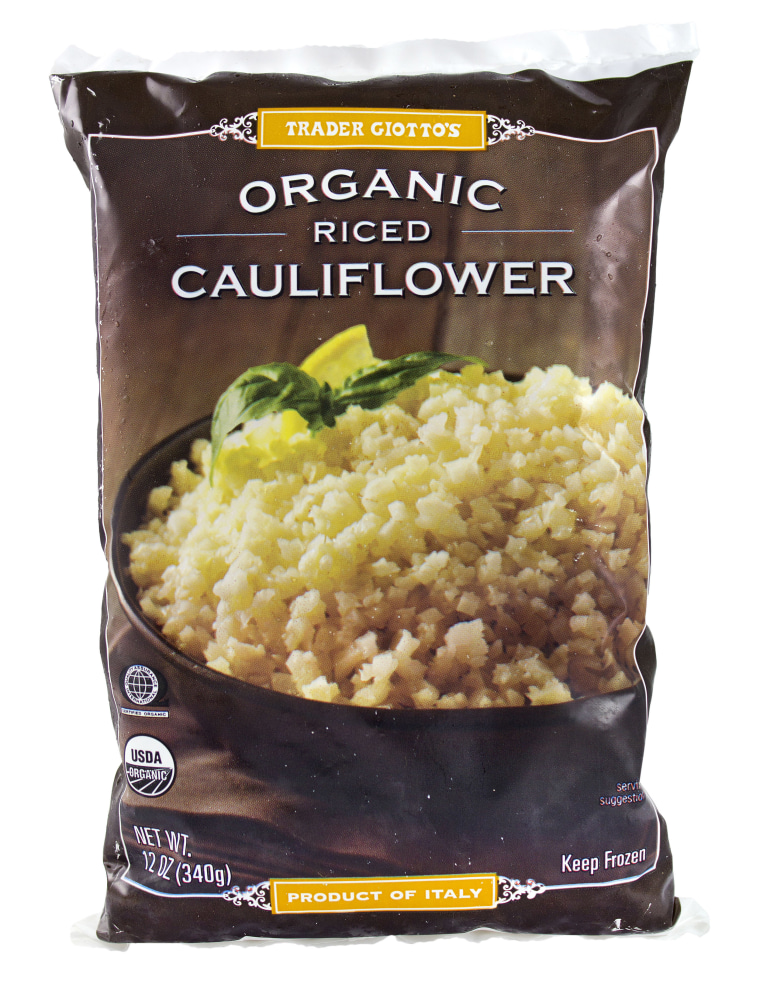 Forget the hassle of making cauliflower rice from scratch. With this frozen version, you've got a low-cal and Paleo-friendly pilaf ready to go in a flash. No food processor or hand-chopping necessary! Use it to make Cauliflower Pizza or Cauliflower Risotto with Wild Mushrooms.
5. Frozen arugula and Parmigiano-Reggiano ravioli
Let's face it: It would take a very special occasion to make ravioli from scratch. Fortunately TJ's has you covered with this zesty blend. Serve over a bed of arugula for a pretty and tasty presentation.
6. Vegetable fried rice
Here's a super-convenient side that TODAY staffers' kids love as much as their parents — and kids eating their veggies is always a dinnertime score. Add chicken, tofu and/or nuts to make it into a meal.
7. Artichoke hearts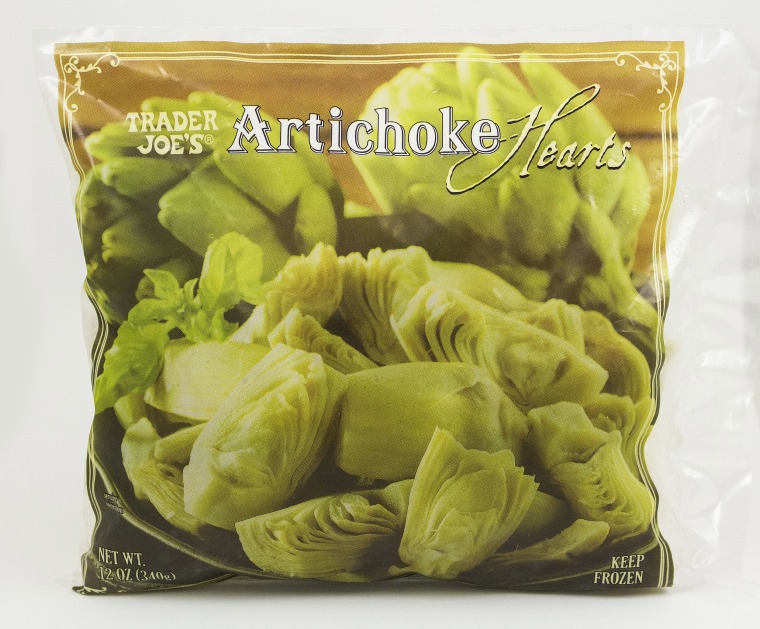 Trimming and prepping fresh artichokes is a pain in the neck (and sometimes a pain in the fingers), so when we want artichokes we turn to TJ's. They're great for a quick side, dishes like Giada's Artichoke Risotto and even for a quick healthy snack. Food editor Alessandra Bulow loves to pan-fry them with chicken breasts, lemon juice, capers and white wine for a fast and healthy weeknight dinner.
8. Croissants
We dig the chocolate croissants that were a runner up for favorite frozen food in TJ's Customer Choice Awards, but we also love the almond and plain varieties for fanciness in a flash.
9. Fire-roasted bell peppers and onions
When we posted about our favorite Trader Joe's items on Facebook, one commenter noted her love of this blend, which she says she stockpiles to make pepper steak, sausage and peppers, fajitas, omelets and more. We totally agree — this sweet-smoky blend is just what we reach for to amp up the flavor in all kinds of dishes. Try them in Siri Daly's Chicken Fajitas recipe.
10. Organic peeled and cut kabocha squash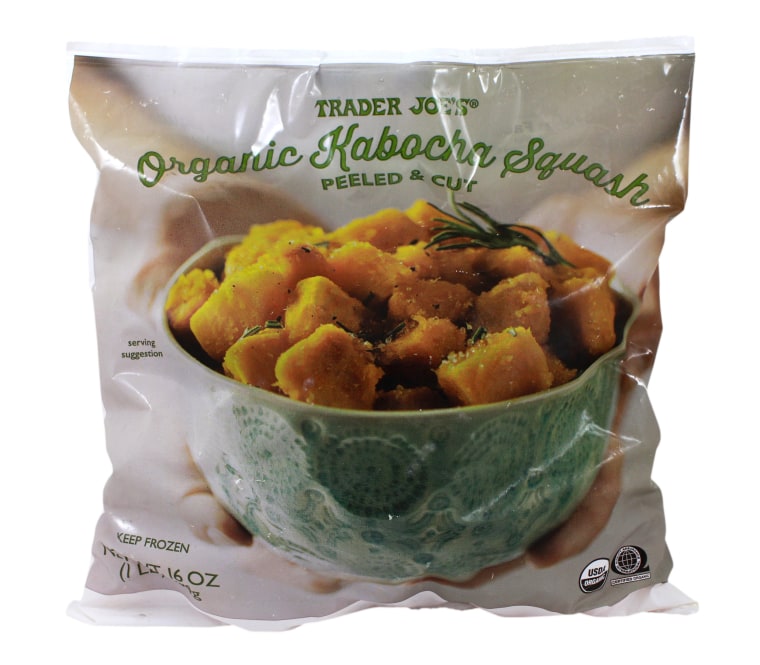 Have you ever tried peeling the tough skin and slicing through the dense flesh of a kabocha squash? Well, we have and though we escaped without injury, we did not escape without exasperation. That's why we love this pre-peeled and chopped squash. (Oh, also, no scraping out seeds!) We use it as a simple side, in stews and in place of butternut squash in many recipes.
11. Organic mixed berry blend
This mixture of strawberries, blackberries, blueberries and raspberries is perfect for smoothies, smoothie bowls, pies, crips and creative treats like Breakfast Ice Cream and Berry Monkey Bread.
12. Organic tropical fruit blend
If you get tired of the berry blend, give your smoothies a tropical twist with this mixture of pineapples, mangoes, strawberries, and bananas and save yourself the hassle of cutting up pineapples and mangoes. Try it in a Tropical Fruit and Nut Smoothie Bowl.
13. Wild salmon fillets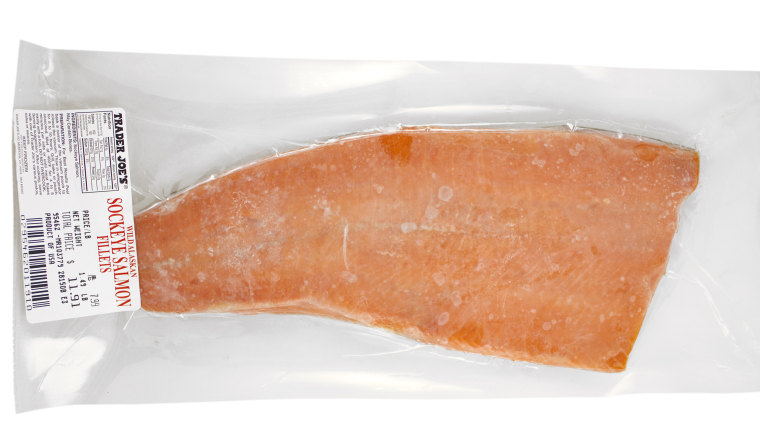 Unless wild salmon happens to be in season when you're shopping, chances are good that wherever you buy fish it'll have been previously frozen. TJ's frozen wild salmon fillets allow you to thaw your fish when you're ready to cook it. It's perfect for recipes like Siri Daly's Salmon and Veggie Rice Bowls.
14. Shrimp
TJ's has all kinds of frozen shrimp, both raw and cooked, which makes it a snap to prep dishes like Korean Late Night Noodles, Bang-Bang Chicken and Shrimp and Mexican Shrimp, Mango and Avocado Rolls.
15. Organic Superfood Pilaf
This blend of quinoa, sweet potatoes, carrots, kale and red bell pepper is so healthy and tasty, we can't get enough of it. Serve it as a grain bowl with chicken, fish or beans and you have a total meal in about two minutes.
16. Joe's Diner Mac 'n Cheese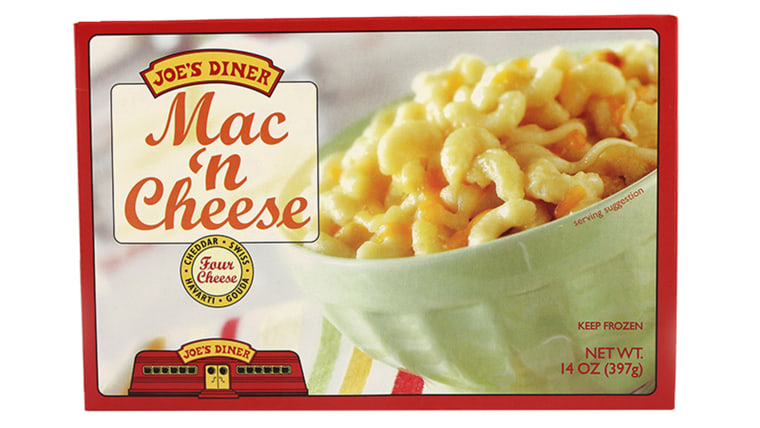 When we posted about our favorite Trader Joe's items on Facebook, one commenter demanded, "How did the mac and cheese not make the list?" We stand corrected.
17. Haricots verts
Yes, you can get frozen green beans at any grocery store, but few match up to Trader Joe's tender and tasty haricots verts. Cook them up in this recipe for Green Beans with Shallots and Bacon for a quick side (no trimming or slicing necessary).
18. Mushroom medley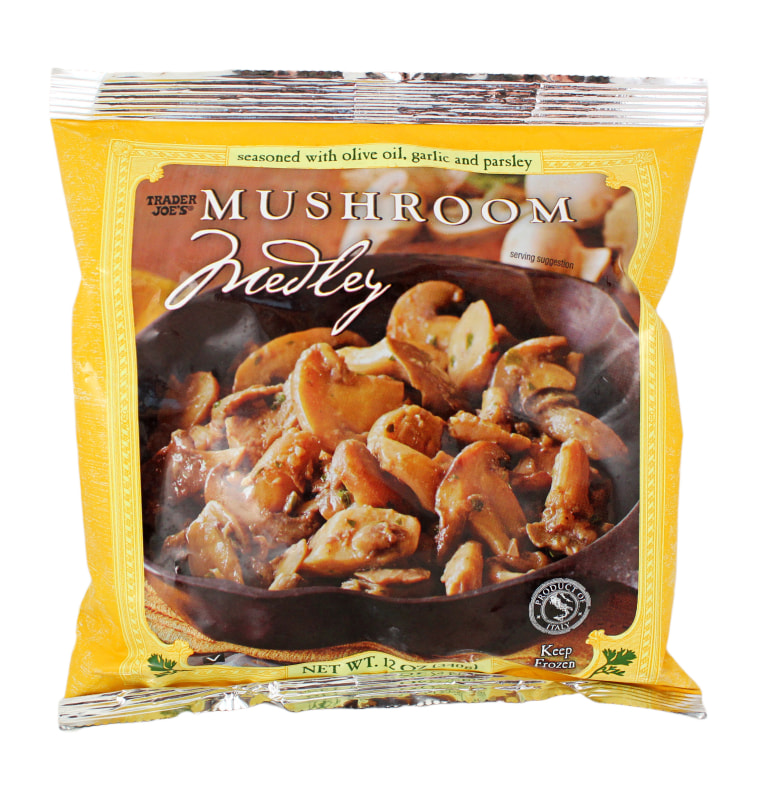 The mushrooms in this handy blend are cleaned, chopped, seasoned and sauteed before being frozen. We love to serve them atop steak and chicken, over pasta, as a topping for pizza and as a side dish (to name just a few ways we're putting the medley to work). Try them in Ina Garten's Filet Mignon with Mustard and Mushrooms.
19. Chocolate covered bananas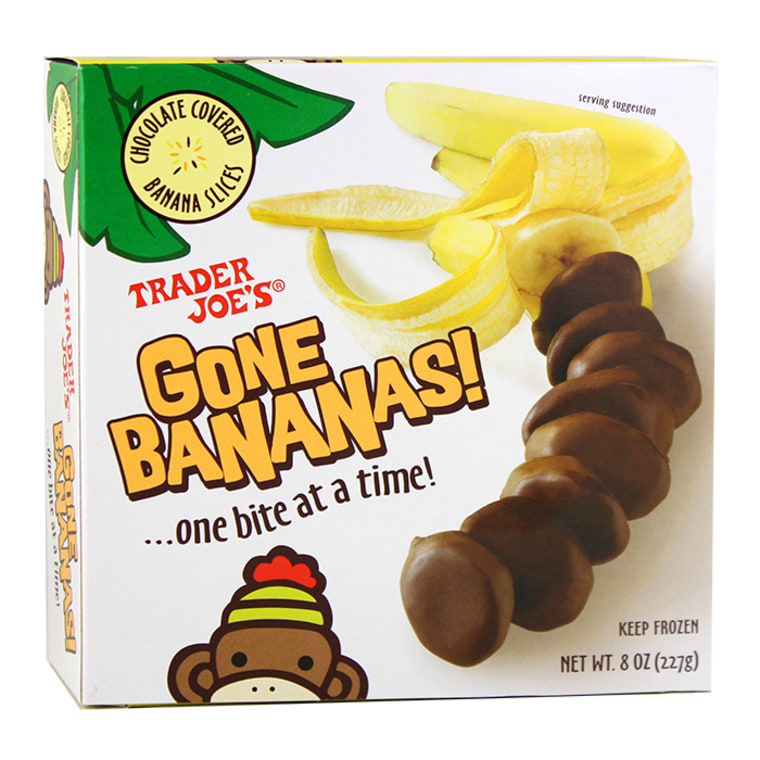 The thing we love about TJ's Gone Bananas is that they're individual banana bites, each dipped in chocolate, rather than a whole banana: easier to eat and more chocolate per bite!
RELATED
• 17 healthy Trader Joe's items we're obsessed with
• 22 Trader Joe's products we love