As a carb addict, I've been dying to try cauliflower rice—the rice substitute made by pulsing cauliflower in a food processor — but the idea of making rice sounds like a lot of work to me. So when Trader Joe's quietly started rolling out frozen and then fresh pre-prepared cauliflower rice last year, I grabbed up some bags immediately.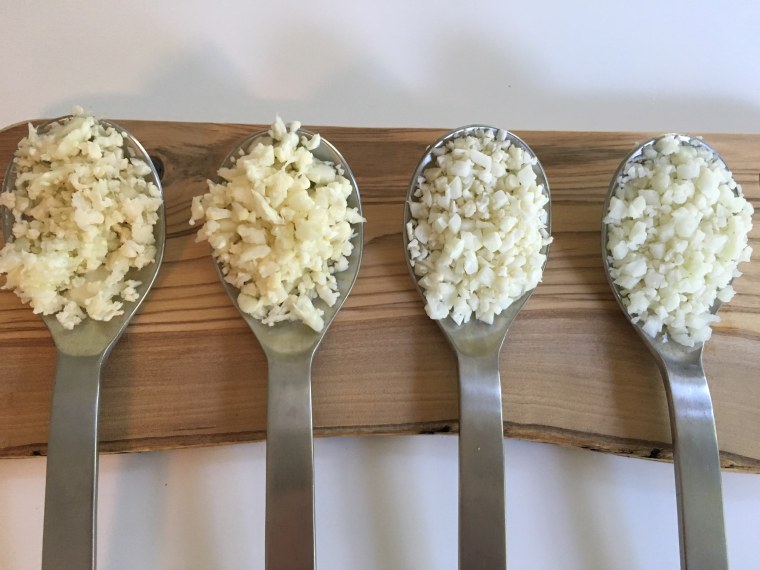 The stuff has been so popular, TODAY Food editor Alessandra Bulow spotted two customers fighting over the last bag in one New York City Trader Joe's, where the store has had to impose a two-bag limit at checkout.
Officially, Trader Joe's headquarters says, "The popularity of this item has led to a temporary lapse in its availability…We are hard at work to ensure more Organic Riced Cauliflower is available as soon as possible."
So is all the fuss worth it? To find out, I put both Trader Joe's fresh and frozen bagged cauliflower rice up against homemade versions, to find the ultimate cauliflower rice hack.
For the homemade versions, I followed the riced cauliflower method from TODAY's Joy Bauer, who uses the rice sub to slash 200 calories from each dish of paella.
Bauer suggests using a food processor—where you whirl small amounts of cauliflower florets for only a few seconds, to ensure they don't purée—or a cheese grater, to make the cauliflower rice pieces, then lightly sautéing them with seasonings.
To keep the playing field level, I bought fresh cauliflower from Trader Joe's produce section ($1.99 per head) to see how it stacked up against the chain's own bagged "rice" versions ($2.49 for a 16-ounce fresh bag; $1.99 for 12-ounce frozen, organic bag).
Here's what we discovered:
1. Cheese grater method
Making cauliflower rice on a cheese grater creates pieces that are more shredded and oblong in shape, which our taste testers actually felt imitated the texture of "real" rice more than a food processor. "It's more al dente," one said, probably owing to the smaller size of the "rice" pieces, which allowed them to retain less water. Everyone also noted it had a "strong" cauliflower aroma and taste, which most favored: "I can see sesame oil and Sriracha tossed with this, yum!" Shredding the cauliflower took seconds, though the pieces tend to go flying as you grate, creating a bit of mess.
Pros: Al dente, "real" rice-like texture; fresh flavor; no expensive equipment needed
Cons: Pieces of cauliflower go flying while grating
Spring Chef Stainless Steel 4-Sided Box Grater, $12, Amazon
2. Food processor method
The food processor created very uniform, neat, tiny cube-like pieces of cauliflower rice. It took a matter of seconds to make, but getting the food processor out and then cleaning it is always a chore. Some tasters found the rice to be "fairly fluffy" while others thought it was "too watery," probably because, this time, the larger pieces retained more water. All agreed it has the most "cauliflower-forward flavor" of the bunch.
Pros: Literally takes seconds to grind the rice; strong, fresh flavor
Cons: Can be slightly watery
Hamilton Beach 8-Cup Food Processor, $30 (normally $36), Amazon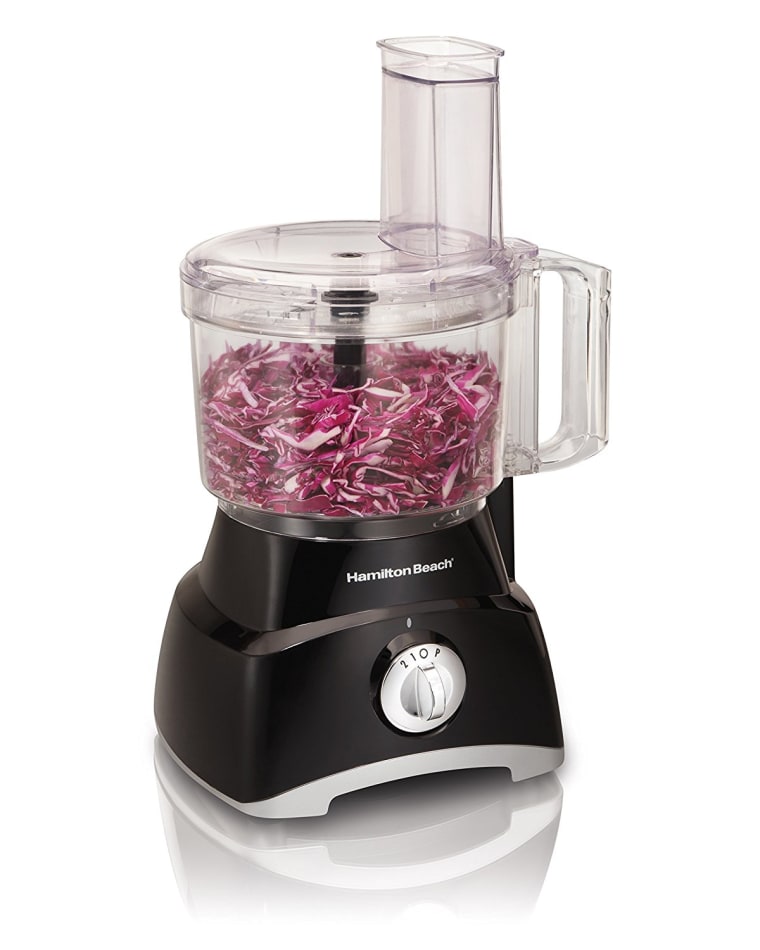 3. Trader Joe's Riced Cauliflower (fresh, $2)
Prep was expectedly easy: Open the bag (found in the refrigerated produce cases at Trader Joe's), and use the cauliflower rice as you please (I sautéed it in the same method as above). It looked remarkably similar to the food-processor version of the homemade cauliflower rice, but with more perfectly uniformed pieces. Tasters did think it was "softer" and "more watery" and had "less cauliflower flavor" than the freshly processed rice, though some saw the "more neutral flavor" as a positive: "The people in my house who don't like the taste of cauliflower would probably prefer this," one said.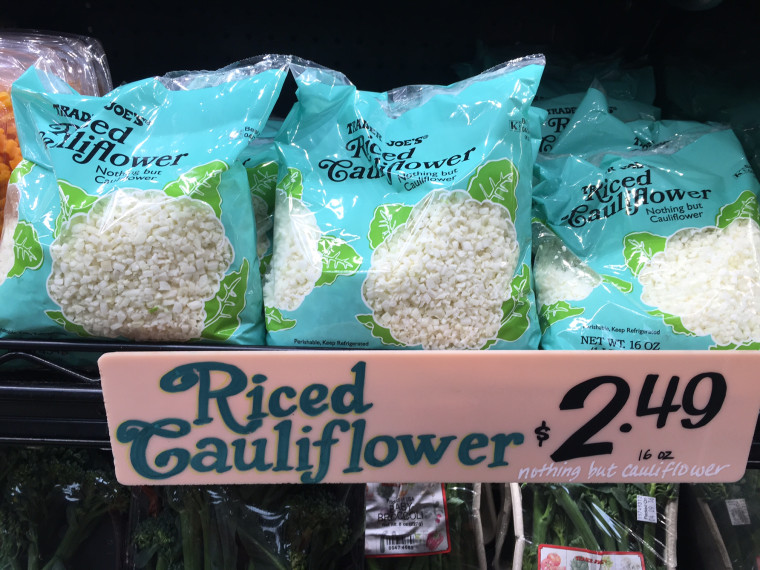 Pros: No prep, no cleanup; fairly similar texture to rice made at home in food processor
Cons: Less of that fresh, just-chopped flavor
4. Trader Joe's Organic Riced Cauliflower (frozen, $2)
You'd think the frozen bagged cauliflower might pale in comparison to the fresh bagged cauliflower, but our tasters begged to differ: They found the frozen, bagged cauliflower rice (found in the freezer cases at Trader Joe's) to have a fresher, "more neutral" flavor than the refrigerated version. (I sautéed it, again, using the same method as above.) Tasters also found the frozen "grains" of rice were slightly smaller in size, which yielded a better, more rice-like texture. As a bonus, the frozen stuff is organic, too, unlike the fresh version. Also, while the refrigerated bags will last about a week to 10 days in the fridge, the expiration date on the frozen bag was January 2018. While we don't recommend keeping it around that long, it's good to know that it won't spoil if you don't get to it, and that you can stockpile it away for quick dinners and lunches.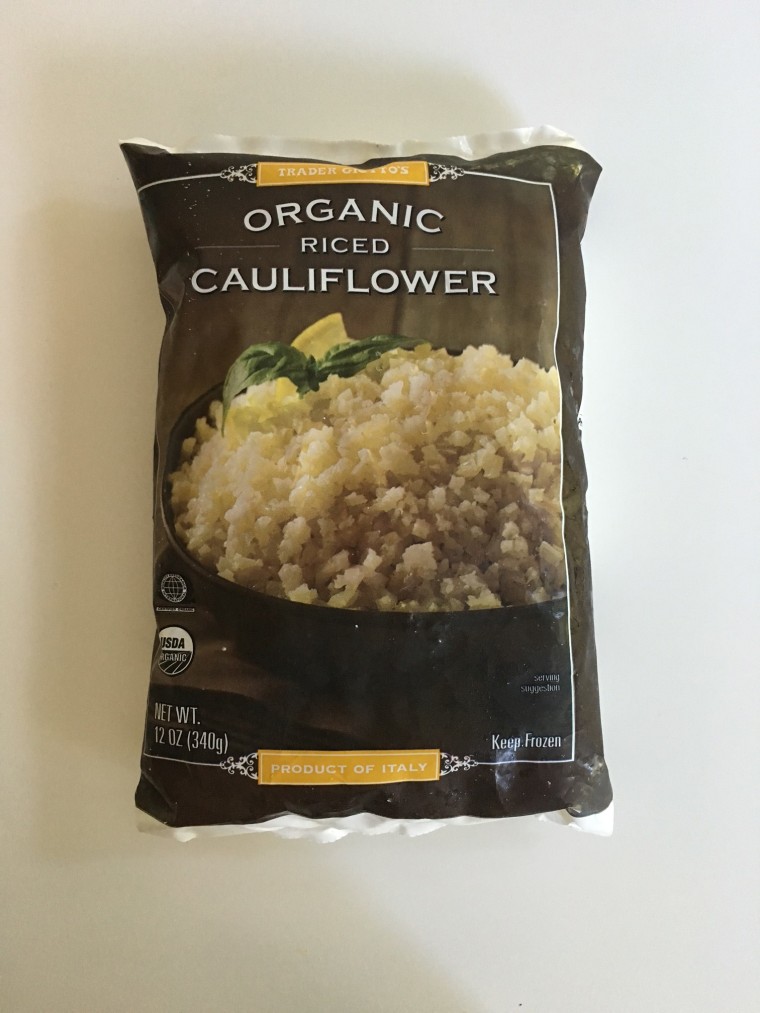 Pros: No prep, no cleanup; even, "rice-like" texture; nice neutral taste; keeps (almost) forever in the freezer
Cons: You need to live near a Trader Joe's to get your hands on it
Verdict:
The Trader Joe's frozen Organic Riced Cauliflower wins for all-around ease, texture and taste. If you don't have a Trader Joe's in your area, give the cheese-grater method a go or try similar items from Amazon Fresh or Walmart.
Wondering what to do with all that cauliflower rice? Try it in a stir fry from the TODAY Food Club, or even make a pizza crust out of it.
This article was originally published on April 27, 2016.