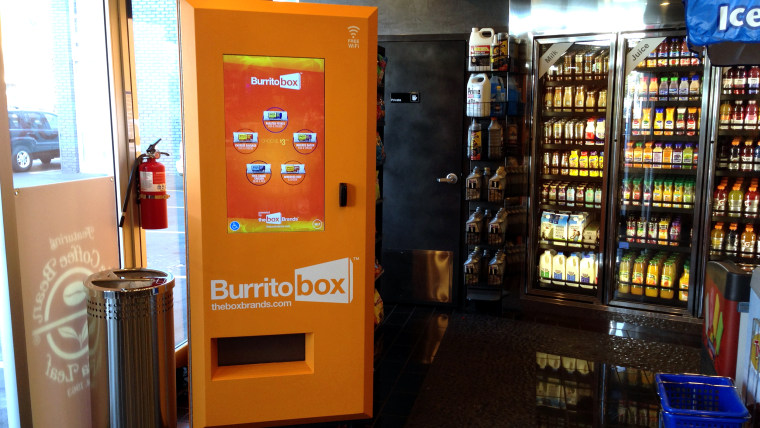 TODAY multimedia producer Brandon Goodwin is in California to cover this weekend's Golden Globes, but that's not what he's most excited about in the sunshine state. Goodwin couldn't wait to check out the Burritobox, a burrito vending machine stationed in West Hollywood that's been getting a lot of buzz.

"Being the fast food junkie that I am, this is the mecca of Mexican fast food," he reported back to TODAY.com. "I just had to try it. It was an irresistible opportunity."
He ventured out of his hotel room to walk the mile and a half to the Mobil gas station at 8380 W. Santa Monica Boulevard, where one of the two machines is stationed. With no line in sight, he proceeded to select a free-range chicken, rice and bean burrito with a side of sour cream. After a swipe of his credit card for $3.80 and a 60-second music video that appeared on the screen while the machine worked its magic, his burrito dispensed.
"It was pretty magical," he said.
While Goodwin expected the meat to be cold and the side of sour cream to be a mess, he was pleasantly surprised with the outcome: a thoroughly-heated, gourmet microwave burrito.
"I'm trying to still cope with what I just had," he said. "I was really impressed."
While he says the adventure was "more of a fun experience than a culinary destination," he'd definitely recommend it to others: "I think it's worth the trip."
To share in his Burritobox experience, check out how he live-tweeted the adventure: