Get ready to cheers in Charleston!
In 2019, the TODAY Show is heading to Charleston, South Carolina, for the city's 14th annual Charleston Wine + Food festival, which runs from March 6 through March 10.
The festival features cooking demos with globally renowned chefs, local excursions highlighting the region's diverse produce and seafood, hands-on cooking classes and — of course — plenty of opportunities to sample the city's diverse cuisine, cocktails and incredible wines.
In Charleston, TODAY is teaming up with the popular festival and will be featured at several events, including Bread of the South (biscuits or cornbread, anyone?); the oyster-farming excursion Raising Shell; a barbecue bash helmed by female pitmasters (Smokin' in the Boys' Room), and an evening of wine tasting featuring varietals from around the world at Winederlust.
On Monday, Kathie Lee Gifford and Hoda Kotb — who will both be heading down to Charleston to broadcast the 4th hour of TODAY from the festival — enjoyed fresh buttermilk biscuits from local bakeshop Callie's Hot Little Biscuits and a signature morning staple with a truly Charleston twist: The Captain Bloody Mary from The Darling Oyster Bar in downtown Charleston — and yes, it is garnished with a fresh lobster claw.
Al Roker will also be joining in on the fun as he reports live from the festival's centrally located Culinary Village during the show.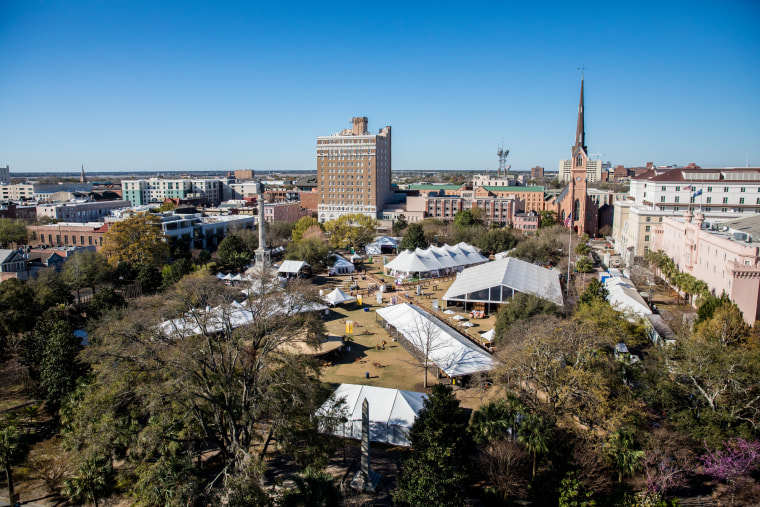 "We are immensely proud and excited to embark on this partnership with TODAY and we look forward to showing TODAY viewers what we think makes the culinary and hospitality community of Charleston so special," Gillian Zettler, Executive Director of Charleston Wine + Food, announced in a statement.
Tickets to festival events start at $65 and dozens of local purveyors will be participating in signature, one-of-a-kind workshops.
Check out the official website of Charleston Wine + Food to learn more about each event, purchase festival tickets and start planning a trip to Charleston.
Charleston Wine + Food will be paying for the TODAY Show's production costs during the festival.