In part three of our TODAY's Ultimate Cook-Off series, the finalists for the best salad recipe compete for salad superiority. The lucky winner will receive a prize of $1,000 worth of Williams-Sonoma products!
The judges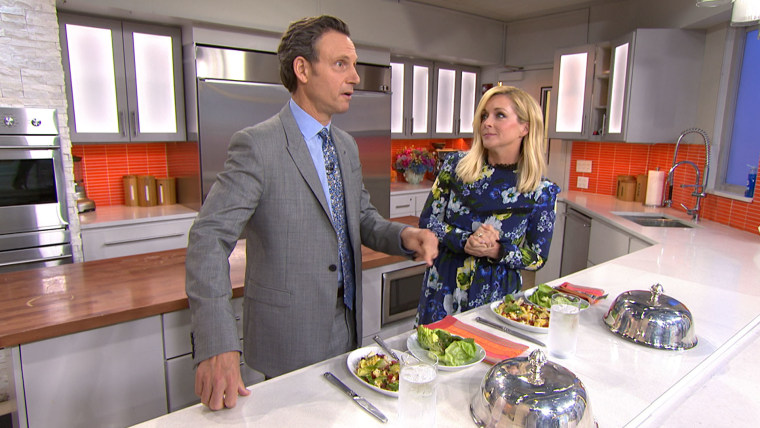 Unbreakable Kimmy Schmidt's Jane Krakowski and Scandal's Tony Goldwyn judged this salad toss-up — while Miley Cyrus stepped in as sous chef for the contestants.
The contestants and their recipes
Kylie Lawson is a military spouse and a mother of two young children. Her Thai salad features steak, lemongrass, mint, lime and two types of chili peppers. She feels that cooking is a lifestyle, not a chore.
"This authentic Thai recipe will overwhelm your every sense," says Lawson. "All the ingredients create a burst of flavor that is unique and wonderful. Your taste buds will be forever grateful for introducing them to this fantastic dish."
Robin Sparacio is a busy mom of 10-year-old triplets. Her Mexican-inspired salad is topped with avocado, corn, bacon, peppers and Cotija cheese. In addition to cooking, she enjoys gardening, playing tennis and golf, traveling, reading and volunteer work.
"This salad is my family's favorite for a reason," says Sparacio. "It's easy to make, kids love it and it is healthy while also very filling."
And the winner is...
Kylie Lawson's Larb Seen!
It was a tough choice. "I love bacon from anything from a doughnut to candle," said Jane Krakowski. But, ultimately, because the Thai beef salad was "so unusual, with mint leaves and stuff like that," said Tony Goldwyn, it had to win.
If you like those salad recipes, you should also try these:
RELATED