In the first part of our TODAY's Ultimate Cook-Off series, the finalists for the best breakfast face off with their top-of-the-morning recipes.
The judges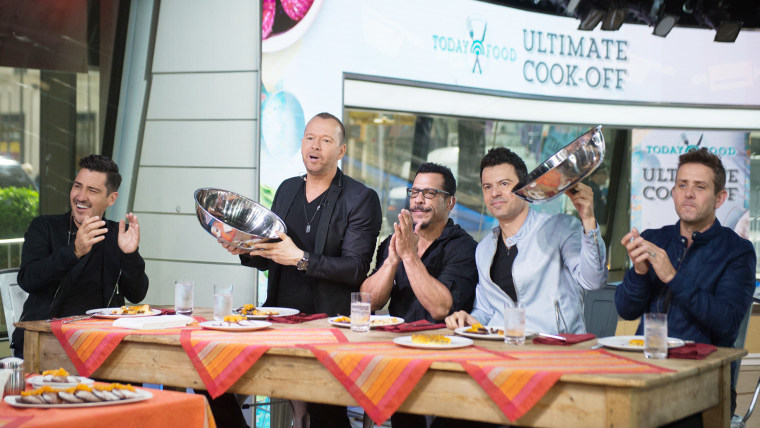 The members of New Kids on the Block, the original boy band, were charged with the duty of choosing the best breakfast dish. The prize: $1,000 worth of Williams-Sonoma products!
The contestants and their recipes
Maria Harvey, from Saint Charles, Missouri makes her grandmother's breakfast casserole filled with sausage, egg and cheese. Her dish was first made by her grandmother, Flora Mae Salander, and now Maria, who is a grandma of seven, prepares if for her own grandchildren. She makes this at every family celebration and holiday and for guests.
"This quick, easy and delicious breakfast casserole is good for breakfast, lunch and dinner," says Maria. "I like to serve it with monkey bread for a taste of something salty and something sweet."
Tara Redfield, from West Hollywood, California makes her sweet, chocolaty and citrus scented tangerine pancakes. Tara is a food blogger and describes herself as the Carrie Bradshaw of the blogging world. She grew up on a farm in the small town in Oregon before moving to California.
"These pancakes are a delicious blend of sweet and citrus flavors," says Tara. "They are fluffy and chocolaty with just the right amount of zest. Thanks to my special ingredient, mascarpone cheese, they just melt in your mouth.
The winner is...
It's a tie! New Kids on the Block band members loved both dishes so much that they declared them both winners.
If you like those breakfast recipes, you should also try these:
RELATED
• Easy Mexican breakfast recipes: Chorizo burritos and veggie tacos
• 30 easy breakfast recipes to start off every day deliciously
• Filling breakfasts: Italian baked eggs with polenta & hearty avocado toast