In part four of our TODAY's Ultimate Cook-Off series, the finalists for the best main dish recipe battle it out with their ultimate entrée recipes. The lucky winner will receive a prize of $1,000 worth of Williams-Sonoma products!
The judges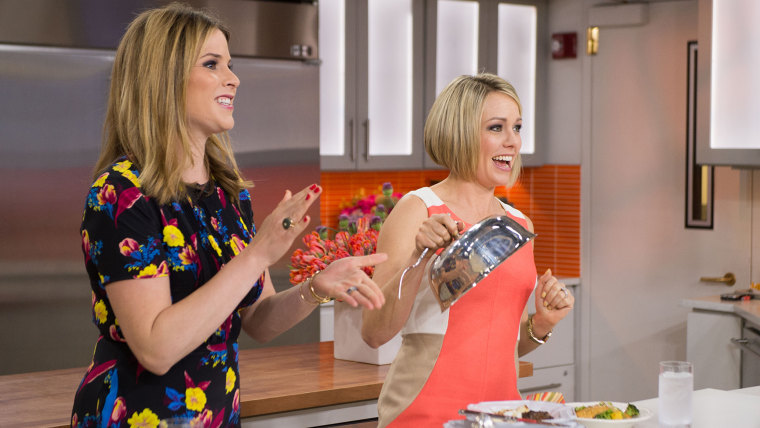 TODAY's very own Dylan Dreyer and Jenna Bush Hager had the tough task of picking their favorite main course.
The contestants and their recipes
Stephanie Brown from Charlotte, North Carolina is a former air force officer and is currently attending culinary school. Her mouth-watering short ribs braised in red wine and fall-off-the-bone tender. She is a self-described kitchen nerd who is looking forward to graduating and making cooking her profession.
"This dish is guaranteed to bring smiles to all who eat it," says Stephanie. "It is simple to make, but your family and friends will think you worked for hours in the kitchen."
Rick Price from Hanover, Pennsylvania is the vice president of information technology for a healthcare company and is a single father of two. His quick and easy chicken and broccoli stir-fry is infused with sweet pineapple and served with savory soy sauce. His love of food started when he was a teenager cooking in a sandwich shop. Now he enjoys making meals for his friends and family.
"This recipe is quick and easy with healthy ingredients," says Rick. "In just 30 minutes you can whip up a good hot meal. No fast food tonight!"
And the winner is...
Rick Price's Pineapple Chicken with Broccoli!
"We don't want to choose. Everyone's a winner!" said Jenna. But, ultimately, because "it's 90-something degrees out today," said Dylan. "The refreshing nature of the pineapple chicken is our winner!"
If you like those main dishes, you should also try these:
RELATED