In the final installment of our TODAY's Ultimate Cook-Off series, the finalists for the best dessert recipe vie for sweet success. The lucky winner will receive a prize of $1,000 worth of Williams-Sonoma products!
The judges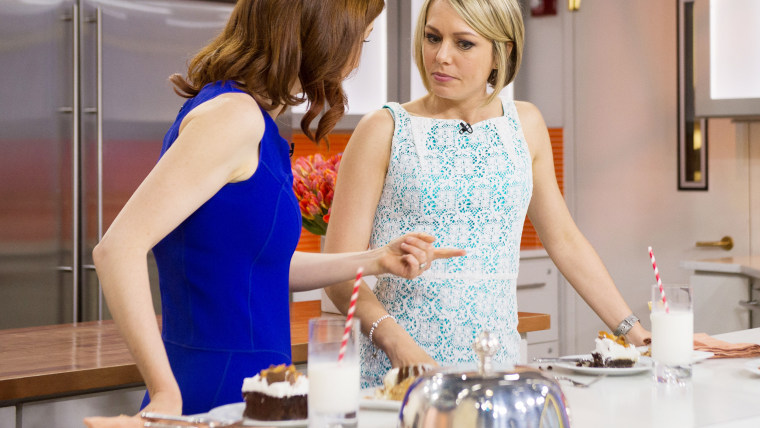 The Unbreakable Kimmy Schmidt's Ellie Kemper and TODAY's Dylan Dreyer have the honor of judging the sweet finale!
The contestants and their recipes
Andrea Aaron from Heber Springs, Arkansas is a mother of five and a writer for a country music news website. Her tasty cupcakes are flavored with fresh banana, frosted with caramel buttercream and served with vanilla bean ice cream. She thinks the best — and only way — to eat a cupcake is upside down.
"This recipe is a unique twist on three summertime favorites: banana splits, cupcakes and ice cream," says Aaron. "The bottom of the cupcakes makes the perfect platform for a scoop of homemade vanilla bean ice cream with a drizzle of caramel sauce."
Diane Roark from Little Rock, Arkansas is also a mother of five and a writer for two blogs. Her decadent, chocolaty cake is loaded with caramel sauce, whipped topping and crunchy candy. She loves cooking and baking for her family.
"This dessert is so delicious and easy to make because it uses boxed cake mix," says Roark. "Butterfinger is one of my favorite candy bars. When I found a bag of crushed Butterfingers, I immediately grabbed it and tossed it into my shopping cart. I knew right then I was going to make something great with it."
And the winner is...
Andrea Tiffany Aaron's Upside-Down Caramel Banana Cupcakes with Vanilla Ice Cream! Ellie and Dylan were pretty torn, but ultimately, because Andrea's cupcakes had a "nice pop of texture" with the toffee bits, according to Dylan, they won!
If you like those dessert recipes, you should also try these:
RELATED