In the second installment of our TODAY's Ultimate Cook-Off series, the finalists for the best appetizer go head-to-head with their recipes for crave-worthy bites. The lucky winner will win a prize of $1,000 worth of Williams-Sonoma products!
The judges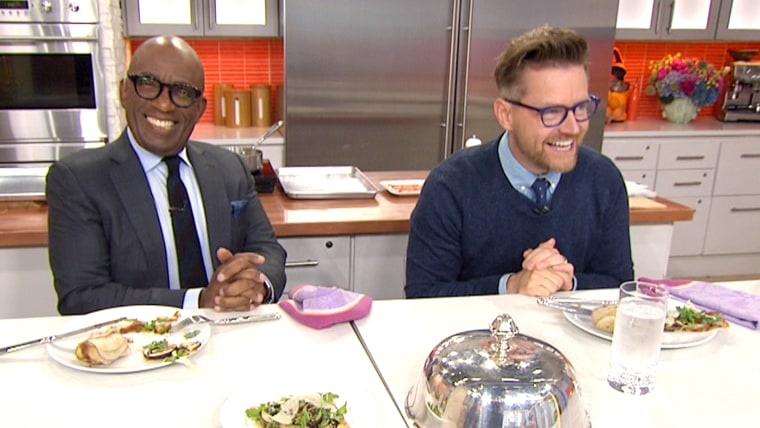 Top Chef All-Star Richard Blais and TODAY's Al Roker were charged with the difficult task of choosing the appetizer.
The contestants and their recipes
Annette Zito from Tuckahoe, New York makes crispy potato roses with savory thyme and Parmesan cheese. She grew up making meatballs with her siblings in her dad's deli. Now she channels her passion for food into her blog, KitchAnnette, and hosting events and cooking for family and friends.
"They're so fun to make, even kids will be into it!" she says of the potato roses. "Be adventurous and customize them to your tastes. Change the cheese or spices, or add as much as you like. Just slice 'em, mix 'em, roll 'em and bake 'em. The hardest thing is not eating all of them."
Teresa Gangelhoff from Saint Paul, Minnesota bakes up her go-to appetizer for entertaining. Her flavorful flatbread is layered with figs, prosciutto, pears and Gorgonzola cheese. She loves her job as a travel agent and is proud mom of three and grandmother of seven.
"This flatbread is our favorite appetizer when the girls in my family all get together," says Teresa. "Just pop it in the oven or on the grill and in minutes you have a delicious appetizer."
The winner is...
Teresa's Figgy Pear Flatbread! Judge Richard Blais said, "It's like Morgan Freeman's voice. It's rich, it's decadent, it's classy." Can you get a better review than that?
If you like those appetizer recipes, you should also try these:
RELATED
• Martha Stewart's 4 veggie appetizer recipes will take your dinner party to the next-level
• Adam Richman's Asian-inspired appetizers will be the stars of any party
• Ina Garten shares easy holiday appetizer recipes