All month long, we'll be hosting a star-studded All-Star Thanksgiving on TODAY, featuring power chef combos — like Martha Stewart and Josh Besh, Bobby Flay and Giada De Laurentiis, and Marcus Samuelsson and Daniel Boulud — serving up their favorite Thanksgiving recipes.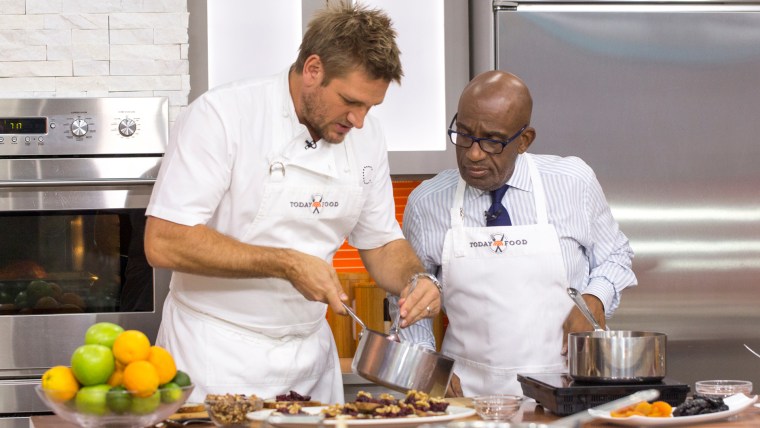 They'll either be combining recipes for a perfect pairing, competing head to head using the same ingredient, or collaborating on one spectacular dish.
So sit back, relax, and let our all-star chefs plan your Thanksgiving menu. It's going to be the best one yet.
Note: 8 = in the 8 o'clock hour EST, 9 = in the 9 o'clock hour, 10 = in the 10 o'clock hour. We will be updating times with more specifics as we have them. Stay tuned for more details on recipes, too!
November 1
10:13AM: The Kickoff
Seamus Mullen: 3 Healthy Twists on Gravy: Cider and Apple Gravy with Golden Raisins, Wild Mushroom Gravy with Sherry and Pine Nuts, White Wine and Herb Gravy with Bacon
Ryan Scott: 2 Recipes, 1 Bird: Citrus Turkey with Confit Legs & Wings
November 2
8:47AM: North vs. South
John Besh: Oyster Dressing Grandmère
Martha Stewart: Upside-Down Turkey
November 3
8:52AM: Cornmeal, Two Ways
Jocelyn Delk-Adams: Cornmeal Pound Cake with Honey Butter Glaze
Elizabeth Heiskell: Southern Sage Cornbread Dressing
10:49AM: Pumpkin, Two Ways
Shay Shull: Streusel-Topped Pumpkin Pie
John Besh: Pumpkin Soup with Crabmeat
November 4
9:38AM: Butternut Squash, Two Ways
Stephanie Izard: Root Vegetable & Feta Bruschetta
Donatella Arpaia: Autumn Squash Soup with Pumpkin Seeds & Anise
November 5
8:48AM: Carrots, Two Ways
Bryan Voltaggio: Roasted Carrots with Carrot-Top Chimichurri and Granola
Elizabeth Chambers: Award-Winning Carrot Cupcakes
November 7
8:48AM: Brussels Sprouts, Two Ways
Lidia Bastianich: Sautéed Brussels Sprouts with Walnuts
Andrew Carmellini: Crispy Brussels Sprouts with Celery & Apple
9:48AM: Sweet Potato Casseroles
Chloe Coscarelli: Sweet Potato Casserole
Jordan Andino: Sweet Potato Casserole
November 8
8:39AM: Green Bean Casseroles
Katie Lee: Traditional Green Bean Casserole
Alex Guarnaschelli: Stove-Top Green Bean Casserole with Bacon & Brussels Sprouts
10:12AM: Pecans, Two Ways
Sunny Anderson: Cranberry and Rosemary Glazed Pecans
Geoffrey Zakarian: Pecan Pie
November 10
8:48AM: Potatoes, Two Ways
Michael White: Yukon Gold Potato and Cheese Gratin
Michael Lomonaco: Maple Sweet Potato Mash with Toasted Marshmallow Cream
10:12AM: Midwestern Sides
Jeff Mauro: Bacon Maple Pecan Sweet Potato "Chips"
Gavin Kaysen: Spinach with Fried Cheese Curds
November 11
8:38AM: Turkey Tailgate
Missy Robbins: Turkey Meatball Heroes
Ryan Hardy: Turkey Sausage Ragu Cavatelli
9:38AM: Sausage Stuffing, Two Ways
Beau McMillian: Chestnut and Sausage Stuffing
Al Roker: Sausage and Chestnut Cornbread Stuffing
November 12
8:49AM: Butternut Squash, Two Ways
Alejandra Ramos: Spicy Chipotle-Maple Butternut Squash Soup
Brian Lewis: Butternut Squash Agnolotti with Brown Butter and Breadcrumbs
November 14
8:46AM: Chestnuts, Two Ways
Marcus Samuelsson: Cornbread Toast with Chestnuts, Bird Funk and Pomegranate
Daniel Boulud: Chestnut, Celery Root and Apple Soup
9:48AM: Squash Extravaganza
Camila Alves: Acorn Squash with Brown Butter and Honey
Tim Love: Shaved Vegetable Salad
November 15
10:38AM: Kale, Two Ways
Siri Daly: Kale Salad with Crispy Bread Crumbs
Ben Ford: Tuscan Kale Soufflé with Leeks and Comte Cheese
November 21
8:46AM: Ultimate Thanksgiving Dessert
Duff Goldman & Gesine Bullock-Prado:Pumpkin Cake and Pecan Pie
9:30AM: Just Bobby
Pumpkin Soup Shooters with Cinnamon Cream
Crostini with Ricotta, Brussels Sprouts and Maple Bacon
November 22
8:50AM: Vegetarian Thanksgiving
Giada De Laurentiis: Giada's Butternut Squash Lasagna
Bobby Flay: Brussels Sprouts with Pomegranates and Pistachios
10:30AM: Turkey & Potatoes
Giada De Laurentiis: Cheesy Mashed Potatoes
Curtis Stone: Roast Turkey with Sage Brown-Butter Gravy
November 23
8, 9 & 10: The Finale
We throw the ultimate Thanksgiving party with our chefs from throughout the month. Giada De Laurentiis, Martha Stewart, Curtis Stone and many more will be there!
30 legendary chefs, 30 hacks to take the stress out of your Thanksgiving
TODAY's All-Star Thanksgiving: Celeb chefs share their favorite recipes